BMW has a reputation as one of the industry's foremost luxury brands, and it didn't get there by coasting on past success. Innovation has always been key to the BMW formula, with the automaker continually pushing the envelope in terms of automotive design, performance, and technology. The German automaker has been busy as of late, introducing a number of new models and giving some long-time favorites a thoroughly modern makeover.
All-electric vehicles figure into the game plan in a big way, with BMW leading the way in electrifying its lineup for the road ahead. The brand also rolled out an updated version of its BMW iDrive Operating System, streamlining the technology with the aim of improving the user interface. If you are looking for a Covington, KY, BMW store in search of the latest and greatest the brand has to offer, take a few minutes to catch up on the news from Bimmer world as we share some updates on the 2024 lineup and beyond.
To 2024…
2024 BMW 5 Series and i5
The new year brings a new generation of the 5 Series, which has long been one of BMW's most popular models. Following a seventh-generation model that some drivers chided as being a little too tame, BMW has once again put performance front and center with the 2024 5 Series. The 530i model sees BMW drop a 2.0-liter four-cylinder with 255 hp under the hood and is offered with either rear-wheel or all-wheel drive. The high-end 540i model comes with all-wheel drive as a standard feature and upgrades the engine to a turbocharged 3.0-liter inline-six with 375 hp, which is powerful enough to send you from zero to 60 mph in just 4.5 seconds. No matter which version you choose, the engine will come paired with a 48-volt mild-hybrid system, an increasingly popular setup that offers drivers the best of both the gas and electric worlds.
Speaking of electric power, the 5 Series is joined by an all-electric variant known as the i5, which has two different versions to choose from. The 2024 i5 eDrive40 has an estimated 295 miles of range, dropping to 256 miles if you go for the i5 M60. The i5 eDrive40 is a rear-wheel drive model with a rear motor that churns out some 335 hp and 295 lb-ft of torque. The top-end i5 M60 is actually the most powerful 5 Series model on offer for 2024, with a two-motor setup that delivers a logic-defying 593 hp. That's quick enough to speed you from zero to 60 mph in 3.7 seconds, making the i5 worth a second look for any driver who values performance above all else. Active anti-roll bars, wide tires, and a sport-tuned suspension add to the long list of performance credentials, proving once again that EVs can be just as thrilling as their gas-powered cousins.
BMW has treated both the 5 Series and i5 to a thorough interior makeover for 2024, upsizing the cabin while retaining the same luxury features and materials that have made the executive car such a driver favorite over the years. From the 5 Series' vegan-friendly Veganza leather alternative to a standard sunroof––or optional fixed-glass roof––and stealthy AC controls and vents hidden within the dashboard, this car isn't afraid to let its luxury flag fly with a well-designed interior that brings a little minimalist sophistication into the mix. Drivers seeking even more comfort can opt for the Convenience, Premium, and Executive packages, which add everything from heated seats to LED cornering lights.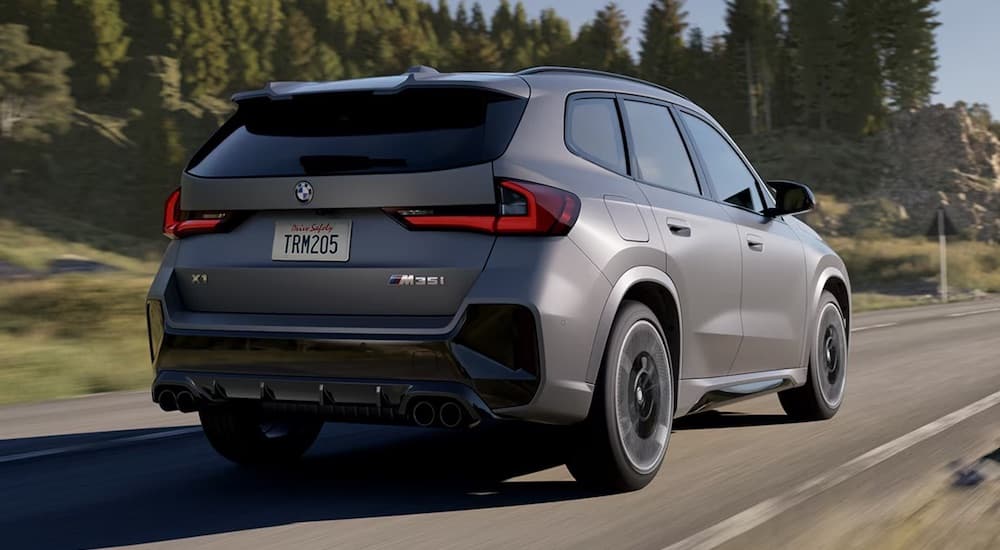 2024 BMW X1 M35i
Since its introduction in 2013, the BMW X1 has been the smallest SUV in the BMW lineup. While this crossover has always been fun to drive, BMW has upped the ante in 2024 with a new performance version that adds even more sportiness to the X1. The M35i adds a higher output version of the X1's turbocharged 2.0-liter inline-four engine, going from 241 hp to 313 hp while throwing in 295 lb-ft of torque to boot. It's perfect for a Sunday cruise out on Kentucky horse country, as the M35i has plenty of ponies of its own.
This new performance model also includes an adaptive suspension, M Sport brakes, and dual-clutch transmission as standard equipment, with BMW's M compound brakes available for an additional charge. With the ability to race from zero to 60 mph in 5.2 seconds, the 2024 X1 M35i is a full second faster than the base X1 xDrive28i. Quad exhaust tips, distinctive side skirts, a rear diffuser, and upsized air intakes complete the crossover's sporty looks, making the M35i an instant contender as one of the most enjoyable subcompact SUVs on the market.
BMW iDrive Operating System 8.5
The fact that a brand's onboard infotainment system would warrant its own section shows just how integral such technology has become to the everyday driving experience. It wasn't that long ago that a digital clock and stereo system represented the be-all, end-all of in-vehicle tech, but those days are long behind us as automakers compete to offer the most comprehensive and intuitive infotainment system.
BMW first introduced its iDrive Operating System over 20 years ago in the 2001 BMW 7 Series, and the system soon earned its title as one of the industry's best offerings. The first iDrive system took its inspiration from the dominant consumer technology of the time, with a central control knob meant to mirror the mouse found on the typical PC. Over the last 20 years, tastes have shifted, with smartphones now representing the lingua franca of consumer technology. With iDrive 8.5, BMW has responded in kind, rolling out a new user interface that lifts more than a few design cues from the ubiquitous smartphone. With a menu design that's structured to mimic that of an iPhone, iDrive 8.5 should be easy for any driver to master. Like the typical smartphone home screen, the iDrive menu can be reconfigured to fit a driver's unique needs, delivering the sort of bespoke luxury one would expect from a brand like BMW.
The updated iDrive 8.5 makes another vital improvement over previous offerings by ditching sub-menus in favor of QuickSelect vertical tabs that allow for quick access to popular functions like navigation, media, settings, and more. This means less menu-diving, which is annoying and potentially unsafe when you're shooting down I-71 at cruising speeds. Instead of fiddling with sub-menus, back buttons, and the like, the iDrive 8.5 system introduces a new Home icon on the display, which gives drivers the ability to snap back to the main menu with just one touch. It might not seem like much on the surface, but as anyone who's ever struggled with an unfamiliar piece of technology can attest, a good user interface can make all the difference.
The iDrive 8.5 update has already been pushed out to a number of BMW models, starting with all of those already running iDrive 8. The iX, i4, and 7 Series were the first to get the update, with the X5, X6, X7, and XM models following their lead in late summer. While iDrive 8.5 is a welcomed update, it's also something of a placeholder. BMW has indicated that drivers will be treated to an entirely new, Android-based operating system when the 2024 BMW X1 hits the streets later this year. Details on iDrive 9 remain scant, but the system's Android backbone certainly opens up the door to plenty of intriguing possibilities.
…And Beyond
The 2024 model year is going to be a busy one at BMW, and 2025 doesn't look to be any different. While it's a little too early to share specifics, there are some intriguing projects in the works over in Munich, with tantalizing concept models, revived favorites, and some electrifying new additions coming down the pike.
2025 BMW M5
The M line has long been BMW's playground for high-performance antics, with the automaker's Motorsport division throwing a host of race-ready features and components into established models. The eighth-generation M5 borrows the PHEV powertrain from the BMW XM to deliver over 700 hp and instant torque. The new M5 will likely boast a zero-to-60 mph time in the sub-three-second neighborhood, which is more than fast enough to get our attention. This is all made possible thanks to the sedan's 4.4-liter twin-turbo V8 gas engine and electric motors, which, combined with the M5's rear-wheel steering, upsized brakes, and all-wheel drive system, make the model the ideal choice for drivers who enjoy pushing their limits.
With a starting price well above $100,000, the M5 isn't just about power; it has the luxury credentials to back it all up, offering a well-rounded driving experience that's sure to satisfy. Whether you're driving through Covington or crossing the river into Cincinnati, the M5's heated and ventilated front seats, infotainment gesture controls, wireless charging, Wi-Fi hotspot, and customizable ambient lighting lend the sedan a cutting-edge feel that few models can hope to match. A curved infotainment display is expected, and by the time it arrives, it could well be powered by BMW's all-new iDrive 9 Operating System).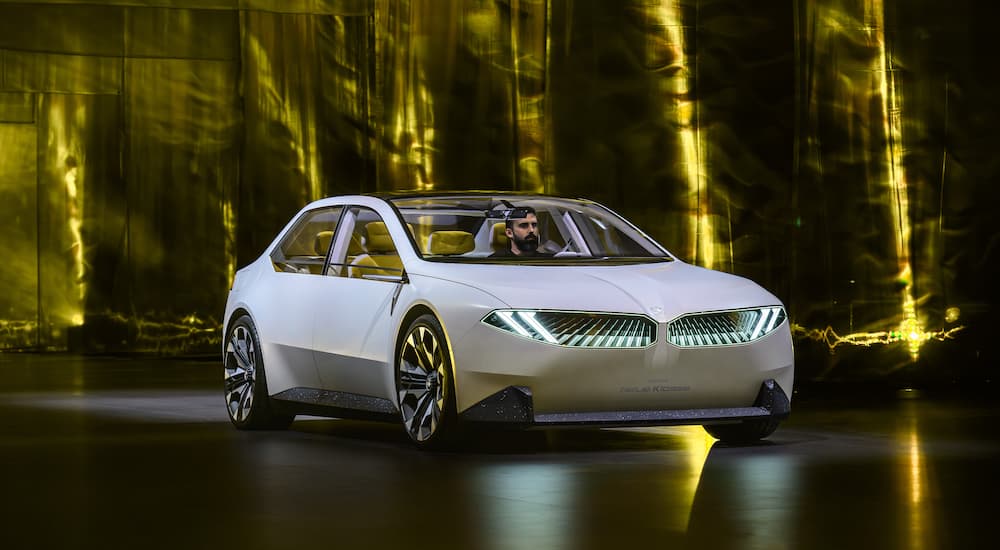 BMW Vision Neue Klasse
As one could guess from the name, the Vision Neue Klasse is a concept model through and through. Designed to preview the brand's upcoming "New Class" of all-electric models, it lives up to its concept designation by introducing some fascinating new ideas into the BMW sandbox. These mostly come in the form of some bold design choices, with BMW throwing futuristic aesthetics at the model to see what sticks. The most obvious departure is the grille, which updates the iconic kidney grille with an interactive digital surface stretching across the front of the vehicle––but it's not even close to being the most fascinating change to the BMW formula.
From gestured-controlled doors and color-shifting paint to an expansive heads-up display that replaces the typical infotainment screen and gauge cluster, the Vision Neue Klasse is an alluring look at the future of the luxury segment. The only problem? These sorts of cutting-edge concept features rarely make it to the finished model, so don't expect to cruise past a BMW with color-shifting paint on Greenup Street anytime soon. While we will probably never see the concept in action outside of some auto shows, it might well provide a hint at what the BMW 3 Series might morph into over the coming years.
Stay Up to Date With Us!
With so much in the works, there's never been a better time to explore the BMW lineup. The automaker has doubled down on the EV trend, electrifying some of our favorite models in a bid to cater to the changing tastes of an increasingly eco-conscious customer base while retaining the legacy of performance and luxury that's brought BMW so much success over the years. Meanwhile, on the gas-powered side of things, a new generation of performance-focused M models proves that BMW hasn't lost its touch when it comes to crafting some of the most beautiful and exhilarating vehicles on the luxury market.
The new iDrive 8.5 Operating System is another much-appreciated update to the lineup, improving the user experience and making for seamless interaction that's become central to our digital interactions. Concepts like the Vision Neue Klasse might not be showing up in Covington parking lots anytime soon, but they definitely serve their purpose in letting drivers get an early look at what the future might hold for BMW and the industry as a whole. With so many new models, trims, and features on offer, it can be tough to summarize all the pertinent BMW news in one place. If you're looking to stay up to date on the latest and greatest from the storied luxury brand, visit our dealership today!