We never thought that Marcia Griffith's iconic 1983 classic "Electric Boogie" would be a prophetic vision for the auto industry. Yet, we can't deny that when we look at the future of the cars we drive, one thing is clear: it's electric! BMW is no exception to this outlook, and the battery electric vehicles (BEVs) that are currently available here at your favorite BMW store are some of the best to ever hit the road. This should come as no surprise since BMW has long been the leading name when it comes to exquisite luxury and heart-pounding performance; the shift from gas-powered to electric vehicles is simply a new opportunity for BMW's engineers to utilize innovative technology to make its models even better.
With the 2024 lineup hitting the scene, there are now four BEVs available under the all-electric BMW i brand, and we thought it would be fun to take a quick look at each of them to see the kind of performance they offer. Few other brands have so many different electric models for you to choose from, and having that many choices that showcase the incredible legacy of BMW engineering is truly great for shoppers. Keep in mind that if you're interested in getting a small taste of electrified performance without going all-in on a BEV, then there are also a number of plug-in hybrid electric vehicles available from BMW. Still, we'll focus on all-electric models today.
The BMW i4: A Gorgeous Gran Coupe
Three of the four BEVs currently available from BMW are sedans, but they're all different sizes, so you have three great options to choose from designed to meet your needs. For starters, we have the 2024 BMW i4, a sleek four-door that provides incredible power and performance in a compact and exceptionally sporty package. The i4 Gran Coupe gives you the space of a 3 Series and the style of a 4 Series, so you have plenty of room inside to bring friends along and tremendous power guaranteed to elicit envy. There are four different i4 trims available for 2024, which makes it easy to get the performance you want.
To start, there's the i4 eDrive35. This trim features a single electric motor on the rear axle, providing 282 hp and 295 lb-ft of torque, and can go from zero to 60 mph in 5.8 seconds with an estimated range of 276 miles. For improved performance, there's an i4 eDrive40, which has a more powerful motor and a larger battery. This version delivers 335 hp and 317 lb-ft of torque, letting it go from zero to 60 mph in 5.4 seconds with an estimated range of 301 miles.
New for the 2024 model year, we're incredibly excited about the i4 xDrive40, which features dual motors for electric all-wheel drive performance. This trim has 396 hp and 443 lb-ft of torque, letting it go from zero to 60 mph in just 4.9 seconds, and offers a range of 307 miles. For truly pulse-pounding performance, there's the i4 M50 with dual motors that deliver an amazing 536 hp and 586 lb-ft of torque—this beauty can go from zero to 60 mph in 3.7 seconds and has an estimated range of 269 miles.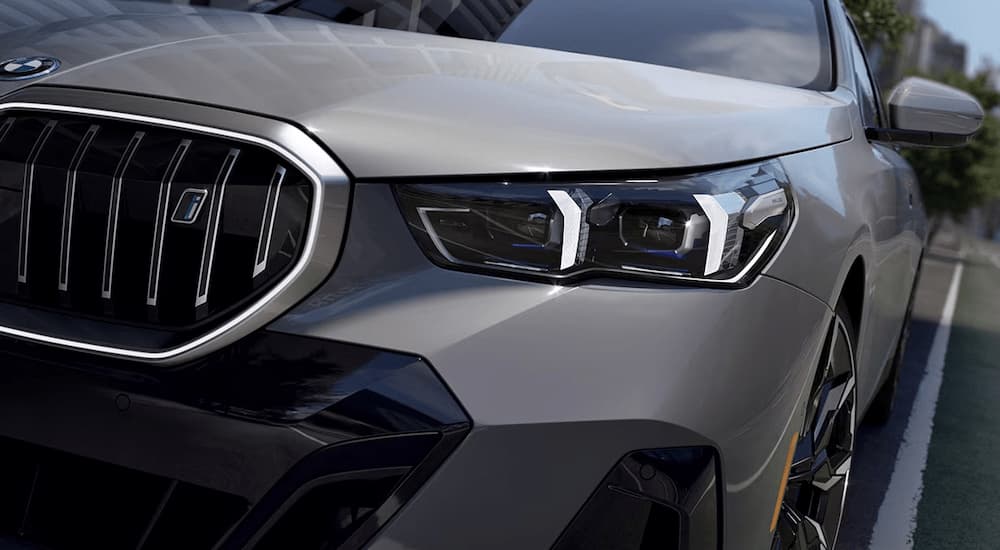 The BMW i5: The New Standard for Executive Sedans
Next up, we have the 2024 BMW i5. This spacious sedan is perfect if you're looking for something that's roomy inside without going too big. This is an entirely new trim for 2024, and its release coincides with a redesign for the gas-powered 5 Series with which it shares a platform. It's a gorgeous ride with up to 295 miles of range from a full charge, letting you go anywhere you need and enjoy yourself, whether driving around the city, taking a long road trip, or simply making your daily commute.
Two different BMW i5 trims are available, letting you choose the level of performance that you prefer in your sedan. To start, you have the i5 eDrive40, which features a single motor that provides 335 hp and 295 lb-ft of torque, launching it from zero to 60 mph in 5.7 seconds. For something that will really push you back in your seat, there's the i5 M60 with a pair of motors delivering 590 hp and 586 lb-ft of torque for all-wheel drive performance. The i5 M60 can go from 0 to 60 in an incredible 3.7 seconds while still giving you spacious and luxurious seating inside.
The BMW i7: Redefining Ultimate Luxury
If you prefer the style and dimensions of a full-size sedan, then you're in luck. The 2024 BMW i7 is the future of the 7 Series, with remarkable power and performance packed into it. Despite its impressive size, you can get an i7 with 321 miles of estimated range from a full charge, letting you go the distance and surround yourself with exquisite luxury. There's a massive BMW Curved Display inside, featuring an Interaction Bar made from faceted glass for a tactile feel, and an available Panoramic Sky Lounge LED Roof that lets you choose from a range of colors and ambient light moods to create an interior that is unlike anything you've seen before.
When it comes to performance, you have three options available, starting with the i7 eDrive50 with a single high-performance motor, which delivers 449 hp and 549 lb-ft of torque to let it go from zero to 60 mph in 5.3 seconds. There's also an i7 xDrive60 with a pair of high-performance motors that deliver 536 hp and 549 lb-ft of torque, letting it go from zero to 60 mph in 4.5 seconds. Finally, if that incredible power isn't enough to put a smile on your face, there's the truly remarkable i7 M70 with its pair of high-performance motors that provide you with an incredible 650 hp and 749 lb-ft of torque. The 2024 i7 M70 can go from zero to 60 mph in an astounding 3.5 seconds, leaving everyone else on the road wondering what kind of sedan they just saw take off when the light turned green.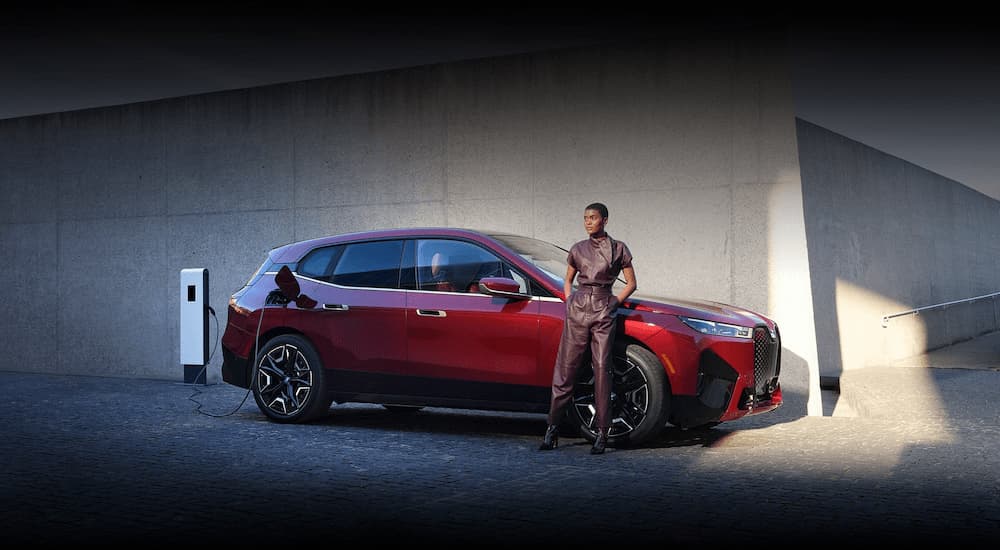 The BMW iX: Style and Substance Combined
Finally, we come to the 2024 BMW iX, which is the only electrified sport activity vehicle (SAV) offered so far, though more are sure to come. This is an incredible piece of machinery that beautifully combines cutting-edge performance with exquisite luxury and innovative technology. As a midsize SAV, you get plenty of room inside for friends and family to come along with you, surrounded by rich details like an incredible BMW Curved Display up front, luxurious upholstery, and an available Bowers & Wilkins Diamond Surround Sound system with 30 speakers that create an incredible audio experience.
The standard trim is the BMW iX xDrive50, which features a pair of motors for all-wheel drive performance plus 516 hp and 564 lb-ft of torque. This version can go from zero to 60 mph in just 4.4 seconds, rocketing past other midsize SUVs out there while getting an estimated 307 miles in total range from a full charge. If you choose the iX M60, then you get a pair of high-performance motors that deliver 610 hp and 749 lb-ft of torque, letting you go from zero to 60 in just 3.6 seconds. No matter which one you choose, you get a fantastic vehicle that you're sure to look forward to driving each day.
You Gotta Feel It
It's easy to see why so many people are electrified about the BMW lineup. The BMW name has always been associated with a combination of refined sophistication and monumental performance that other car companies can only dream of, so it's no surprise that the brand is carrying that same approach into the all-electric future of the auto industry. But even though we're not surprised by it, we're still delighted to see just how incredible the BMW i lineup is, and we can't wait to see what's to come in the years ahead. No matter how you look at it, with such incredible power and performance, not to mention rich luxury and technology beyond everyone else, there's only one thing to be said about this lineup: it's electric.