Performance, luxury, and reliability: what do these three things have in common? These three things are what you can expect from any BMW vehicle. BMW's lineup is rich with quality, and if you're looking for something special, then BMW has got you covered with cars that will keep you satisfied for years. The sportiest models you will find here at BMW of Cincinnati North, your Norwood BMW store, are the brand's two-door coupes. These vehicles offer unmatched class and a wide range of options available to drivers in many price ranges. Driving a BMW feels freeing, and with the ability to experience extraordinary power from these turbocharged models, driving around Norwood has never felt so good.
There are half a dozen coupes BMW produces. Ordered from smallest to largest, you will find the 2 Series, 4 Series, and 8 Series. Each model also has an ultra-high-performance version in the M2, M4, and M8. Every vehicle that wears the legendary white and blue badge is cut from the same cloth. Many of the BMW coupes share features that aren't related to performance. However, performance is where each coupe dramatically differs from one another. Between better fuel efficiency to drive around Ohio or more power than you can handle, which BMW coupe is best for you? We'll help answer that question today, so let's start.
BMW 2 Series Coupe
The most cost-effective BMW coupe is the 2 Series. This vehicle is the best way to get your foot through the door. The BMW 2 Series is the only of the bunch to start at a price under $40,000. The 2023 model's base trim––the 230i––has an MSRP of $38,200.[a] For the price, the standard 14.9-inch infotainment center shows that BMW is serious about the future of its lineup. The price is right, and it's unmistakably BMW, but how's the performance? Well, the performance is incredible for the price.
The standard 2023 BMW 230i has a turbocharged 2.0L I-4 engine sending 255 hp and 295 lb-ft of torque to the rear wheels. However, you can add BMW's xDrive all-wheel drive system for improved traction. The 2 Series Coupe is also one of BMW's most fuel-efficient models, so you can take more trips from Norwood into Cincinnati or head north to Dayton without worrying about gas prices. The 2023 model has EPA-estimated ratings of up to 26 MPG in the city and 35 MPG on the highway.
If the BMW 2 Series has caught your eye, but you wish it had more power, take a look at the M240i. This model replaces the turbocharged 2.0L I-4 engine with a turbocharged 3.0L I-6 engine that pushes the envelope of this compact BMW vehicle. The more powerful engine option makes 382 hp and 369 lb-ft of torque and can be paired with either rear-wheel drive or all-wheel drive.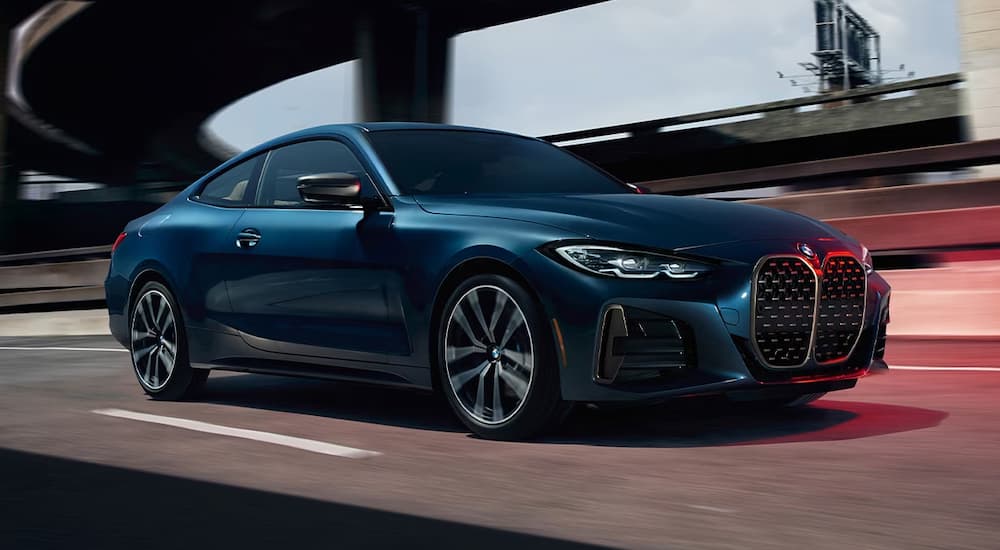 BMW 4 Series Coupe
The BMW 4 Series Coupe has some advantages over the 2 Series Coupe but the 2024 model sports a higher price tag of $49,900.[a] The 4 Series is a compact vehicle instead of the subcompact design of the 2 Series. While this doesn't give it any more trunk space, the compact coupe will be easier to sit in for long drives, thanks to a slightly more roomy interior for you and your passengers.
The BMW 4 Series shares its DNA with its little sibling, the BMW 2 Series. This means that the available powertrain configurations are the same, and the fuel efficiency is similar, although the turbocharged 3.0L I-6 engine in the M440i has a bit more fuel efficiency in the city––24 MPG over 22 MPG. As for horsepower and torque, they're identical. However, drivers in Norwood who will spend more time in their cars and want more luxury features should consider the 4 Series over the 2 Series.
BMW 8 Series Coupe
If you have the funds to get one, then you should absolutely consider the BMW 8 Series Coupe. It's not for the faint of heart, what with its standard turbocharged 3.0L I-6 engine and its menacing turbocharged 4.4L V8, nor is its price range going to be for everyone with an MSRP of $90,800.[a] But if you enjoy a powerful and sleek ride, you should look no further than the 8 Series Coupe. It might not have the bustling 14.9-inch screen the Series 2 has, but it makes up for it with more cargo space, a sleek and still large 12.3-inch infotainment center, and of course, its performance.
The performance stemming from the turbocharged 3.0L I-6 engine means the standard 840i outputs 335 hp and 369 lb-ft of torque with smooth acceleration thanks to the eight-speed automatic transmission. The turbocharged 4.4L V8 engine in the M850i only comes with all-wheel drive, and it bolsters the performance numbers to 523 hp and 553 lb-ft of torque––a 56% and 50% increase in horsepower and torque, respectively.
BMW M2 Coupe
The BMW coupes we've mentioned so far all have one thing in common that the M2 Coupe doesn't have: a standard automatic transmission. As a high-performance driver's car, the 2023 BMW M2 is the first of the list of BMW coupes that satiates the driver looking for raw performance paired with a familiar six-speed manual transmission. However, an eight-speed automatic is also available if you prefer.
Right off the bat, the M2 Coupe is performant, and purchasing one is incredibly simple, as there's only one model. The redesigned 2023 M2 starts at $62,200 and comes standard with a turbocharged 3.0L I-6 engine that outputs a whopping 453 hp and 406 lb-ft of torque.[a] There's nothing quite like driving a speedy vehicle with a manual transmission on I-71, whether heading south to Louisville or north to Columbus. Anyone who wants a thrill-filled ride and isn't interested in one of the pricier models should consider the M2 Coupe.
BMW M4 Coupe
The M4 Coupe is a great performance boost over the M2. This is the only other BMW coupe with a six-speed manual transmission, and that performance boost means the 2024 M4 outputs 473 hp and 406 lb-ft of torque in its base configuration, which starts at $78,100.[a] Along with performance improvements, the M4 Coupe has some tricks up its sleeve, like carbon bucket seats and some stunning colors to choose from if you custom order your coupe.
Should you desire an automatic transmission, you can expect an even larger leap in performance. Opting for the eight-speed automatic upgrades you to the M4 Competition with 503 hp and 479 lb-ft of torque. It also adds the option for BMW's xDrive all-wheel drive, which provides a staggering 3.4-second launch from zero to 60 MPH and allows you to get the most from your coupe in all weather condition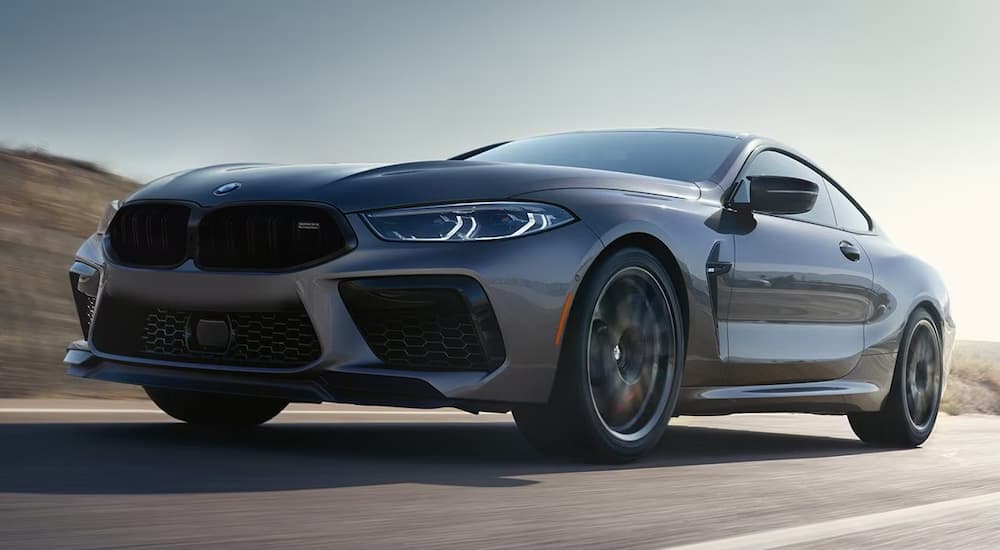 BMW M8 Coupe
Are you hungry for a performance? Is money no object? If so, then you need the M8 Coupe. This is not only the priciest coupe in the BMW lineup, starting at $138,800 for the 2024 M8 Competition, but it's also the most performant––by a long shot.[a] The M8 Competition comes equipped with a turbocharged 4.4L V8 engine paired with an eight-speed automatic transmission and standard xDrive all-wheel drive. This combination delivers 617 hp and 553 lb-ft of torque to all four wheels, accelerating the car from zero to 60 mph in three seconds flat. This means the M8 is not only the most powerful coupe in the BMW lineup, it is the fastest car BMW offers.
Which Coupe Is Right for You?
When you're deciding which BMW coupe is right for you, the decision comes down to three things: size, performance, and price. Every BMW Coupe offers a similarly luxurious driving experience, so there is no need to upgrade to a larger or more powerful model unless you desire that extra space and performance. And when it comes to performance, even the base 230i is more than fast enough to have fun on the roads of Norwood. If you're in the greater Cincinnati area and want to see these fantastic vehicles in person, it is time to pay a visit to BMW of Cincinnati North and let our team give you the full tour.
---
[a]MSRP may change without notice. See dealer for complete details.