Since its introduction in 2022, the iX has been making waves when it comes to stylish electric vehicles, and at the top of the lineup is the iX M60. This all-electric luxury SAV is rolling into the car lot of BMW of Cincinnati North, your local BMW iX dealer, ready to show off the German automaker's latest advances in technology and performance. If the iX M60 looks familiar, that's because it is. This model is a step up from the base iX xDrive50, allowing drivers to unlock more power and advanced technology than ever before.
The impressive and eye-catching iX M60 makes going green look better than ever. Drivers looking to reduce their carbon footprint without skimping on style and luxury can depend on BMW to deliver. Expect elegance and high-end performance with all the comfort and convenience that BMW is known for.
Going green isn't considered "alternative" or "futuristic" anymore but practical and logical. With gas prices constantly in flux and climate change on everyone's mind, going electric is the next logical step. Why not take that step in style? BMW makes it easy to take the leap from gas engines to electric power. Even if you're not sure about going 100% electric, how could you pass up such a sight?
If you are unsure if an EV is for you, we've outlined a few perks and performance features that make the M60 worth a second glance. From convenient quick charging options to ultra-modern technology and unbeatable luxury, the iX M60 is the only EV that combines all the convenience you want with the performance you need.
The Future of Performance: The iX M60
BMW wasn't fooling around when it created the M60. With dual motors delivering an instant 749 lb-ft of torque and 610 hp, this all-wheel drive EV produces a thrilling driving experience that makes even a daily commute anything but average. You can travel an estimated 288 miles on a full charge and recover up to 90 miles of range in only 10 mins of DC fast charging.
There are rumors that EVs aren't as peppy and responsive as their gas-powered rivals. If that's something you worry about, then don't. Drivers of the iX M60 can expect to go from 0-60 mph in just 3.6 seconds, making it faster than the BMW X5 M with its twin-turbocharged V8 engine.
The sleek, windswept curves of the M60 aren't just for looks. Hiding behind that stylish face is the most aerodynamic SAV ever constructed by BMW. The M60 cuts through the air with its impressive 0.25 drag coefficient. Thanks to its first-class design and slippery body, drivers can expect a quiet cabin whether they're traveling at 70 mph down the freeway or navigating noisy city traffic.
The M60's battery module was strategically placed low in the car to create more controlled and balanced handling. To further customize your drive experience tap into the M60's My Modes, which offers three different levels of performance to match the environment.
Sport Mode: Sport mode takes your drive to a whole new level maximizing output with firmer controls and quicker throttle response. The sleek performance means you'll be turning more than just corners.
Efficient Mode: Efficient mode can help reduce your energy output and extend the vehicle's range for long-distance drives.
Personal Mode: Personal mode is great for a more relaxed and customized driving experience that can be tailored to suit your needs and take your enjoyment to all-new levels.
In case you haven't heard, BMW has an eye for details, and each drive mode has a unique sound to set the mood. This is thanks to BMW's collaboration with Hans Zimmer. Yes, that Hans Zimmer, the world-famous composer of some of your favorite film scores and an Academy Award Winner. As you switch through drive modes, you're met with unique acoustic chimes and signals that help set the mood of your drive, creating a thrilling, fun, or relaxing vibe.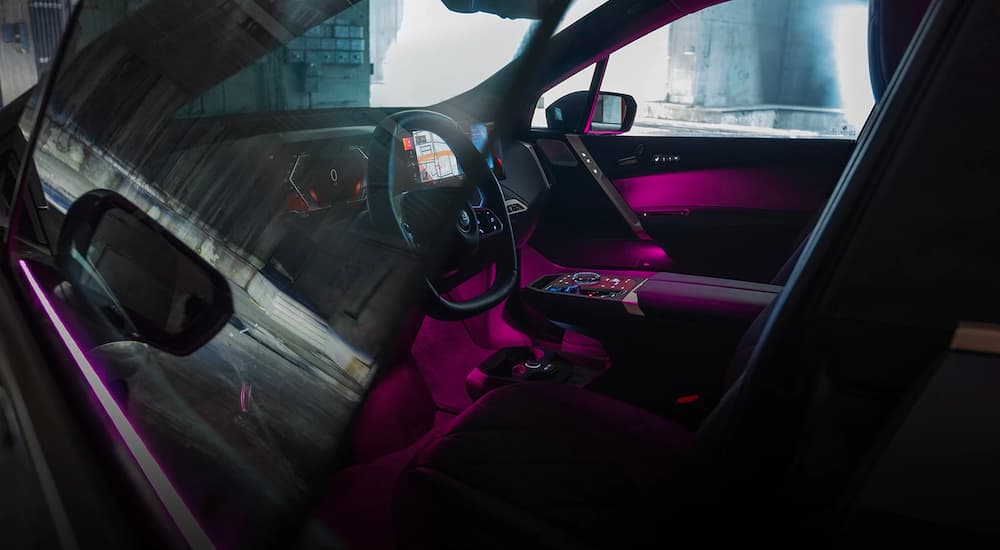 What About Charging?
Whether or not you're familiar with electric vehicles, you're bound to be curious about charging. After all, no charge means no drive. How do BMW and the M60 handle it? Quick and easy would be a great way to sum it up. The German automaker has streamlined the charging process, making it simple even if you're just starting out. Drivers can get the BMW Wallbox for at-home fast charging. This Level 2 charger can take your battery from zero to 100% in twelve hours, which is perfect for overnight charging.
Charging at home is one thing, but what about on the road? That's one thing many drivers new to EVs worry about. But no worries, BMW has you covered. The automaker offers two years of complimentary on-the-go charging with Electrify America, the largest open DC Fast Charging network in America. You can add approximately 200 miles of range in as little as 30 minutes at an Electrify America DC Fast Charger.
In addition, the iX comes with a Flexible Fast Charger that is compatible with standard 120v and 240v outlets for charging when you're away from home. If you opt for 120v charging, expect to add around four miles with an hour of charging. However, 240v charging can fully recharge your battery in twelve hours. So plug in and let your EV charge while you recharge for the evening.
Where Performance Meets Luxury
BMW has all its bases covered inside and out when it comes to the M60. Not only is this EV a top-performing beast that delivers an unforgettable premium driving experience, but the addition of a cabin brimming with high-end materials and user-friendly futuristic technology is the icing on the cake that puts the M60 in a class all its own.
Ambient lighting enhances the sophisticated interior, and a standard heated steering wheel and seats are just a few of the premium features that are expected when it comes to a luxury brand like BMW. Open-pore wood and a walnut-finished center console are offset with crystal-finished controls. The smooth rolling curves and slim lines of the interior display and dash make the M60 feel more like a living, breathing work of art than a car. You can tell that BMW put as much thought into the aesthetics of its vehicle as it did its engineering.
The innovative technology of the M60 is readily displayed on the vehicle's dash, which makes accessing and using the vehicle's technology feel like second nature. BMW ConnectedDrive Services, BMW TeleServices, Bluetooth, and 5G technology are standard, making it easy for drivers to stay connected. Drivers can seamlessly link their compatible smartphone with either Apple CarPlay or Android Auto for a personalized driving experience that helps them keep in touch with messages and phone calls hands-free. Voice commands let you access your favorite apps, playlists, and more while keeping your hands on the wheel and your eyes on the road ahead.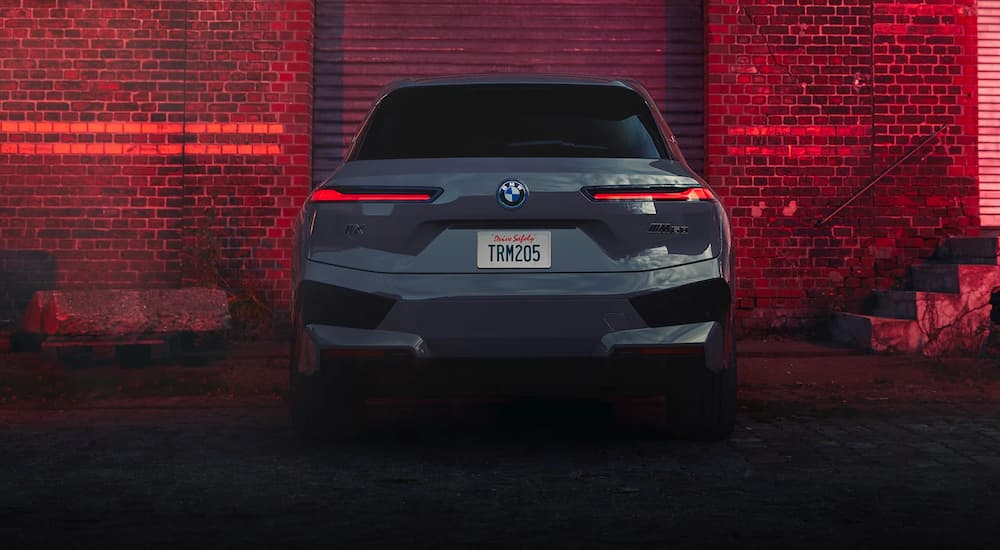 Experience the Thrill of an iX M60
The future of cars is electric, and the future of electric vehicles is the BMW iX M60. This electric crossover is the perfect mix of futuristic technology and modern design that puts it on a level all its own. The German automaker didn't cut corners when creating a sophisticated and ultra-modern vehicle that reduces your carbon footprint while making you forget about ever going back to a gas-powered engine.
The attention to detail and superior engineering of the M60 makes it a thrill to drive. The convenient charging options mean whether you're at home or out on the open road, you never have to stress about where and how you will charge your vehicle. If you're considering taking the EV plunge, don't think you have to settle for anything less than first-class. The M60 offers the premium luxury and first-class performance that you've come to expect from a brand like BMW. Going electric has never looked so good and you can find the iX M60 here at BMW of Cincinnati North.