The BMW 3 Series has long set the standard for entry-level luxury sedans. Its variety of available configurations, lush interiors, and powerful engines have made it a favorite among auto enthusiasts, but you don't have to be an expert on cars to appreciate its eye-catching styling and impressive handling. If you're looking for a used BMW 3 Series for sale, you've come to the right place. Here at BMW of Cincinnati North, we have a variety of new and used options on our lot, so we can get you behind the wheel of a model that's just right for your driving preferences and budget.
Since the 3 Series has been around for a while, there are plenty of older versions to choose from. While they might not have all of the latest features you'll find in the current models, these used examples are still quality luxury cars with plenty to offer. Let's take a look at what you should keep an eye on while shopping for a used BMW 3 Series.
Powertrain Options
Each year, the 3 Series offers several powerful engines for drivers to choose from. When you're buying used, you get your pick of all of the options from the last several years, multiplying your possible choices. While the engines tend to get more well-tuned and efficient over time, older versions are still well-engineered and have plenty to offer. Some 3 Series aficionados even have a preference for options that have been discontinued.
Go as far back as the 2014 model year, and you'll find a full array of powertrains to choose from that includes several gas-powered options, a diesel powertrain, and a hybrid. With the base turbocharged 2.0L inline-four, you can get up to 240 hp and 255 lb-ft of torque in the 328i, with a solid EPA fuel economy rating of up to 27 MPG combined. The available 2.0L turbo-diesel in the 328d has more torque, at 280 lb-ft, but only 180 hp. However, it's the most efficient option in the lineup, getting up to 36 MPG combined. For extra power, you can choose the 335i with its 3.0L turbocharged inline-six, which reaches 300 hp and 300 lb-ft of torque. The available ActiveHybrid pairs this 3.0L engine with an electric motor, boosting those stats up to 335 hp and 330 lb-ft of torque.
For the 2015 model year, the M3 model was added to the lineup. This high-performance option was designed to provide extra speed, which called for a new and improved powertrain. The 2015 M3's twin-turbo engine produces 425 hp and 406 lb-ft of torque. In the 2016 model year, a new plug-in hybrid 3 Series was introduced, the 330e, which effectively replaced the ActiveHybrid powertrain. The 330e pairs the electric motor with a turbocharged four-cylinder engine, making it less powerful than the old hybrid at 248 hp and 310 lb-ft of torque, but more efficient, with a fuel economy of 31 MPG combined. A new 340i model was also added to the lineup in 2016, with a fresh inline-six engine that brings 320 hp and 330 lb-ft of torque to the table.
Another new engine was released in the 2017 model year, resulting in a model name change and some new stats. The 328i was redubbed the 330i as the turbo-four under the hood upped its potential to 248 hp and 258 lb-ft of torque. No major changes were made to the 2018 powertrains, but 2019 saw a significant redesign and a more powerful base engine for the 330i: a 2.0L turbo-four that can produce 255 hp and 295 lb-ft of torque. The diesel option was dropped from the lineup for this model year and has yet to return, so if you're interested in a used diesel 3 Series, stick to the 2018 model year and older.
The 2021 model year saw the release of a new and improved 330e plug-in hybrid model, capable of a total combined output of 288 hp and 310 lb-ft of torque using the turbo-four engine and electric motor. It can be driven in electric-only mode for 23 miles and has an EPA fuel economy rating of 75 MPGe. The M340i also added a 48-volt mild-hybrid system for extra efficiency, with a total output of 382 hp and 369 lb-ft of torque. A super high-powered M3 Competition model features a 3.0L turbocharged inline-six engine that can produce a whopping 503 hp and 479 lb-ft of torque.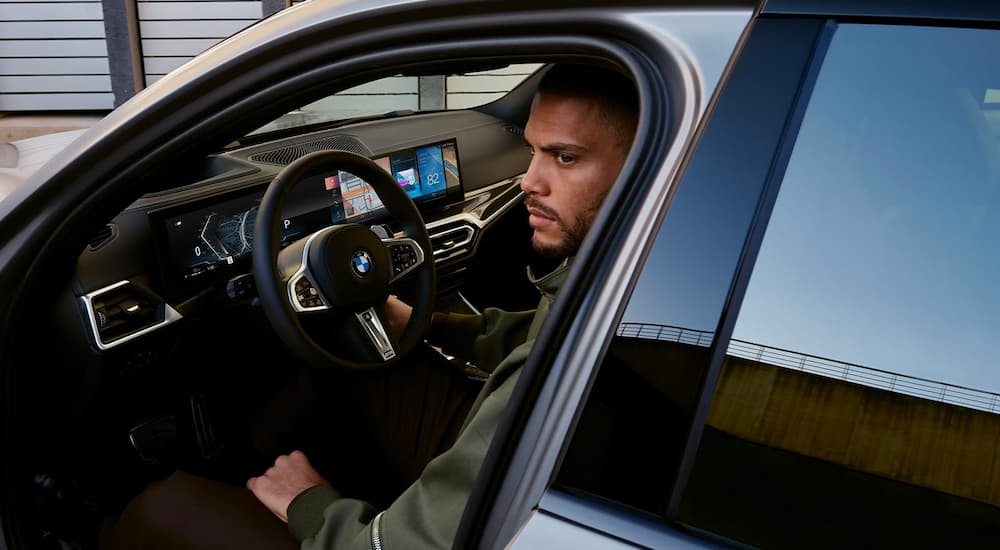 Transmission Choices
If you're looking for the extra control and street cred among driving enthusiasts that manual transmission provides, then you'll have to stick to 2018 models and older. In the 2019 model year, the standard 3 Series models were only offered with an eight-speed automatic transmission, and it's been that way ever since. However, the powerful M3 is still available with a six-speed manual. If the M3 is too much for you, don't worry––the eight-speed is an amazing transmission that comes with paddle shifters mounted to the steering wheel and a manual mode that allows you to take the matter of changing between gears into your own hands.
Infotainment Systems
The 3 Series has had standard Bluetooth audio streaming since the 2015 model year, so you can easily listen to music, podcasts, and phone calls from your mobile devices, even on older models. For the 2018 model year, BMW's iDrive 6.0 infotainment system became standard across all models, giving every version of the car touchscreen capability. This system is simple and intuitive, with available Apple CarPlay and onboard Wi-Fi. There is also an available head-up display, putting vital information right in the driver's natural line of sight, and a fully digital gauge cluster. Apple CarPlay became a standard feature in the 2020 model, and Android Auto joined it as a standard feature in the 2021 model year.
Safety Features
For every model year between 2017 and 2022, the BMW 3 Series received a five-star overall safety rating from the National Highway Traffic Safety Administration and was named either a Top Safety Pick or a Top Safety Pick+ by the Insurance Institute for Highway Safety. The two years honored with the Top Safety Pick+ designation, the highest award granted by the IIHS, are the 2017 model and the 2019 model, so if safety is your top concern, those two years might deserve some extra consideration.
LED headlights became standard on the 3 Series in 2019, providing brighter light for extra visibility while driving at night. The 2019 model year also saw the addition of standard driver-assistance technology like forward-collision warning with pedestrian detection and automated emergency braking, as well as a range of available features like active blind spot detection, active cruise control, and rear-collision protection with cross-traffic alert. Used models equipped with the Parking Assistance Package offer a surround-view camera with 3D imaging that makes it easy to park in tight spaces.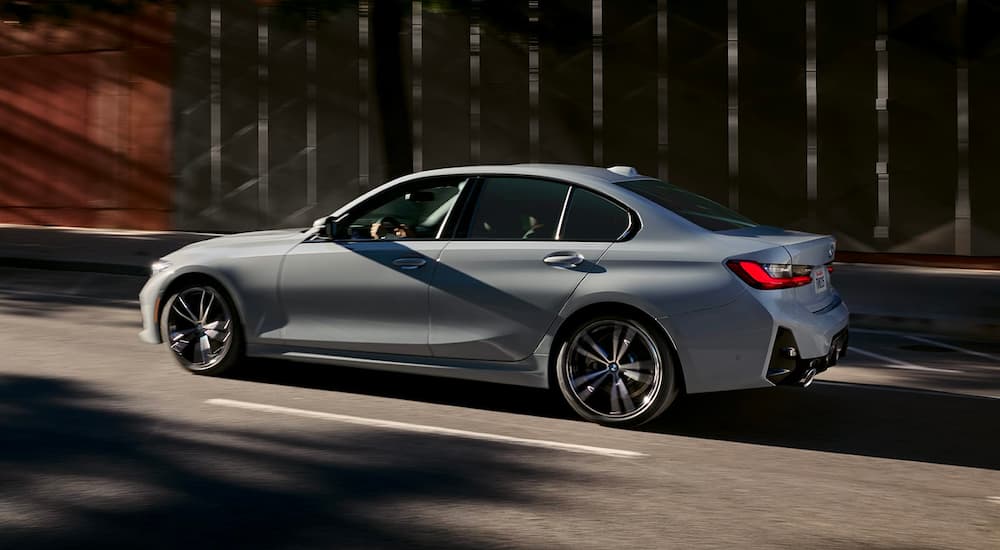 Choosing the Right Used 3 Series
With so many options to choose from, it can be difficult to know where to start. Luckily, at BMW of Cincinnati North, we are here to help you out. Now that you have an idea of some of the features that have changed from year to year, you can let us know which ones are a priority for you, and we can help pair you up with a used 3 Series that meets all of your needs and is sure to exceed your expectations. These luxury cars are built to impress, and we're confident that no matter which model you decide to go with, whether it's an older 320i or a newer M340i, you'll be happy with your choice. Reach out to us or stop by today, and we can help you take your driving experience to the next level.