A longtime favorite on the silver screen, BMW is no stranger to Hollywood fame, capitalizing on such in 2018 when the BMW 5 Series earned a place in Tom Clancy's Jack Ryan. With CIA analyst and agent Jack Ryan behind the wheel, the BMW 5 Series rekindled its fame as an executive sedan that packs a heavy punch. Perhaps that inspired your search for a used BMW 5 Series for sale, or maybe you've been a longtime fan of BMW's legendary sedan.
Regardless of what inspired your search, you're in good company since the BMW 5 Series is one of the best-selling and longest-running nameplates in BMW history. First introduced in the early 1970s, the 5 Series is currently in its seventh generation, which debuted in 2017. As your BMW authority, we recommend shopping for a seventh-generation 5 Series. We're here to show you what each year's model offers and how they offer exceptional value to drivers looking for next-level quality, outstanding performance, and innovative technology at an affordable price.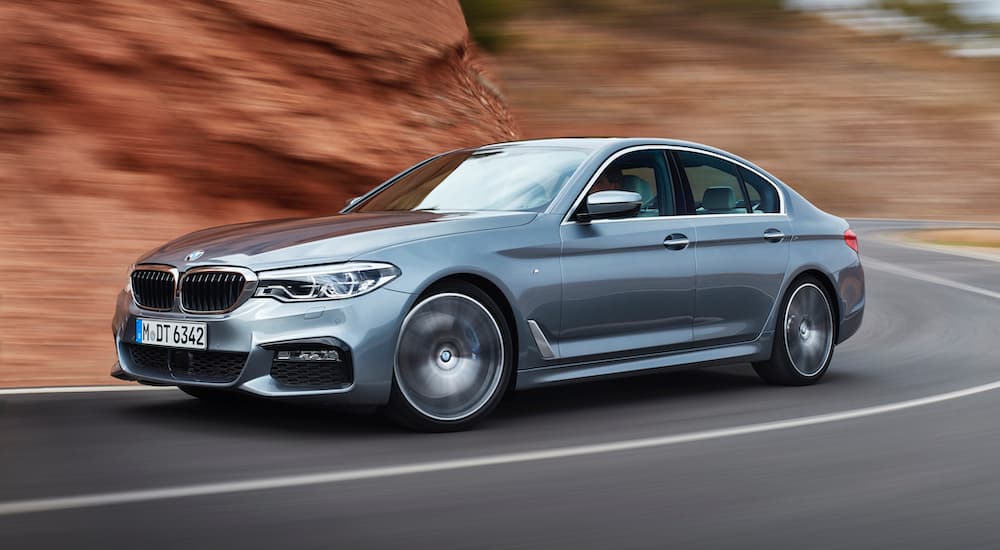 2017 BMW 5 Series: New Design
Completely redesigned from the ground up, the 2017 5 Series introduced drivers to the seventh generation of the best-selling sedan. Today, the 2017 model is ideal for those looking for a budget-friendly sedan that's plenty capable and well-equipped. What do we mean? BMW spared no expense redesigning the 5 Series, extending its dimensions yet reducing its overall weight by nearly 140 pounds for improved performance. BMW also added a new chassis and introduced two turbocharged powertrains capable of delivering anywhere from 248 to 335 horsepower and a launch from 0 to 60 mph in under five seconds.
Along with its updated powertrains, the 2017 5 Series introduced several new components working behind the scenes to deliver an engaging driving experience. The state-of-the-art chassis system gave the automaker a platform to add Dynamic Damper Control with Adaptive Mode and Integral Active Steering to work with BMW's intelligent all-wheel drive system known as xDrive. This technology gives the 2017 5 Series exceptional handling, responsiveness, and capability.
The exceptional suite of technology in the 2017 5 Series is just as impressive as its handling and agility. This technology stretches from the head-up display and remote 3D View to voice control features that ensure your focus stays on the road ahead. In 2017, these features immediately distinguished the 5 Series and are part of what makes the sedan an incredible value on the used lot today, especially since many new models are only now offering this level of technology.
Things to consider
The 3.0L six-cylinder TwinPower Turbo delivers 335 horsepower and 335 lb-ft of torque.
The Driving Dynamics Control switch adds Comfort, Sport, Adaptive, and Eco Pro drive modes for a custom driving experience.
3D Surround View gives you a bird's eye view of the vehicle via the center display or an app on your smartphone, allowing you to view your vehicle wherever you are.
The 2017 5 Series earned a Top Safety Pick+ rating from the IIHS and a five-star rating from the NHTSA.
2018 BMW 5 Series: New Powerplants
Despite BMW completely redesigning the 5 Series for 2017, the automaker introduced several more changes to the luxury sedan in 2018. These changes included the addition of new 5 Series trims that answered a growing demand among drivers looking for more options in terms of performance and efficiency. So, how does this impact your search for a 2018 5 Series? It adds a hybrid, diesel, and V8 to your list of choices.
For drivers looking for an efficient yet luxurious sedan, BMW answers the call with the 5 Series plug-in hybrid. The 2018 5 Series plug-in comes equipped with a TwinPower Turbo engine and a hybrid drive system that delivers 248 horsepower and 310 lb-ft of near-instant torque. As a result, the powertrain takes the Eco Pro mode in the Driving Dynamics Control system to a new level by adding Auto eDrive, Max eDrive, and Battery Control that allow you to choose between hybrid, gas, or all-electric power.
On the opposite end of the spectrum, you might find a 5 Series outfitted with a diesel powerplant or a twin-turbocharged 4.4L V8. The 5 Series with the 3.0L six-cylinder diesel generates 261 horsepower and 457 lb-ft of torque for incredible off-the-line acceleration. More importantly, this performance doesn't dramatically reduce efficiency, with the diesel averaging 26 MPG in the city and 36 MPG on the highway. In contrast, the V8 engine adds a dramatic boost in power, churning out 456 horsepower and 480 lb-ft of torque for an average fuel economy of 16 MPG in the city and 25 MPG on the highway.
Things to consider:
The 2018 5 Series plug-in hybrid is an affordable way to get behind the wheel of a sedan that prioritizes efficiency without sacrificing performance.
The 5 Series with the diesel engine offers exceptional power and efficiency, while the twin-turbocharged V8 sees a dramatic decrease in efficiency that will cost you more at the pump.
For optimal luxury at a budget-friendly price, look for a 540i with the Luxury Seating package that adds Merino leather and a leather dashboard.
The 2018 5 Series earned a Top Safety Pick+ rating from the IIHS.
2019 BMW 5 Series: New Tech
The 2019 5 Series is an excellent option for drivers looking for more connectivity and safety features. Fresh off its 2017 redesign, the 2019 5 Series is all about technology. This sedan introduces several standard features like Apple CarPlay and an array of optional add-ons like a wireless smartphone charging pad and built-in WiFi hotspot. Like previous models, the 2019 5 Series continues to offer a head-up display and further options for customization via unique packages that add adaptive headlamps, automatic high beams, a digital driver gauge display, and more.
Along with new connectivity features, the 2019 5 Series also comes with an extensive suite of standard safety and driver-assist technology. For example, the model has blind-spot monitoring, a forward collision warning, pedestrian detection, rear cross-traffic alert, front and rear parking sensors, and a lane-departure warning system. These features, which were standard across the 2019 lineup, add exceptional value to the 5 Series and engineer confidence when you're behind the wheel.
Things to consider:
Look for a 2019 5 Series 540i with the 3.0L six-cylinder engine and amenities like heated seats to get the most for your money.
BMW made a noticeable adjustment to the 5 Series hybrid, reducing its trunk space to accommodate the battery pack and, therefore, impacting how much you can carry in the trunk.
The 2019 5 Series only works with Apple CarPlay and is not compatible with Android Auto.
The 2019 5 Series earned a Top Safety Pick+ rating from IIHS.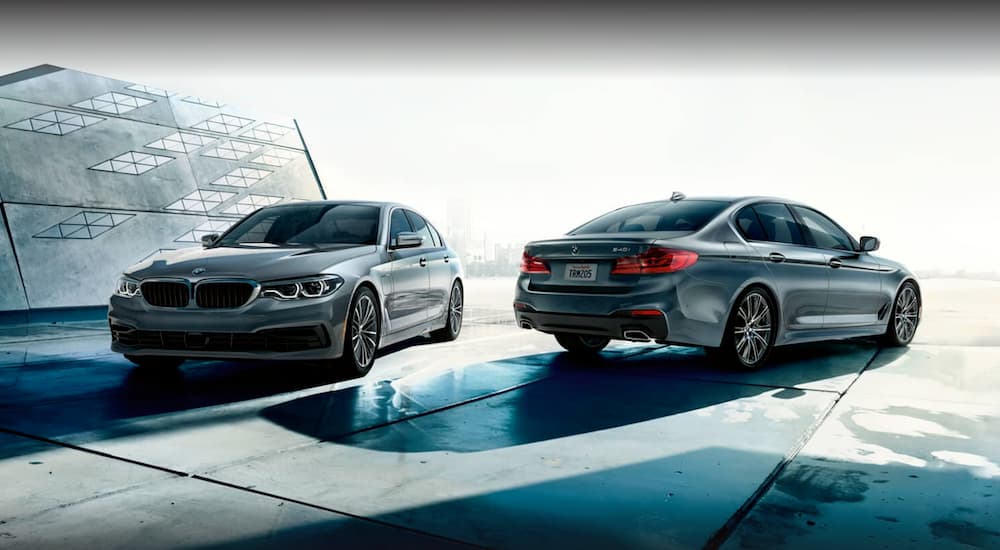 2020 BMW 5 Series: New All-Around Improvements
The 2020 BMW 5 Series is our top pick because it blends modern technology and conveniences with affordability to add incredible value to this best-selling sedan. So, how does it accomplish such a feat? BMW discontinued the diesel powerplant for 2020, focusing on improving the performance of its other powertrains. These improvements include a noticeable increase in the M550i's power, adding 67 horsepower and 73 lb-ft of torque to deliver 523 horsepower, 553 lb-ft, and a launch from 0 to 60 mph in 3.6 seconds. Even the hybrid sees an upgrade, exchanging its 9.2-kWh battery with a 12-kWh battery pack.
Beyond these notable improvements to the 5 Series' performance, the sedan also introduced several new standard features. For example, every 2020 5 Series is equipped with keyless passive entry that adds convenience and eliminates the need to have your keys in hand to unlock the sedan. The models are also outfitted with a digital gauge display and in-dash navigation, giving you an immediate view of vital information to help you navigate the road ahead.
Things to consider:
The 530e plug-in hybrid introduces a larger 12-kWh battery pack that increases its capability and range.
The M550i is an exceptional value, delivering sport-like handling and capability with its updated engine and standard M Sport Differential.
Every model comes standard with a 10.25-inch center touchscreen display compatible with Apple CarPlay but not Android Auto.
The 2020 5 Series earned a Top Safety Pick+ rating from IIHS.
The Right BMW 5 Series for You
Finding the right used BMW 5 Series starts with looking at your budget and your must-haves in a sedan. Fortunately, BMW is renowned for outfitting its models with the latest features, which makes shopping for a used 5 Series an exciting endeavor. So you know that, whether you're shopping for a 2017 or 2020 model, you're getting a well-equipped sedan that's earned outstanding safety ratings and widespread praise for its performance, innovative technology, and expansive suite of luxurious amenities.