In many ways, SUVs have become the minivans of the modern area. Large, versatile, and offering plenty of storage, the SUV has found a niche as the go-to vehicle for families looking for the ideal blend of safety, capacity, and ride height. There's nothing wrong with this trend, but it does seem to ignore one vital attribute that made the vehicles so popular in the first place: SUVs are, by definition, supposed to be sporty. While many are offered with available engine upgrades that allow drivers to inject a little more power into the equation, today's SUVs now trade more on their styling, seating, and efficiency rather than what's under the hood. That might work for some auto manufacturers, but if you're a German luxury brand known for offering top-tier performance, this aspect is never an afterthought. It is this dedication to power that makes us here at BMW Cincinnati, your premier BMW dealer in Dayton, proud of our vast selection of BMWs and everything they have to offer.
Just stop by BMW Cincinnati, and you'll quickly realize that SUVs don't have to sacrifice sportiness in the name of utility, with the X2 and X3 SUVs serving as prime examples of this fact. The brand's subcompact and compact SUV offerings have made a splash since their introduction, fusing BMW's reputation for precision engineering and refined performance with those comfort features, interior room, and functionality that have made SUVs so popular. Let's look at two luxury crossover SUVs from BMW, see how they rate in terms of performance, and dive into the features and trims that set the two models apart.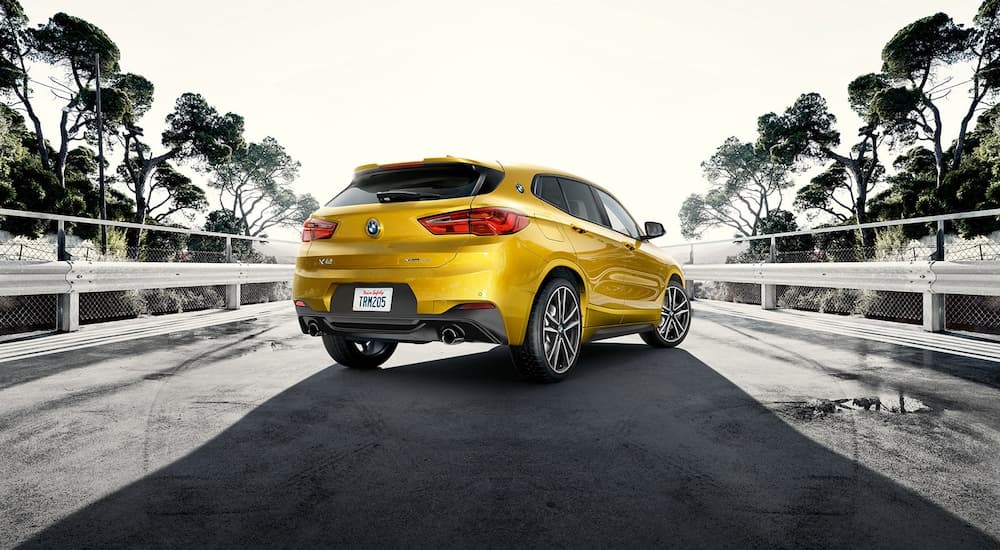 X2 Trims
The X2 is the smaller and newer of the two SUVs, first hitting the market back in 2017. A sportier alternative to the popular X1 SUV, the X2 has become a favorite among drivers thanks to its aggressive styling with sleek headlights, a satin gray finish, and squared-off wheel arches. The X2 is offered with three trim options, from the entry-level sDrive28i to the AWD-equipped xDrive28i and the high-performance M35i.
The sDrive28i and xDrive28i share a 2.0L TwinPower Turbo inline 4-cylinder engine, mated with an 8-speed STEPTRONIC auto transmission. This unique transmission includes sport and manual shift modes, giving drivers greater freedom to craft their own unique driving experience. The sDrive28i isn't the fastest of the bunch, with 228 horsepower and 258 lb-ft of torque, but thanks to some superior German engineering, it's still a lot of fun to drive. The sporty SUV can accelerate from zero to 60 in just 6.6 seconds, injecting a little high-octane fun into your everyday driving. Somehow this power doesn't come at the cost of fuel efficiency, with the thrifty four-cylinder engine averaging 24 MPG (miles per gallon) in the city and 32 MPG on the highway. It looks the part, too, with 18-inch Y-spoke wheels and high-gloss chrome exhaust tips, which do a great job of setting off the exterior.
The major difference between the sDrive28i and xDrive28i is that the latter comes standard with BMW's xDrive AWD system. It has the same 2.0L TwinPower Turbo 4-cylinder engine, though the addition of AWD means that it can squeeze a little more from that 228 horsepower, allowing the xDrive28i to shed .3 seconds from its zero-to-60 time and is 1 MPG less efficiency when faced with highway driving. Like the base model, the xDrive28i includes BMW's Active Driving Assistant Pro, a suite of semi-autonomous driver-assistance features that includes traffic-jam assistance, adaptive cruise control technology, and lane-centering assistance. The Active Driving Assistant Pro can even take over steering duties at speeds below 40 MPH, which can go a long way in taking some of the stress out of a busy morning commute.
Originally created for BMW's motorsports division in the early 1970s, the brand's M subsidiary is focused on producing high-performance versions of some of its most popular vehicles. These vehicles typically include upgraded engines, as well as a host of additional upgrades that put the M-badged SUVs firmly into the higher end of the luxury category. The M35i is the M-badged version of the X2, offering an even sportier take on the subcompact SUV with the inclusion of a 2.0-liter BMW M TwinPower Turbo 4-cylinder engine. The upgraded powertrain gives the M35i 301 horsepower and 331 lb-ft of torque, which is enough juice to send the crossover from zero to 60 in as little as 4.3 seconds. If you're looking for a sign to test this SUV's limits, search no further than the X3's Launch Control system. Designed to aid in rapid acceleration on surfaces with good traction, this driver-assistance feature gives the SUV a little boost off the line without any power-stealing wheel spin.
The M35i also features some built-in fail-safes aimed at preventing over-revving, gearbox, and clutch problems, giving drivers the green light to live out their drag strip dreams. It's also no slouch when it comes to fuel efficiency either, with an EPA-estimated 23 MPG in the city and 30 MPG on the highway. As the top-tier M model, the rest of the SUV is unsurprisingly luxurious with 12-way power front sports seats, 19-inch M Double-Spoke alloy wheels, M Sport differential, M Sport exhaust system, and more. Drivers looking to max out the M35i's sportiness can opt for the M Sport X Package or Edition Package, adding new performance-minded steering wheels, sports seats, double-spoke wheels, tires, and exterior flourishes. The M35i is the most expensive version of the X2 at $46,450, but its sports pedigree is undeniable.[a]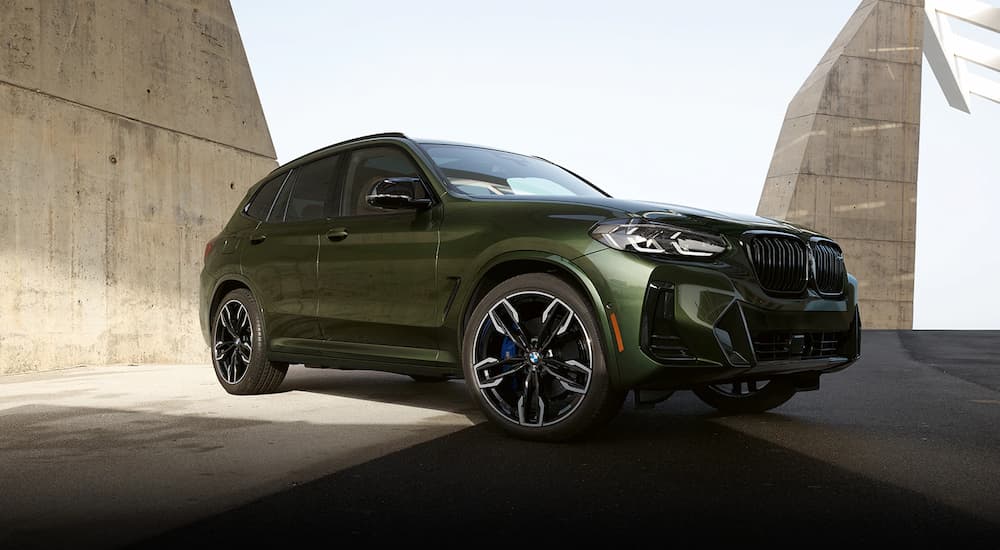 X3 Trims
The 2022 BMW X3 comes with four distinct trim options: the entry-level sDrive30i, all-wheel drive xDrive30i, and two high-performance M versions that include the X3 M and M40i. The base-level sDrive30i represents the best bargain in the X3 lineup with an MSRP below $44,000.[a] For that ticket price, drivers will get to enjoy a peppy 2.0-liter TwinPower Turbo inline four-cylinder engine producing 248 horsepower and 258 lb-ft of torque. The rear-wheel drive crossover compact SUV shows its luxury pedigree right out of the gate, with the base model including some high-end features like rain-sensing windshield wipers, heated power-fold mirrors, a 12-speaker, 205-watt HiFi Sound System, and dark oak wood trim throughout the interior. The sDrive30i also comes standard with a host of innovative safety and automation tech features, including adaptive cruise control, blind-spot monitoring, and lane departure warning.
Moving up one tier, the X3 xDrive30i adds all-wheel drive to the equation for an extra $2,000. The trim also sees the addition of hill descent control, which was originally created for use in off-road vehicles. The inclusion of hill descent control makes a lot of sense on the sporty X3 SUV, allowing drivers to descend steep slopes with a minimum of fuss. When activated, hill descent control can slow the vehicle to a walking pace without using the brakes, allowing drivers to focus on steering instead of fixating on the brake pedal. It's a sort of low-speed cruise control that takes some of the stress out of descending a steep slope, proving one again that peace of mind is the ultimate luxury feature.
The X3 M40i lives up to its high-performance reputation, getting a 3.0-liter BMW TwinPower inline six-cylinder under the hood that can churn out over 380 horsepower. It also comes standard with all-wheel drive, making it one of the most exceptional values in the lineup. The upgrades continue throughout the exterior with the addition of BMW's Icon adaptive headlights, which improve visibility and safety by detecting curves, corners, speed, and oncoming traffic and adjusting the lights accordingly. If it weren't for the powerful engine, the interior would likely be the centerpiece of the M40i. From front seats with four-way lumbar support and a panoramic moonroof with two automatic glass panels to keyless entry, USB ports, and a 12.3-inch digital display cluster, the M40i is the most well-rounded X3 of the bunch.
For those who want nothing but the best, there's the X3 M. Powered by a 3.0-liter BMW M TwinPower Turbo engine paired with an 8-speed M Sport Automatic transmission, the SUV blows away the rest of the lineup with 473 horsepower. The M version of the X3 is also endlessly customizable with Adaptive M Suspension, M Differential, and M xDrive with adjustable driving modes, giving owners the ability to tweak their ride to meet changing road conditions or turn a comfortable everyday driver into a sporty track beast. 21-inch wheels, heated seats, and a high-fidelity, 16-speaker Harman Kardon Surround Sound Audio System with a 600-watt amplifier round out the SUV's luxury credentials and cement its position atop the X3 lineup. Of course, drivers looking for even more power can opt for the Competition package, which raises the X3's horsepower to a rubber-burning 503.
Come Experience the Power of the X2 and X3 at BMW Cincinnati
The X2 and X3 represent two exciting offerings from the legendary German brand that are as stylish as they are fun to drive. The SUVs are notable for their customization, with a bevy of luxuriously appointed trims to choose from. It would have been easy enough for BMW to simply pump out an SUV loaded with luxury features, but the automaker didn't cut any corners, adding those high-performance touches that make it all the difference when you're behind the wheel. With the inclusion of technologies like Hill Descent Control and M xDrive, these SUVs can adapt to nearly any driving conditions, from steep terrain to a closed race track. It's not every day you come across an SUV lineup that's so balanced in its approach and offers such a seamless fusion of power, luxury, and comfort, but it's a welcomed surprise. Whether you're seeking a versatile everyday driver or a souped-up performance vehicle ready for some high-speed fun, there's a BMW SUV out there for every type of driver. At BMW Cincinnati, we welcome you to visit us and experience the power of the X2 and X3 in person and see exactly why when it comes to power and performance, nothing compares to BMW.
---
[a]MSRP may change without notice. See dealer for complete details.