Take a look around the lot here at BMW of Cincinnati North, As your local West Chester BMW dealership, and one thing will become clear: the brand is all-in when it comes to the next generation of all-electric vehicles.BMW has long been a leader in this emerging market sector, dating back to 2011 when it first established the EV-focused BMW i sub-brand, and doesn't look to be slowing down anytime soon. While the first entries in the BMW i series consisted of the i3 all-electric car and i8 plug-in hybrid, the German automaker has moved away from hybrid models as public EV charging infrastructure continues to improve across the US. Our little corner of Ohio has been keeping pace with the trend, installing new charging stations at a record pace and making EV ownership a more practical option with every passing day. This is good news for drivers who, in a time of ever-rising gas prices, can finally leave the pump behind for good and embrace a cheaper, cleaner alternative.
BMW followed up its first generation of EVs in late 2020 with the release of the all-electric iX3 SUV in overseas markets, but it's two intriguing new models that have really caught the public's attention as of late: the iX SUV and i4 sedan. Melding BMW's legacy for luxury and performance with the myriad benefits of an EV drivetrain, these two vehicles represent an exciting new option for drivers looking to address their carbon footprint without making any sacrifices when it comes to having some fun behind the wheel. Let's see what these two new all-electric models have in store and see how EV infrastructure is continuing to flourish in Butler County and beyond.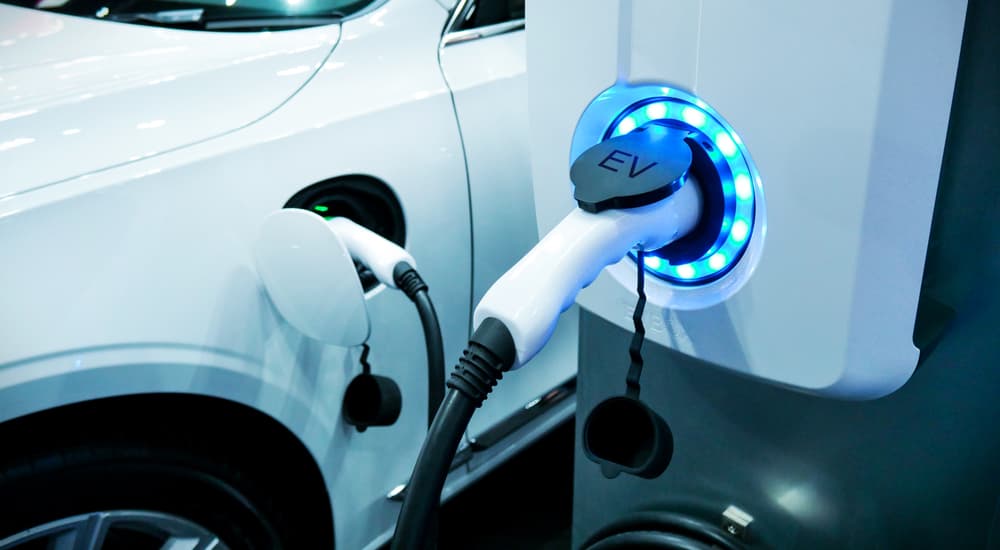 Improving Charger Convenience
You might have noticed quite a few EV charging stations popping up across Butler County recently. Funded in part by a $3.2 million grant from the Ohio Environmental Protection Agency, drivers can expect to see more than 500 EV charging stations going into commission across 170 sites in 22 counties over the next few years. The effort is funded in part by Ohio's portion of a massive settlement from Volkswagen following the emissions-related scandal in 2015. In the wake of the scandal, VW established the Volkswagen Mitigation Trust Fund, which will fund the development of EV infrastructure across the US. Volkswagen's loss is Ohio drivers' gain, with the massive settlement effectively jumpstarting EV projects across the state and beyond.
The Miami Valley will see more than $700,000 from the first round of funding, which will go towards building new EV charging infrastructure across Montgomery, Greene, Butler, and Warren Counties. The funds will be used to establish Level 2 EV charging, which many experts say is essential in promoting the long-term adoption of EV technology. Running off common 120-volt wall power, the typical Level 1 home-based charging stations are only able to add around 4 miles of range per hour of charging, making them a less practical option for quick top-ups. Level 2 charging, operating on 240-volts, can add around 40 miles of range per hour of charging, making it a much more feasible alternative for EV drivers on the go. Today, 14 towns across Butler County have EV charging stations, with six new stations in West Chester alone.
The state has also announced a second round of grant funding, which will be used to explore an all-electric school bus test project and establish new DC fast-charging EV stations. These fast-charging stations blow Level 1 and 2 charging stations out of the water with their efficiency, using upwards of 600 volts to add around 10 miles of range per minute. Compare that to less than 1 mile of range per minute with a Level 2 charger, and you'll start to get an idea of just how game-changing this technology could be. This sea change in efficiency is possible thanks to the fact that these fast-charging stations use DC current. This means that power can be pumped directly into the vehicle's battery without being converted from AC by an onboard system, making for a much quicker process all around.
BMW i4
Debuting in 2021, the i4 is BMW's fastback-style four-door coupe and comes in two different trims: the base model eDrive40 and the high-end performance-minded M50. While they might share the i4 name, the two versions differ drastically when it comes to power. The eDrive40 is no slouch by any means, with the ability to produce 335 hp from a single electric motor mounted on the rear axle, but the M50 is a different beast altogether. Equipped with electric motors on both axles, the M50 can churn out 536 hp along with an equally impressive 586 lb-ft of torque.
The difference is night and day, with the M50 able to ramp the speedometer from zero to sixty in a sizzling 3.7 seconds as opposed to 5.5 for the eDrive40. This speed, combined with upgraded brakes, a sport-tuned suspension, variable-ratio steering system, and a low center of gravity due to the floor-mounted lithium-ion battery pack, make the M50 an intoxicating ride that offers responsive handling along with lightning-quick acceleration. It looks every bit the high-end performance vehicle as well, equipped with 19-inch or 20-inch wheels, adaptive LED headlight, blue brake calipers, and a host of luxurious interior upgrades such as Vernasca leather trim, ventilated front seats, wireless charging, and a Harman Kardon sound system. The eDrive40 shares many of the same high-end touches, including rose gold trim, light wood trim, and a massive new seamless display that can also be found on BMW's other new electric offering, the iX SUV.
While it might not offer the same oomph as the high-performance M50 mode, the eDrive40 version of the i4 excels when it comes to battery range. Both trims feature the same 80.7 kWh battery, but the eDrive40 makes the most of its juice with a range of 301 miles to the M50's 270 miles. This makes sense given the fact that the M50 features two electric motors to the eDrive40's one, but it's an important consideration for drivers who find themselves spending a lot of time in the car. Adding optional upgrades like 20-inch wheels and wider tires further impact the M50's range, dropping it by as much as 40 miles. BMW has engineered around this issue, for the most part, equipping both versions with a 200-kilowatt charging capacity which allows drivers to add 100 miles of range in just 10 minutes.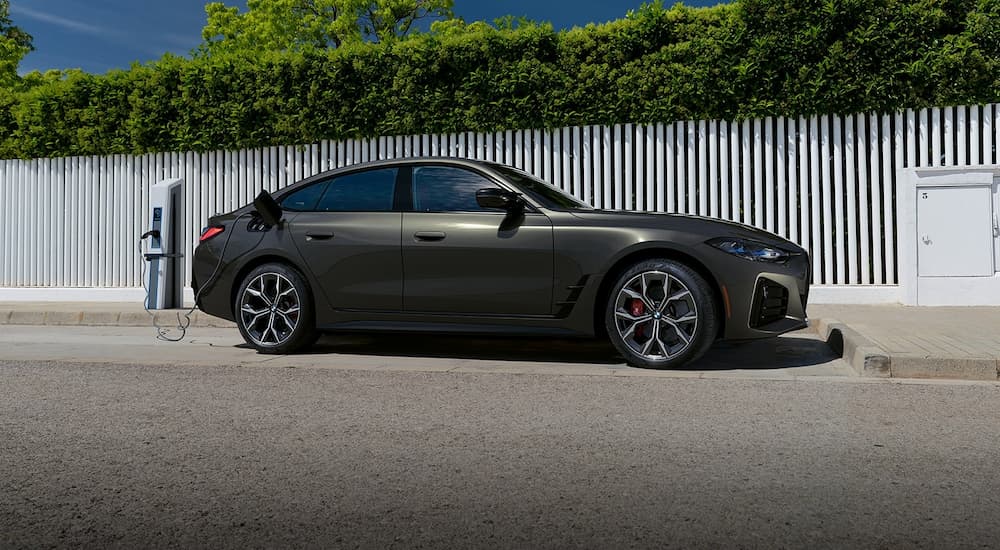 BMW iX
The BMW iX midsize crossover SUV is the brand's first attempt at an all-electric utility vehicle since the hatchback i3 hit the scene back in 2013. That model was discontinued in 2022 after selling over a quarter-million units in its nine-year run and paving the way for BMW's new electric SUV offering. Like the i4, BMW's new all-electric SUV will be offered in two versions: the xDrive50 and the high-performance M60. Unlike the i4, both versions are equipped with two electric motors, giving the iX the sportiness to live up to its SUV designation.
Neither are hurting for power, with the xDrive50 delivering 516 horsepower while the M60 offers an almost gaudy 610 horses. That sort of power, combined with BMW's reputation for precision engineering, makes the SUV an enthralling ride, with even the entry-level version able to post a zero to 60 time of just 4.4 seconds. The difference in power between the two isn't as pronounced as it is on the i4, with the M60 delivering a respectable zero-to-60 of 3.6 seconds, but the ride is a little more refined. This is thanks in part to the M60's air suspension and rear-axle steering that can adapt to particularly aggressive driving styles, though both components are offered as an optional upgrade for the xDrive50.
The iX is powered by a 111.5 kWh battery pack which allows for up to 324 miles of range in the xDrive50 and 288 miles in the M60. Like the i4, the SUV is compatible with DC fast charging, which, with the ability to bring a battery from 10 to 80 percent in as little as 35 minutes, takes a lot of the hassle out of EV ownership. When paired with the standard 20-inch wheels, the iX can achieve an EPA-estimated 86 MPGe combined. While this might not break the 100 MPGe mark like the i4 (which gets up to 109 MPGe combined), it's still an impressive figure given the SUV's size and power.
The interior is one area where the iX truly gets the chance to show off its luxury credentials. A hexagonal steering wheel and panoramic sunroof give the SUV a distinct look, with the latter featuring electrochromic shading that allows drivers to change the sunroof's opacity at the touch of a button. BMW offers three upholstery options, perforated leather, SensaTec, and a new microfiber option called Loft, and there are plenty of fun surprises in store. For example, the front seats are not only heated, but they also feature built-in speakers for a true surround sound experience. Die-hard audiophiles can upgrade from the standard stereo to a 30-speaker setup by Bowers & Wilkins that will turn every drive into a high-fidelity experience.
In addition to all the expected high-end interior finishes, refined styling, and comfort features, the SUV also serves as the perfect showcase for BMW's new iDrive 8 infotainment system. The massive touchscreen display isn't just one of the biggest we've seen at 14.9-inches, but it's also one of the more stylish. The curved display dominates the dashboard, which at first might be a little alarming as it leaves little room for additional buttons and controls, but that's because BMW has simply moved many of them to the display itself. From climate controls and navigation to streaming services and vehicle diagnostics, the iDrive 8 system serves as a one-stop-shop for everything you could possibly want to know or control on the iX. The infotainment portion of the screen shares a curved screen with the 12.3-inch digital instrument panel, which is eminently customizable with the ability to display speed, navigation, media, and even information related to the SUV's advanced driver assist system.
A Peek Into the Future
The i4 and iX represent an exciting peek into the future from one of the world's most popular luxury brands. While many early EVs prioritized efficiency above all else, BMW is here to prove that luxury, performance, and style don't have to take a backseat when drivers decide to go electric. As gas prices continue to reach new highs, these vehicles, and the charging networks needed to make them a practical alternative to gas-powered vehicles, are more important than ever, and BMW is doing its part to help blaze a new path forward. In fact, the automaker recently announced a $181 million research and development effort to study the battery creation process, signaling that EVs will play an increasingly significant role in the brand's future.
BMW doesn't have plans to produce its own batteries in-house but hopes the research effort will aid suppliers in producing batteries that meet the brand's specific needs. Increased energy density and reducing cost by up to 30 percent are the two main goals, and both could go a long way in helping BMW outcompete other EV manufacturers. No matter what the future holds for BMW, it's encouraging to see an established brand step so wholeheartedly into the EV market while continuing to meet its own lofty standard for luxury and performance.