Hamilton County, Ohio, has always had style. Between the strange juxtaposition of acres of rural farmland and the endless bustle of Cincinnati lie plenty of amazing places to be discovered. Sharonville is one such area. A suburb of Cincy, Sharonville is home to the celebrated Sharon Woods, where visitors to the Heritage Village Museum can gain insight into Ohio's rich history. Local restaurants offer a taste of both exotic and familiar flavors. As your Sharonville BMW dealership, BMW of Cincinnati North has noticed a certain increase in street-side style. That is to say; luxury cars are reaching new heights in the suburbs.
More and more drivers are investing in transportation that's not just a "good" ride but a thoroughly enjoyable ride, instead. The time has come for drivers to appreciate their daily commute as a privilege and an honor rather than a necessary daily task. And what better way to enjoy the road than from behind the wheel of a BMW that makes sense for your drive, your style, and your preferences? As seasoned Ohio drivers, we know that precipitation in all of its forms can make the trek harder, but fear not- BMW has designed vehicles that can handle the snow, nimbly avoid the potholes on 275, and make day trips to Newport and beyond a fun and luxurious outing. Take a look at the BMWs that are making tracks on the suburban streets of Sharonville and beyond.
The BMW X1
When the BMW X1 hit the market, it quickly gained a reputation as the "affordable" BMW. In some cases, that word implies a diminished quality or a lower level of luxury. In the case of the BMW X1, "affordable" simply means drivers can have a lot of fun at a lower price.
The X1 is a subcompact luxury crossover SUV, which means it's smaller but incredibly nimble and zippy, thanks to its 2.0L turbocharged inline-4 engine and fine-tuned suspension. This engine is plenty powerful for a subcompact crossover, which means driving it is actually fun. Whether merging into one of Cincinnati's plentiful construction zones or making the trek up to Columbus or Indianapolis, X1 drivers report that cruising in the little SUV reminds them how enjoyable driving can be.
Of course, it doesn't hurt that the X1 is given a full host of luxurious features to increase the comfort of the driver and passengers. The iDrive touchscreen infotainment system provides tunes, navigation, and more via the premium sound system. Regular tasks, such as adjusting the seat position or opening the rear tailgate, are power operated for added convenience. However, sometimes more is more, and the X1 offers a variety of optional packages that can make the experience of driving even more enjoyable. From dark leather seating to heated seats and sport-tuned suspension, BMW provides drivers with several available options, allowing drivers the ability to custom-build their own ideal ride.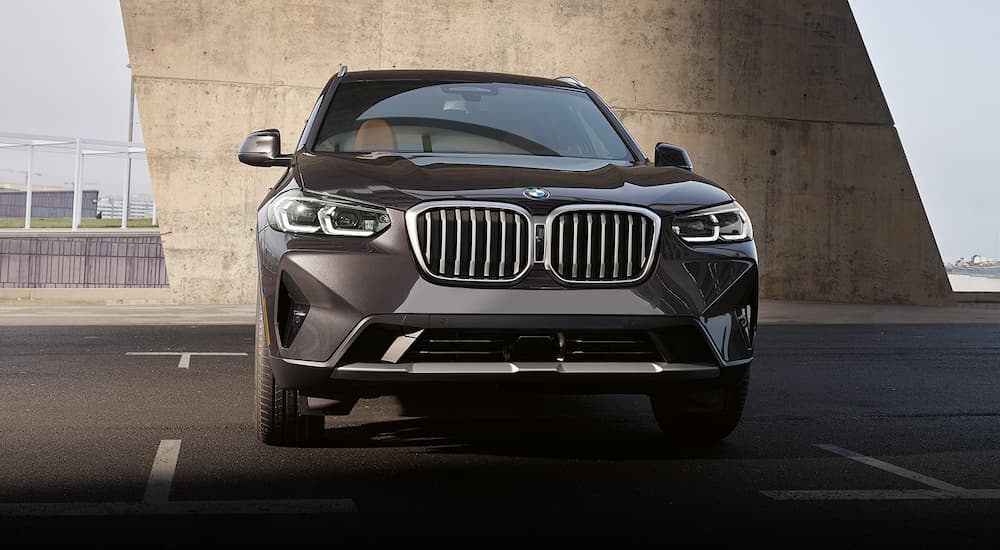 The BMW X3
For those who require a bit more room than a subcompact can provide, perhaps the BMW X3 is the right move. A compact crossover, the X3 offers up to 62.7 cubic feet of cargo room, the contents of which are restricted only by your own creativity. The keyword for the X3 is "adventure," which can be defined in a variety of ways. Therefore, the X3 is offered in a variety of trims, each of which has its own distinct driving personality. The 2022 X3 M Competition boasts over 500 horsepower, while the xDrive 30i includes all-wheel drive for navigating through Ohio's springtime slush. The BMW X3 features a different turbocharged engine for each trim, allowing drivers to select the right amount of juice to see them through their daily activities. Whether your primary allegiance is sport, speed, or safely getting your family home after a long day of work and school, the X3 is offered in a configuration that meets those needs with precision.
There's more to a commute than how well a car handles, of course. Inside the cabin, the X3 is designed to reduce stress and create a pleasant ambiance with a large, strategically placed infotainment system. In fact, the 2022 version offers a 12.3-inch infotainment system with a 12.3-inch driver information display, putting all of the necessary details in a prominent position to ensure the driver doesn't have to divert attention away from the road.
"Power" is another keyword when it comes to the X3– as in, power-operated, automated features, such as adjustable seats, tailgate, tri-zone climate control, parking sensors, and even rain-sensing windshield wipers. The X3 has the basics under control. Now you just sit back in the heated leather-trimmed seat, grab the leather-wrapped steering wheel, and drive.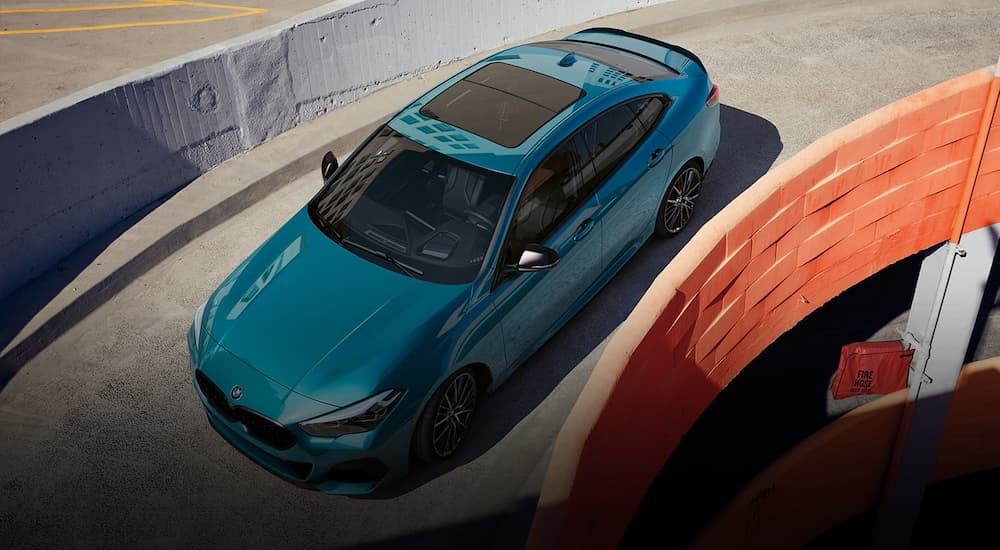 The BMW 2 Series Gran Coupe
Maybe you're more of a car fan, but love how handy a hatchback can be. Day trips to Indianapolis, Louisville, or even Bardstown can definitely benefit from an accessible, full-sized trunk that can be quickly filled and unpacked once you arrive safe and sound in Sharonville. While the term "coupe" often refers to 2-door vehicles, the BMW 2 Series Gran Coupe is a 4-door vehicle with a wide stance for improved stability, regardless of how many curves the road throws at you. The 2 Series is also blessed with BMW Performance Control, which allows for easier cornering thanks to state of the art torque vectoring. As a result, you'll feel balanced, solid, and settled, even when zipping up and down the Seven Hills. Offered in front-wheel drive and all-wheel drive, the Gran Coupe features a 2.0L inline-4 engine with plenty of spunk to navigate through rush hour without breaking a sweat.
Inside, you'll be cool as a cucumber, too, thanks to the ergonomically designed cabin, 10-speaker HiFi sound system, and personalized driver memory features that allow you to get in and start driving with exactly the right settings to make your drive a dream. In fact, the 2 Series Gran Coupe includes BMW's Active Driving Assistant suite of driver assistance features, including Frontal Collision Warning, Active Blind Spot Detection, and Lane Departure Warning. While you can't control what other drivers will do, your Gran Coupe will help you make the most out of game-day traffic.
It's Time to Check Out Your Sharonville BMW Dealership
Of course, these are just a sample of the BMWs you can find on our lots at BMW of Cincinnati North. Regardless of whether you gravitate towards Sports Activity Vehicles, coupes, or sedans, the BMW lineup includes a variety of vehicles for every discerning driver. Driving through the suburbs or commuting to the city each day can be an unbearable effort sometimes, especially when the skies turn gray and the construction traffic takes over. Why not enjoy the drive, courtesy of the carefully designed cabin of a BMW?
From seats that support your body to comforting features such as heated seats and steering wheels that chase away the cold and aches, isn't it about time you enjoyed driving? The Queen City is situated in the perfect position for a long weekend adventure or a casual day trip–why not take advantage of Southern Ohio's many resources, climb in your BMW, and see the world from a more luxurious perspective?