If you're shopping for your next vehicle, and you're interested in a luxury brand, perhaps no brand is prepared to wow you quite like BMW. At BMW of Cincinnati North, we're the best Springdale BMW dealer around, and when it comes to what our local drivers are searching for, a few new models come to mind. Whether you're concerned with navigating inclement winter weather or you're daydreaming about a more comfortable commute into work, we have a selection of new BMWs to add value to your travels. However, BMW is always coming out with new vehicles to choose from, so here are the top three new BMW models we recommend for Springdale drivers.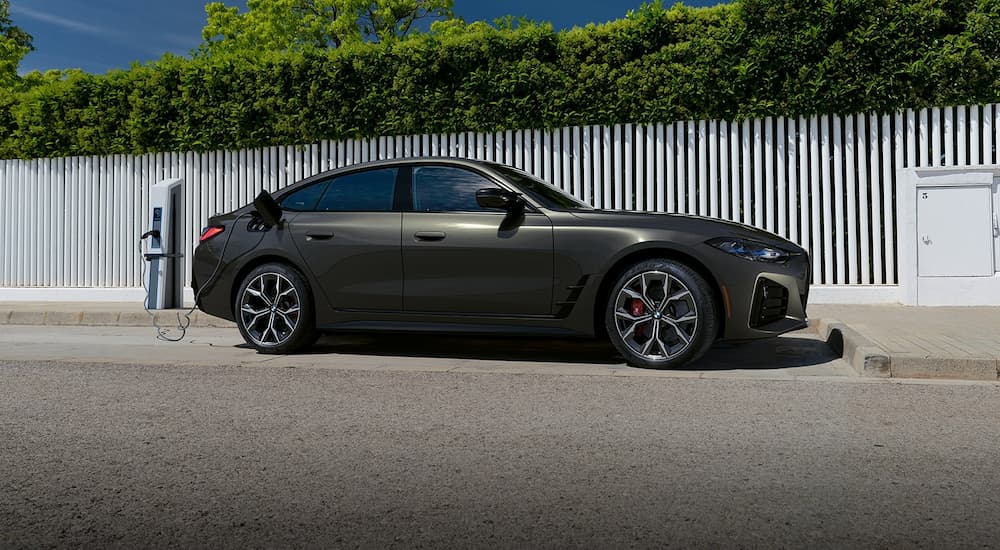 1. BMW i4
The average commute for Springdale drivers is typically about 21 minutes one-way, and if you're searching for a vehicle that helps you maximize efficiency during this ride, the all-new BMW i4 won't let you down. This brand-new all-electric BMW offering provides heightened efficiency, as well as striking BMW style, allowing Springdale drivers to enjoy their commute without ever having to stop at the gas station to fill up. Instead, you can recharge your vehicle overnight from the comfort of your garage or driveway.
Utilizing one or two electric motors, based on the model you choose, the i4 features show-stopping power and performance, in addition to favorable range. The single motor i4 eDrive40 is estimated to travel up to 300 miles on a full charge, while the dual-motor i4 M50 can travel up to 245 miles, which makes this eco-friendly traveler among one of the top options in the EV industry. Keeping the i4 charged and ready to go is made possible through a number of charging solutions, including fast-charging options, public charging stations, and home charging for increased convenience.
You'll find BMW luxury touches throughout its quiet, pristine cabin, including large displays, simplifying the look of the dash and bringing all of your must-have features seamlessly together for a more modern feel. Available Vernasca leather seating materials, plus a refined aura throughout, allow the i4 to be as luxurious as it is practical. Outside, the i4's adaptive LED headlights with Laserlight accentuate this electrified machine, providing it with a presence that can't be ignored. It's also the most aerodynamic BMW ever designed, with a long wheelbase, sleek roofline, and short overhangs, increasing its performance, as well as its incomparable style.
For those who are seeking a commuter vehicle that boasts extreme style, matched with unharnessed efficiency and performance, the all-new i4 may just be the perfect BMW for you. After all, when you're busy traveling into the city every day, it helps to have a vehicle that will work for you. Not having to take time out of your hectic schedule to stop and fuel up makes the all-electric i4 a valuable member of your family and an outstanding addition to your travels.
2. BMW iX
Springdale is home to many families who require more room in their vehicles, as well as safety and driving dynamics that can withstand our chilly winters. This is why the iX is one of our top picks for those seeking a safe, dependable family vehicle. Another all-new, all-electric model for 2022, the BMW iX Sport Activity Vehicle (SAV) is a family's best friend on the road and off. Its impressive 113-kWh battery not only delivers substantial thrill to any drive, with over 500 horsepower propelling it forward and a 0-60 time of a mere 4.4 seconds, but its range is just as impressive. Able to travel an estimated 300 miles on a single charge, this SAV proves that electric vehicles can come in all shapes and sizes yet still harness unbelievable capabilities.
Perfect for those who desire more room in their ride, the iX showcases an expansive cabin space, able to handle more passengers and gear with elegant finesse. Luxury enhancements add a level of refinement you won't be able to find in rivals, including open-pore wood finishes, as well as olive-leaf tanned leather seating materials. With ample legroom, especially for rear-seated passengers, and a liquid crystal-embedded power moonroof to create the ultimate ambiance during any drive, getting cozy onboard the iX is quite simple and enjoyable. Outside, its sculpted features wow passersby, with sleek headlights, 22-inch aerodynamic wheels, and a bold grille to make for a compelling presence.
What's even more appealing is that the iX features all-wheel drive capabilities, which really come in handy during inclement weather, especially for wintertime driving. Have added assurance that your vehicle is armed and ready to handle the elements so that you can travel easily with your precious cargo. For the adventurous family always looking to explore, the iX can serve as your loyal companion, allowing you to venture into nature like never before. With a spaciousness that's undeniably appealing to capabilities and an efficiency that can't be matched, the BMW iX is the ultimate family traveler.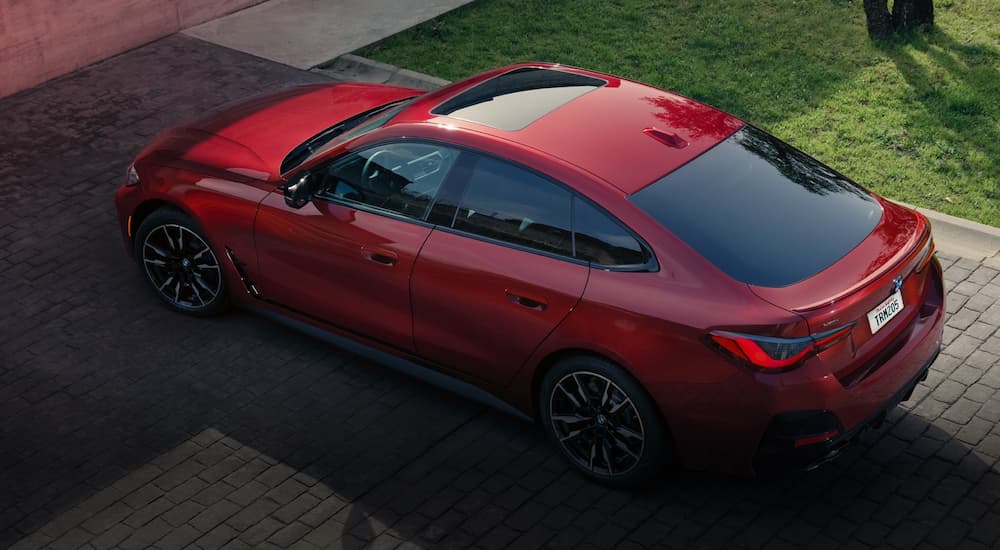 3. BMW 4-Series Gran Coupe
Finding itself back in the BMW lineup for a new generation after taking a year off, the 4-Series Gran Coupe is ideal for drivers who want to enjoy classic BMW style and performance during their travels. Springdale drivers have a major advantage of being close to many popular cities, like Cincinnati, Lexington, Indianapolis, Columbus, and others, many of which make the perfect day trip. What better way to enjoy your day trip than with a vehicle that's exciting and comfortable to drive? That's why the re-imagined 4-Series Gran Coupe is one of our favorites.
This timeless touring option showcases an athletic appeal, complemented by sleek style and unhindered driving dynamics. Choose its 3.0L Turbo I6, which makes 382 horsepower for the most intense ride possible, and when you want the most dialed-in drive ever, its quick-shifting 8-speed automatic sport transmission will astonish you with its responsiveness. Its sporty vibes extend across its exterior, with a wide chassis, aerodynamic air inlets, and intimidating features; while inside, comfort reigns supreme, with ample cargo space for all the gear you're bringing with you on your trip, as well as an expansive layout throughout.
When you're looking for a vehicle that will allow you to explore our area like never before, the 4-Series Gran Coupe is the ideal companion on your journey. Its athleticism, style, and power make for an exhilarating ride, while its cozy interior allows all on board to enjoy every mile that passes them by with ease.
The Best BMWs for Springdale Drivers
Here at BMW of Cincinnati North, we understand what Cincinnati-area drivers are looking for when it comes to their vehicles. Whether you're seeking out a more exciting companion for your work travels or you're on the hunt for a luxurious and stylish family vehicle, we have options in our showroom for any type of travels. It's no secret that BMW designs vehicles that appeal to many different types of drivers with varying travel destinations and driving needs, which makes this brand one of the most alluring luxury brands around. If you want to maximize your time behind the wheel while you travel around Springdale and beyond, keep these new BMW models in mind and get ready for a more impactful ride.