From planes to motorcycles to sedans and SUVs, the BMW brand has had plenty of experience building quality products for over 100 years. Through the years, BMW has followed the ever-changing market focusing on style, performance, and technology. With a Cincinnati BMW lease from BMW of Cincinnati North, you can have confidence that you will drive home one of BMW's incredible models. The hardest part for you will be deciding which one to choose.
In the Beginning
BMW originated from the engine aircraft manufacturer Rapp Motorenwerke of Munich, Germany. When Rapp took over the bankrupt aircraft engine fitting company, Gustav Otto Flugmaschinenfabrik, it started BFW. The Rapp Company soon changed that name to the renowned BMW. Although the nameplate BMW did not arise until 1917, BFW's founding date of March 7, 1916, was handed down to BMW as its official birthdate.
Towards the end of aircraft engine production, BMW released its first motorcycle, the R32, in 1923. In 1928 BMW began producing cars. The BMW 3/15 was its first car, although it was technically a "Dixi" car until July 1929, when it finally became an official BMW car. With many changes throughout the years, a couple of things have remained consistent for BMW: their quality and popularity.
BMW 3 Series
This best-selling vehicle for BMW debuted in 1976 and has continued its popularity throughout the decades. The E21 was the first generation of the 3 Series that began as a rear-wheel drive two-door sedan, produced until 1983. Since BMW designs its cars to perform on the road and the racetrack, it is not surprising that many E21s were eventually converted to race cars and taken to the track.
Today, the iconic sports sedan has evolved into a larger, more technologically advanced vehicle that still offers performance and style for a wide range of budgets. The 2022 BMW 3 Series comes in several trim levels and many paint choices with stylish sporty accents starting at just around $41,400. When it comes to connectivity, advanced technology like remote services and wireless features are readily available. From Apple CarPlay and Android Auto Compatibility to ConnectedDrive Services and BMW TeleServices to Remote Software Upgrade, technology has never looked so luxurious. With available features like Real-Time Traffic Information and On-Street Parking Information, Stolen Vehicle Recovery, Remote Door Unlock, and Intelligent Personal Assistant, driving has never been so intuitive.
Multiple drivetrains and engine options are available, from a 4-cylinder or 6-cylinder gasoline-powered engine to a plug-in hybrid engine with both rear-wheel or all-wheel drive options available. Horsepower output can range from 255 to 382 horsepower in the gasoline-powered engines to 288 horsepower with the electric hybrid motors. As for fuel economy, you can expect an estimated combined 26 MPG to 30 MPG depending on the motor and drivetrain, with the hybrid getting an estimated 28 MPGe. No matter the model, you'll get great mileage for your daily commute but can still enjoy a little speed and power on the track for fun.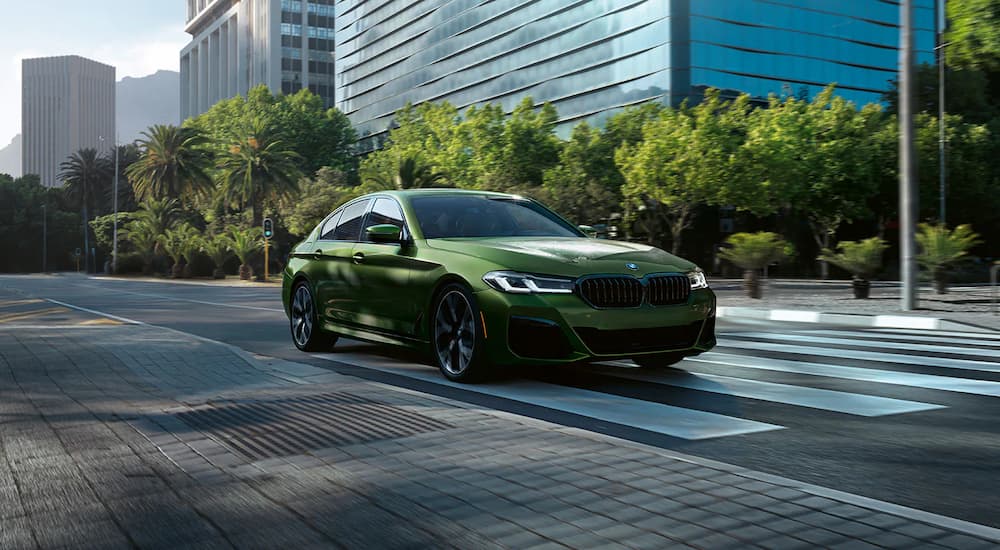 BMW 5 Series
BMW's second best-selling model debuted in 1972 as the mid-size 5 Series sedan. Its first-generation model, the E12, was manufactured until 1981. Like the 3 Series, this model has changed throughout the years yet remains popular among enthusiasts and fanatics alike. The 2022 BMW 5 Series continues to impress with an array of paint colors and trim level options. The starting price for this series is around $54,000. Although the pricing is higher than the 3 Series, the 5 Series proves its worth with an athletic exterior and an interior built for elegance and comfort.
For the midsize 5 Series sedan, you get a little more cargo space with 14 cubic feet, while the rear passengers get more legroom with 36.5 inches compared to the 3 Series. If the added room isn't enough, how about massaging seats? Technology and connectivity are also similar to those of the 3 Series. However, the 5 Series offers some features standard that the 3 Series does not like 8 programmable bookmarks, 32 GB of multimedia storage, and a 12.3-inch infotainment center which is larger than the 3 Series.
The BMW 5 Series also offers some extra muscle with the availability of four engine options. Options include an added 4.4L Turbo V8 engine with the ability to get up to 523 horsepower and 553 pound-feet of torque, which beats the 3 Series most powerful engine option by 141 horsepower and 185 pound-feet of torque. The 5 Series does get slightly less fuel economy than the 3 Series, with only an estimated combined 20 to 28 MPG depending on which engine and drivetrain you choose. But with the added power that comes with the 5 Series, losing a few miles per gallon on your commute does not seem too bad.
BMW X3
If a sports activity vehicle (SAV or a sportier version of an SUV) piques your interest, the BMW X3 was introduced in 2003 and has become the brand's best-selling vehicle. Although it has not been around as long as BMW's sedans have, the X3 can still make an impression. This compact SAV is a perfect combination of functionality and luxury.
The 2022 BMW X3 is available in rear-wheel drive and all-wheel drive options with a turbocharged 4-cylinder or 6-cylinder engine. It puts out between 248 to 382 horsepower and 258 to 369 pound-feet of torque while getting an estimated combined 23 to 25 MPG depending on the powertrain. With a starting MSRP of roughly $43,700, you can only imagine the interior offers even more.
The elegant interior design upon first look is only the beginning. The driver and front passenger can ride comfortably with 40.3 inches of legroom, while the back seat passengers have 36.4 inches. A desirable advantage of an SAV is its cargo space, and the 2022 BMW X3 delivers with a max of 62.7 cubic feet for its passengers' belongings. The interior also comes with 10-way power-adjustable front seats and reclining rear seatbacks. BMW's advanced technological features are available, but the X3 does come standard with a 10.25-inch infotainment display with navigation and smartphone connectivity and a WiFi hotspot.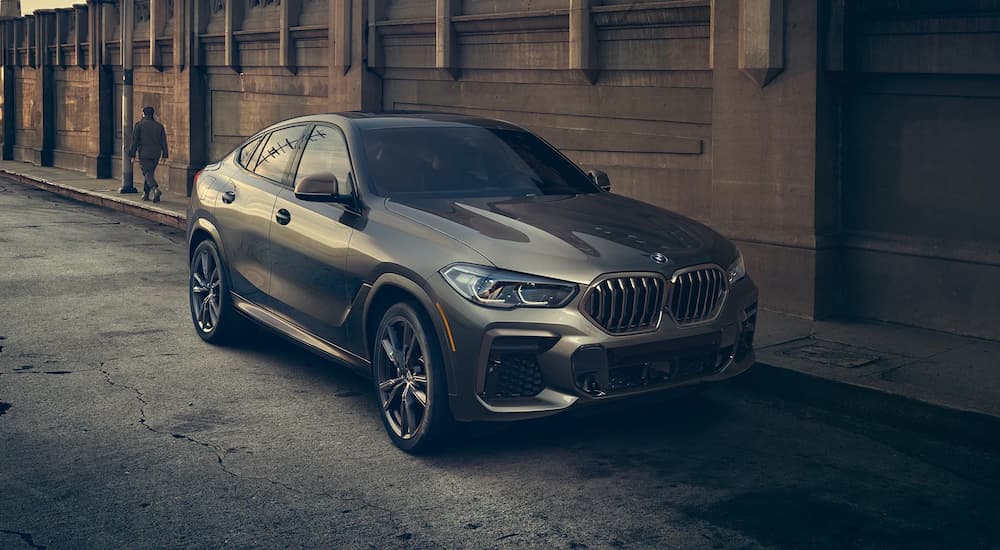 BMW X6
This midsize crossover coupe that originated in 2008 is one of the cars buyers love the most. The 2022 BMW X6 will continue to hold its popularity even with its higher pricing than other models. With starting MSRP in the $67,000 range, the sleek exterior design and premium comfort make it stand out from the rest with its standard leather upholstery, available ambient lighting, and available glass controls.
Along with appearance, the 2022 BMW X6 packs a lot into performance. Available in only all-wheel drive for the turbo 6-cylinder and turbo 8-cylinder engines, this fan-favorite is always ready for the road. You can expect to get a combined 18 to 23 MPG along with exceptional handling with this model. The X6 has a power output of 335 to 523 horsepower and 331 to 553 pound-feet of torque that can satisfy your need for speed while driving in style.
Which to Choose
BMW offers a wide variety of models in a multitude of styles for any budget. This brand knows how to make consumers happy by giving them what they want. There is no questioning whether or not to choose a BMW to lease; the question is, which BMW should you get? Ultimately the decision is up to you, but there are a few that you should at least test drive. Whether you choose one of the best-selling BMW vehicles or one that buyers seem to gravitate toward when they have more money to spend, you are bound to drive home a BMW that is everything you want in a vehicle.