Vehicle ownership isn't for every driver, which is why leasing is a great option for drivers who prefer to enjoy the benefits of driving a new vehicle. BMW lease deals include a long list of advantages that make leasing less expensive and simpler than owning. Here, we will cover the most commonly asked questions about leasing a BMW to help potential lessees move forward with leasing a new vehicle.
What BMW Models Can I Lease?
Most new models can be contracted under a lease deal that BMW makes flexible and easy to shape around individual lifestyle and driving needs. The best way to find out what BMW models are available for lease is to visit or call your local BMW dealer to find out what inventory is offered for lease. Interested individuals can also visit the BMW website to find out what models qualify for lease programs and to discover the potential in the wide range of vehicles available. BMW makes leasing practical for anyone who qualifies through financial terms provided by BMW Financial Services.
Is Leasing Better Than Buying?
There are benefits to leasing that can make it a straightforward decision for many people who want the convenience of a personal vehicle without most of the hassles that come with ownership. When you own a vehicle, you're on the hook for all the costs of maintenance and repair, and it's up to you to handle a sale if you decide to purchase a new model. Leasing a vehicle can relieve you of those concerns. You can make a deal that ends prior to the manufacturer's warranty, which means you aren't likely to need to worry about repairs. With BMW models 2017 or newer, the BMW Ultimate Care program for regular maintenance covers a number of mechanical repairs to items like the engine, brake fluid, and spark plugs for three years or 36,000 miles.
Leasing over buying means that once your lease is finished, you can turn in your vehicle for a newer model as often as you like because you negotiate the time frame for each lease. If you want to drive a new car every year, negotiate terms for a year-long lease and enjoy a new BMW every time new models are released without the hassle of having to trade in or privately sell a vehicle when you purchase a new one. As long as you take good care of your vehicle, you can expect a great experience with leasing instead of buying. BMW models often make great lease vehicles because they have excellent residual value, which means costs for leasing are low if you secure a good interest rate.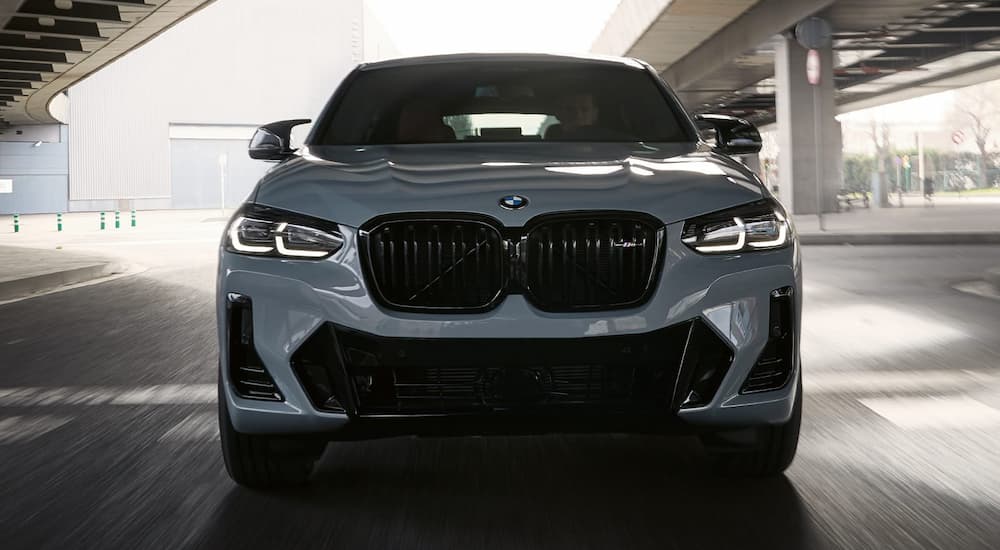 What Are Overage Fees?
Overage fees are only charged when you drive your vehicle over the set limit of miles you put into your lease agreement. BMW allows potential lessees to set the mileage for their contract upfront, so you don't need to worry about overage, and if you discover that you have driven more miles than expected during the lease you can purchase more miles at any time prior to turning your vehicle in at the end of the contract. Never worry about how many miles you drive when you lease a BMW with the freedom of knowing you can always add more through the Mileage Adjustment Program, up to 100,000 miles. As long as you purchase 120 days prior to having to return your BMW at the end of your agreement, you can buy more miles at a discounted rate.
What Happens When My Lease Time Ends?
BMW provides all lessees with an effortless transition for returning your vehicle when the lease time ends, starting with a reminder that will be sent to you about the upcoming end date. You will be prompted to bring your BMW in for a pre-inspection at a certified dealer, where service techs will check your vehicle for repairs and overall vehicle health. When the inspection is complete, you can access the results online to view details about what repairs you can expect, if any, when you return the vehicle to the dealership at the end of the lease. Repairs beyond normal wear and tear or that aren't included in your lease will be charged to your account.
Choose to have necessary repairs completed prior to the end of the lease, or simply turn in your vehicle on the lease end date, and the BMW dealership will complete them and bill you. Avoid taking your vehicle to a mechanic who is not an approved BMW repair service; otherwise, you may be charged for unapproved parts. If you prefer not to have your BMW pre-inspected, you may return the vehicle to your local dealership and wait for the results of the final inspection. Results can be accessed online, or you can wait for a copy to be mailed within two weeks of the final inspection.
If you prefer to keep the BMW you leased and would like to purchase it, BMW allows you to buy the vehicle at fair market value. This will take into account the rate of depreciation for the time you leased the vehicle. Then again, if you enjoyed leasing and want to return it for a new model, follow the instructions for the return and begin searching for a new model of your choice. BMW keeps the process hassle-free for a quick transition between leased vehicles.
What If I Want to Ride Share?
Ride sharing can be a great option for lessees of BMW models, especially if you tend to travel out of town often and would like your vehicle to continue being driven while you're away on long trips. BMW does offer a Car & Ride Sharing Lease, but only in California, Washington, and Oregon at this time.
How Do I Find BMW Lease Deals Near Me?
You can find BMW lease deals in two ways: through us at BMW Cincinnati North or on the official BMW website. To contact us, check around our website for lease deals, call and speak to a sales team member, or visit us in person to learn about leases available.
How Much Does Leasing a BMW Cost?
In general, leasing is less expensive than buying a BMW. Costs differ amongst a number of factors like incentives offered through the manufacturer or local dealerships, seasonal pricing, and inventory available at any given time. When you search for pricing online, remember those monthly fees do not include taxes or dealership fees incurred when a lease is finalized. Through BMW Financial Services, leases can be personalized according to your own set of needs, such as how much you plan to drive, how long you want to lease, and what you want to pay monthly.
Every dealership offers its own set of lease deals tied to their inventory and region; expect prices to vary from one dealership to another. Credit score also affects pricing for monthly payments. It's worth noting that leasing isn't limited to new models only, though most individuals interested in leasing are likely to prefer a new model. In the case that you find a Certified Pre-Owned model you love, BMW offers leasing options for CPOs, too. Whatever BMW model you love, you're likely to find that your local dealership can negotiate a lease deal for you, so it's always a great idea to ask a representative what they can do for you.