As the largest Sports Activity Vehicle (SAV) from BMW, you might expect the X7 to have sluggish performance. Nothing could be further from the case, however, and the 2022 BMW X7 continues to demonstrate that you can get amazing performance and rich, luxurious style in any size. While there might not be huge updates for the 2022 model, that's just fine with us because none are really needed. The X7 is undeniably one of the finest vehicles on the road, delivering power and prestige that you can't find anywhere else.
Do you want incredible power and a smooth driving experience? There are three different X7 models available with increasingly powerful engines to deliver the ultimate driving experience. Are you looking for luscious style and sophistication? The BMW X7 delivers everything you'd expect, including available Nappa leather upholstery, standard four-zone climate control, and a panoramic moonroof with a fully automatic two-piece glass panel that offers incredible views of the sky overhead. Everything about the X7 has been designed to deliver the kind of experience you only find from BMW.
Three Models – Three Engines
One of the most remarkable things about the BMW X7 is the kind of unbridled performance it has to offer. There are plenty of large luxury SUVs out there that can compete with the X7 in terms of size and seating. When it comes to performance, however, the X7 is in a league all its own with raw power, precise handling, and overall driving feel that is thrilling, ensuring that you can't wait for your next chance to get behind the wheel.
There are three different models available for the X7, and each one has its own engine that delivers incredible power and performance. The starting model is the xDrive40i, which features a 3.0L BMW TwinPower Turbo I-6 engine that offers 335 hp and 331 lb-ft of torque. This is a great place to start: it has a top speed of 130 mph and can go from 0 to 60 in 5.8 seconds.
As we said, however, that's just the beginning, as there's an M50i model that has a 4.4L BMW M TwinPower Turbo V8 engine that delivers 523 hp and 553 lb-ft of torque. As you can see, this is already a step up in terms of power, and it can go from 0 to 60 in just 4.5 seconds. Just a reminder: this is a three-row midsize SAV, so you can have six of your friends pile in with you and give them a luxurious, high-power experience that they'll never forget.
If you really want next-level performance, then check out the Alpina XB7, which features a 4.4L BMW ALPINA Bi-Turbo V8 engine. This engine is similar to the one in the M50i, but it's been tuned to deliver 612 hp and 590 lb-ft of torque for incredible power and speed. The Alpina XB7 can go from 0 to 60 in 4.0 seconds flat and has a top speed of 180 mph – not that we're telling you to drive that fast, just pointing that out. All three models come with an 8-speed Sport automatic transmission; the first two have paddle shifters on the steering wheel, while the third features Alpina Switch-Tronic software and quick-shift buttons.
While the xDrive40i comes with all-season tires, the other two feature performance tires for an even better experience. The M50i model has 22-inch wheels, and the other two have 21-inch wheels; all three models are designed with a powerful stance for optimal handling. Performance is so impressive that you can easily forget you're driving such a large and luxurious vehicle and focus on the nearly sports-car level of speed and precision.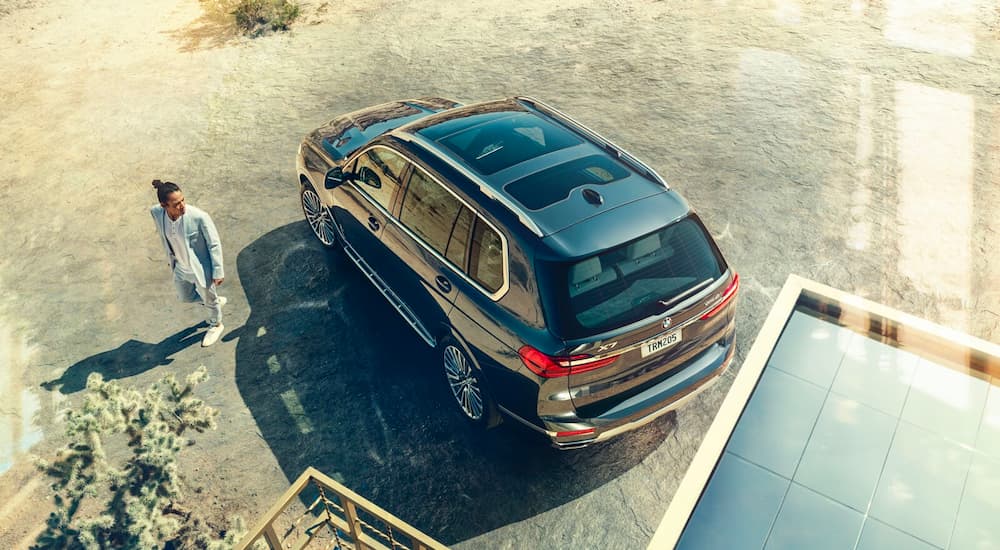 Impressive Three-Row Seating
Despite that incredible performance, even if you forget for a moment that you're in a spacious midsize SAV, your passengers certainly won't. The room they have to stretch out and enjoy all of the comfort and luxury found inside the BMW X7 is something truly special. This is the largest model available from BMW, which gives you more space inside for your passengers to really enjoy themselves.
Every model of the X7 has three rows of seating, while some other luxury SUVs out there might have three rows available as an option rather than a clear design choice. This means that the X7 was designed to have this kind of seating, and the people at BMW ensured that everyone has room to be comfortable. You do have an option in seating, however: you can have a second-row bench seat for up to seven passengers inside, or choose second-row captain's chairs for added comfort and seating for up to six people.
All of the seats are comfortable and include exquisite details and touches throughout the interior. The upholstery depends on the model and features you choose, but you get all of the luxury that you expect from BMW. Power front seats include 2-way power side bolsters, plus adjustable headrests and thigh support for incredible comfort even on long road trips. The Alpina XB7 includes Nappa leather details on the instrument panel, a leather dashboard, and numerous leather details throughout.
Advanced Technology Throughout
Power and comfort are only part of what makes a vehicle fun to drive, but the BMW X7 comes through again in terms of the kind of technology you get. Enhanced USB and Bluetooth connectivity is standard on every model for 2022, so it's easy to get your X7 connected to all of your devices, and Apple CarPlay and Android Auto are both supported. A 10-speaker HiFi sound system with a 205-watt digital amplifier is standard, though the Alpina XB7 takes things a step further with an available 20-speaker Bowers & Wilkins Diamond Surround Sound System.
One thing we love about the X7 is how functionality is never ignored for the sake of comfort or luxury. For example, there is a pair of 12.3-inch displays on the front dashboard: a digital instrument cluster and a central infotainment touchscreen. This way, you can easily keep track of navigation, alerts, and other vehicle information on the large driver display, while entertainment information and comfort systems are viewed on the middle screen. The huge panoramic moonroof with its two-piece glass panel is not only easy to use but also provides you with a stunning view of the sky above.
There are so many amazing tech touches and details that it's nearly impossible to cover them all. For example, there's an automatic-dimming rearview mirror, which is not too uncommon, but the driver's side exterior mirror also dims automatically to help you avoid glare from bright lights behind you. The right outside mirror tilts down automatically when you're backing up to give you a better view of the curb beside you, and multi-color adjustable ambient interior lighting lets you create the kind of mood and environment you want while driving.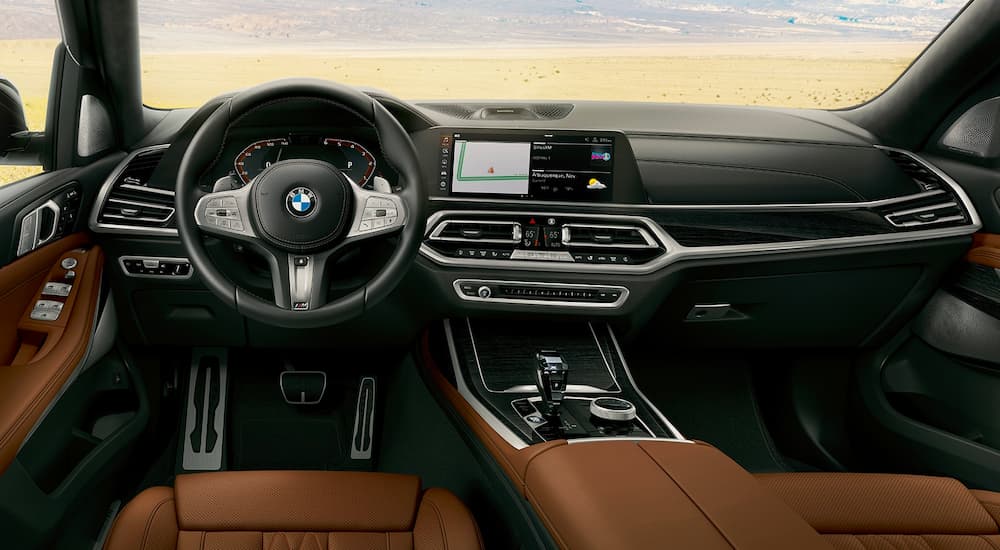 The BMW X7 Continues to Impress
The BMW X7 has been one of our favorite SAVs since its introduction, and the 2022 model continues to build on the amazing things that have come before. As BMW's largest model, it would've been easy for them to rely on that fact and not come through with incredible performance or exquisite interior details. Instead, however, they used the large size as an opportunity to push power to the next level and provide you with a driving experience that puts other large luxury SUVs to shame. Words really don't do it justice, however, so come visit us at BMW of Cincinnati North and see the X7 for yourself to fully appreciate everything it has to offer.