Since the BMW X5 first hit the roads in 1999, the entire category of midsize SUVs has never been the same. It seems like every automaker from the mainstream to the super-luxury has been trying to match BMW's combination of performance and luxury in a package the innovative Bavarian artisans have dubbed a Sports Activity Vehicle. The 2021 BMW X5 represents the latest version of this engineering marvel, an SAV with one new variant and a number of cool incremental modifications over the prior year's model. This shows BMW's dedication to constant improvement through technological innovation, always staying one step ahead of the competition, making sure to always give you the finest performance luxury midsize SAV available to discerning drivers today.
If you want to make the BMW X5 part of your lifestyle, stop by BMW of Cincinnati North. We are your BMW dealership with a great team of friendly salespeople, savvy finance experts, and trained technicians ready to assist you whether you are looking to buy, lease, or finance your next BMW X5 or need maintenance on your current BMW vehicle.
What's New on the X5 for 2021?
The biggest news for the 2021 BMW X5 is that the X5 is now available as a plug-in hybrid. You can get all of that great X5 performance in a hybrid model that reduces your carbon footprint and gives you phenomenal fuel economy. BMW's engineers show their technological prowess with the X5 xDrive45e, the first plug-in hybrid version of this luxury SAV. What's more, BMW has adapted this hybrid innovation to the three other models in the 2021 BMW X5 lineup: the X5 sDrive40i, the X5 xDrive40e, and the X5 M50i. All three now come standard with a 48V mild-hybrid system, and you will see the difference adding eBoost to your powertrain can make.
BMW has also made SiriusXM satellite radio standard on all models of the 2021 X5. This gives you over 100 great channels of entertainment no matter where you go in North America, ranging from your favorite music to sports, news, talk shows, and comedy.
There are also a pair of really cool features now available on the X5 M50i model. Remote Engine Start will allow you to start your M5 without actually getting in your SAV. This is great whether you are coming back to your X5 after a hot summer day or need to get it up and running on a chilly winter morning. The second is the option of 22-inch wheels, sharpening the handling and improving the looks of your X5.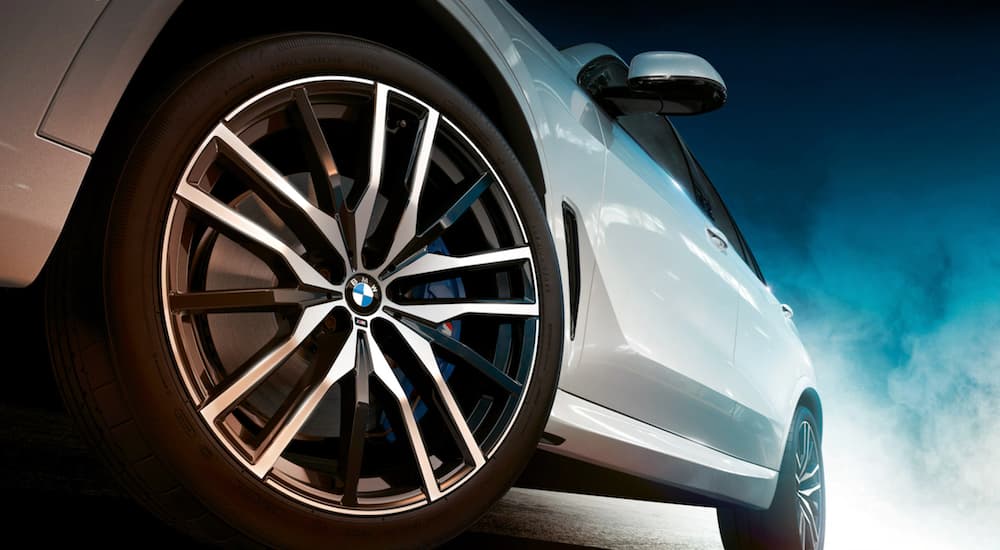 X-ceptional Performance
No matter which model of the 2021 BMW X5 you choose, you are certain to get some exceptional performance and handling out of your SAV. It starts with a choice of four excellent powertrains. The sDrive40i and xDrive40i come equipped with a 3.0-liter TwinPower Turbo I-6 gas engine. This engine will give you 335 horsepower and 331 pound-feet of torque, able to get your X5 from 0 to 60 miles per hour in just 5.3 seconds. In other words, be careful on that accelerator!
Talking about speed, the X5 M50i will get you from 0 to 60 miles per hour in just 4.1 seconds, truly a blink of an eye. This is because the M50i is equipped with a 4.4-liter M TwinPower Turbo V8 that produces 523 horsepower and 553 pound-feet of torque. Both the I-6 gas engine and the V8 gas engine are given an eBoost by the addition of all-new 48V mild-hybrid technology. This not only gives you greater performance, but has also made both engines more fuel-efficient.
With respect to fuel economy, nothing can truly match the brand new 2021 X5 xDrive45e. This will give you the great benefits of a plug-in hybrid engine with a fully electric range of 31 miles and an overall efficiency rating of 50 MPGe. The model features a 3.0-liter TwinPower Turbo I-6 gas engine paired with a permanent magnet motor. A 17.1-kWh lithium-ion battery pack is conveniently located in the X5's undercarriage, so you don't lose any passenger or cargo space.
By making this model a plug-in hybrid, BMW allows you to access charging stations across the country when you take your xDrive45e out for a road trip. This hybrid powertrain also gives you performance that will be the envy of all other hybrids. A combined 389 horsepower and 443 pound-feet of torque easily get your X5 from 0 to 60 miles per hour in just 5.3 seconds. This is what is meant by performance hybrid.
The X5 sDrive40i model is rear-wheel drive for improved fuel economy, but if you want to get the best traction, you should consider the other three models that all feature BMW's xDrive all-wheel drive system. In addition, you get the option of a number of different suspension systems on your X5, all with a standard Dynamic Damper Control to give you and your passengers the smoothest ride they've ever experienced. The standard suspension is a double-wishbone front axle with a five-link rear axle. Beyond this, you can choose from an Adaptive M Suspension to give you the best in sports tuned ride or a two-axle air suspension that smooths out all the rough spots on the road.
Few other vehicles in the segment handle like this midsize SAV. This is due to its Integral Active Steering, making the BMW X5 as agile and aggressive on cornering as much smaller vehicles, giving you outstanding maneuverability for the X5's 117-inch wheelbase. With the 2021 BMW X5, you get expert performance and handling. BMW has also paired each of its engines with an 8-speed automatic transmission. This will give you exceptional control over your powertrain's performance, so you are truly in the driver's seat in an X5.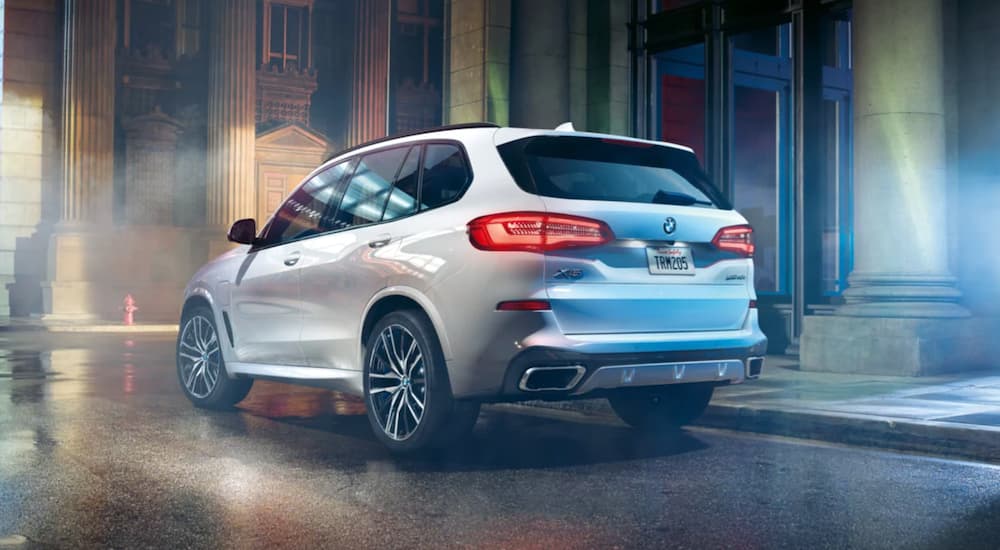 X-ceptional Luxury
When it comes to luxury, all the other midsize SUVs have been playing catch-up since BMW premiered the X5 in 1999. This continues with a roomy interior and the most comfortable leather seats you and your passengers will ever experience. The 2021 BMW X-5 has two rows of seats, but if you need more room, you can get an available third row on the sDrive40i and xDrive40i models, allowing you to seat up to seven passengers in comfort.
BMW includes its most advanced iDrive 7.0 Operating System yet on the 2021 X5, with a standard 12.3-inch color touchscreen. This infotainment system seamlessly integrates key vehicle information with Apple CarPlay and Android Auto compatibility, smartphone connectivity, and standard SiriusXM satellite radio for the ultimate in entertainment. The heads-up display on the windshield improves safety and convenience, so you don't ever need to take your eyes from the road in order to operate the system.
The interior of the 2021 BMW X5 is the definition of classy comfort. The leather and wood accents let you know that you are in a premium model, while the standard Panoramic Moonroof will let you let the sun shine in on a beautiful day or give your passengers a chance to gaze at the stars on a clear night.
X-perience the 2021 BMW X5 for Yourself
BMW continues to set the standard for the luxury SUV category, truly pushing the envelope with the 2021 X5. From an all-new plug-in hybrid to the use of mild-hybrid technology to give all the engines an eBoost in performance, the 2021 BMW X5 will give you the acceleration and handling you desire in your vehicle. In addition, BMW pays careful attention to the luxury details of the 2021 X5, so you and your passengers will get to your destination in unrivaled comfort. Come in today and experience the exceptional and exciting 2021 BMW X5 for yourself.