Founded in 2011, BMW i specializes in electrified vehicles. BMW i began selling cars in 2013, starting with the i3 electric compact car. Technology has improved rapidly, and a new generation of future BMW EV models are quickly approaching production. The BMW i division has a unique history of hybrid and range-extended plug-in electric vehicles, including the i8 mid-engine hybrid sports car that was released in 2014.
But as technology has advanced, so has BMW i. Better lithium-ion batteries are now more compact and less expensive than before, all while packing in incrementally more power. At the same time, advances in aerodynamics and materials make this next generation of BMW i cars far more efficient than even their semi-hybrid predecessors.
All of this new technology means that practical electric vehicles are now a reality, with multiple times the range of the i8 and i3 when driving electric mode. The two new electric vehicles coming out to take advantage of this new technology are the iX crossover and i4 sedan, both available with 300 miles of range and incredibly fast charging times. Expected to launch for the 2022 model year, these models are taking luxury vehicles to new heights. For BMW electric vehicles, the future is now.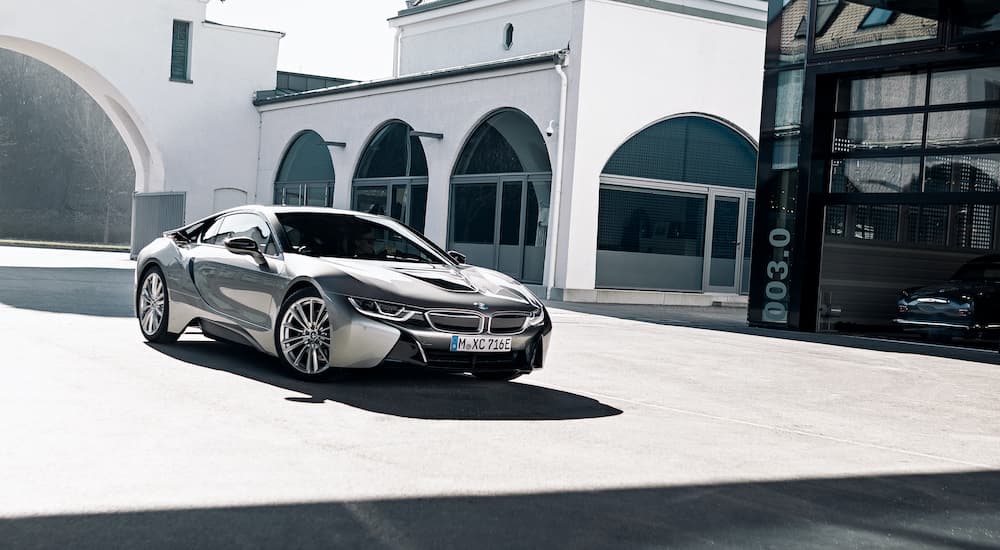 Electric Technology
Batteries are the heart of any electric vehicle, and that is true for both the iX and i4. These new batteries feature lithium-ion internal chemistry, with far greater capacity than previous BMW i battery packs. The iX has an available 113 kWh battery pack, and the i4 has an available battery pack size of more than 80 kWh.
These large battery packs allow groundbreaking range figures. Based on the WLTP testing regime, the iX can cover up to 391 miles based on the WLTP cycle, while the i4 has up to 336 miles of range. While official EPA range numbers are not yet available, these are extremely competitive figures compared to the current most popular vehicles in the EV market, taking advantage of cutting-edge battery chemistry and highly efficient design. With ranges such as this, the iX and i4 are not just capable of the daily commute but even cross-continent road trips.
Both the iX and i4 can be equipped with the Combined Charging unit, which can charge the vehicle's batteries very quickly via an up to 200 kW connection. This means over a hundred miles of range can be downloaded into the vehicle in the same time it would take to stretch your legs and get a snack.
The long-range of the new i-series BMWs is underpinned by their battery technology, but it is further increased by the incredible aerodynamic slickness displayed by the modern designs of both the iX and i4. Coefficients of drag far surpassing the industry standard for normal cars and trucks allow these new electric vehicles to slice through the atmosphere with much less friction than other vehicles their size.
While far less important in the complete package of the vehicle when compared to the engines they replace, the electric motors motivating the i4 and iX are instrumental in converting electrical energy into kinetic motion. The synchronous design of the motors allows instantaneous torque delivery over an enormous rev range, which allows the transmission and all of its extraneous parts and weight to be deleted entirely.
2022 BMW iX
The iX is a midsize electric crossover SUV with long range, fast charging, and plenty of interior amenities. Thoroughly modern inside and out, the iX features a state-of-the-art battery, up-to-the-minute infotainment system, and highly powerful electric motors. The iX promises a futuristic yet identifiably BMW experience, combining sturdy construction with high technology and plenty of performance – not to mention luxury. Whether speaking in terms of the iX's drag coefficient, interior, battery chemistry, or performance, it is undoubtedly the future brought into the present.
The iX's lithium-ion battery contains up to 113 kWh of energy, enough power to carry the medium-sized crossover over 300 miles on a single charge. This makes long road trips at least as easy as they would be in a gasoline-powered vehicle, as the time required to recharge the batteries would be about the same time required to recharge the driver during a rest stop. Around town, of course, the iX will never need to stop. This is because the vast majority of the vehicle's charging will be done at home in the garage. This means that the iX will never need to visit a charging station during everyday use, making it actually more convenient than a gasoline-powered car or SUV.
On the inside, the iX takes advantage of its electric powertrain by offering expansive interior space, unencumbered by drive shafts or engine bay requirements. A large curved display is used to interact with the vehicle's many and varied infotainment features, including an advanced Bowers & Wilkins Diamond Surround Sound System. This system uses hidden integrated speakers in the head restraints and a 4D Audio function. This audio function includes bass shakers in the seats to further enhance the audio experience. Just by existing, the iX makes other manufacturers' midsize crossover SUVs look last-century.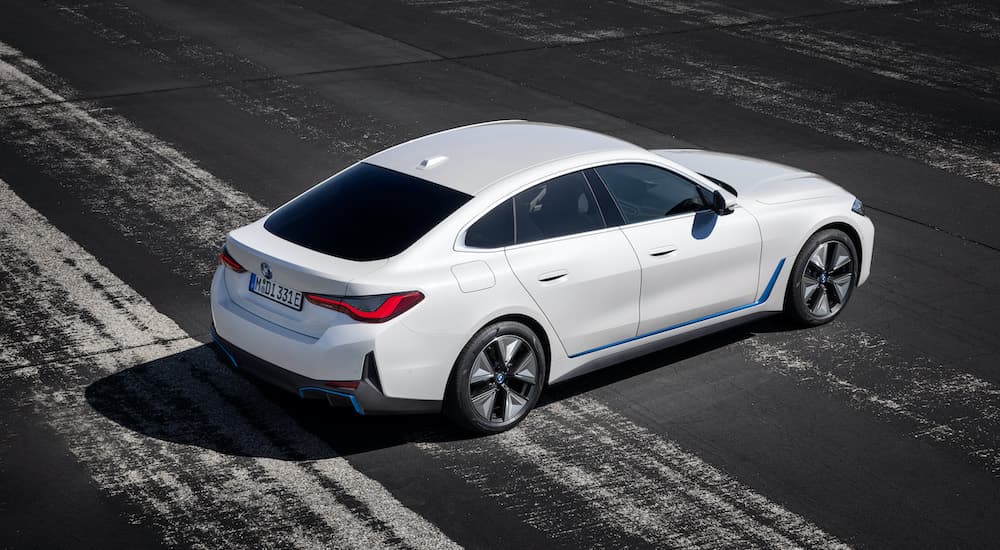 2022 BMW i4
The i4 is a high-performance sedan powered solely by electricity. Classically clean styling belies performance and driving characteristics that could only come from the future. This BMW "Gran Coupe" sedan styling is much like other vehicles currently in the BMW line, but with even less aerodynamic drag. The i4 uses a floor-mounted battery to achieve an extremely low center of gravity, which not only improves handling but safety as well.
The battery itself is an 81.5 kWh unit, composed of a specific type of cutting-edge lithium-ion battery chemistry. This chemistry not only provides high performance, high efficiency, and fast charging times but also manages to avoid using large amounts of rare earth metals. Battery cost is reduced by this measure as well.
Through the immense power and torque generated by the i4's electric motors, the vehicle can leap from 0-62 miles per hour in just 3.9 seconds. What is most impressive about this is that the i4 can do it near-silently, without any powertrain preparation. This means that all of the i4's power can be accessed at any time, instantly, without having to wait for turbos to spool or even for fuel to be injected.
The interior of the i4 includes a 12.3-inch information display and 14.9-inch central display, both of which seamlessly and easily deliver information to the driver. A total climate control system integrates seat, steering wheel, and atmospheric controls, simplifying and improving the heating of the vehicle. The heated seat, steering wheel, and heater all coming on at once to combat the cold is a luxury all its own on winter days.
The Future of BMW
Electric vehicles have already proven to be the future of luxury, and BMW is moving to further demonstrate that. The iX and i4 are both highly advanced electric vehicles that offer world-class EV experiences thanks to their cutting-edge technology and well-thought-out engineering.
Beyond high-tech batteries and powerful motors, BMW has injected its own modern ethos of luxury into these vehicles. This ethos forms a cohesive package, from the integrated climate controls and the curved displays to the EV's silent operation.