For some, BMW is a way of life. From the moment you take the reins of one of these powerful driving machines, you'll notice a difference almost instantly, and no doubt about it, you'll be hooked. With more power, more luxury, and an experience like no other, BMW designs some of the most sophisticated vehicles on the road today, and once you drive a BMW, there's no turning back. BMW commands a higher standard of greatness, and before you type "used BMW near me" into the search engine, let BMW of Cincinnati North help you find your perfect used BMW. With so many options to choose from, narrowing down your search can be a challenge, and it helps to have a little assistance from the pros, so let's delve into the top used BMW models to check out and get ready to be impressed.
BMW 2 Series
We start our list off with the lively and dynamic 2 Series, which features multiple options, like coupes and convertibles, to add more excitement into your everyday routine. With an athletic appeal and a more affordable price tag, the BMW 2 Series is especially popular with those looking to get a taste of the BMW lifestyle. Although more basic than some of the high-end series options, the 2 Series is vibrant and offers an enthusiastic ride, making it the perfect start to your BMW experience.
If you're looking to buy a used 2 Series, we recommend the 230i, with the best model years being 2016 and 2019. These reliable models offer helpful driver assist technology and upgraded safety features, as well as enhanced infotainment capabilities to help you stay connected while you travel. Multiple engines are available to help you get the power you're looking for in a vehicle, and with impressive gas mileage, you really can't go wrong with this model. In short, if you want a shiny BMW in your driveway, but you're apprehensive about the price, the 230i is an excellent introduction to the brand, providing you with everything you need in an everyday vehicle and more.
BMW 3 Series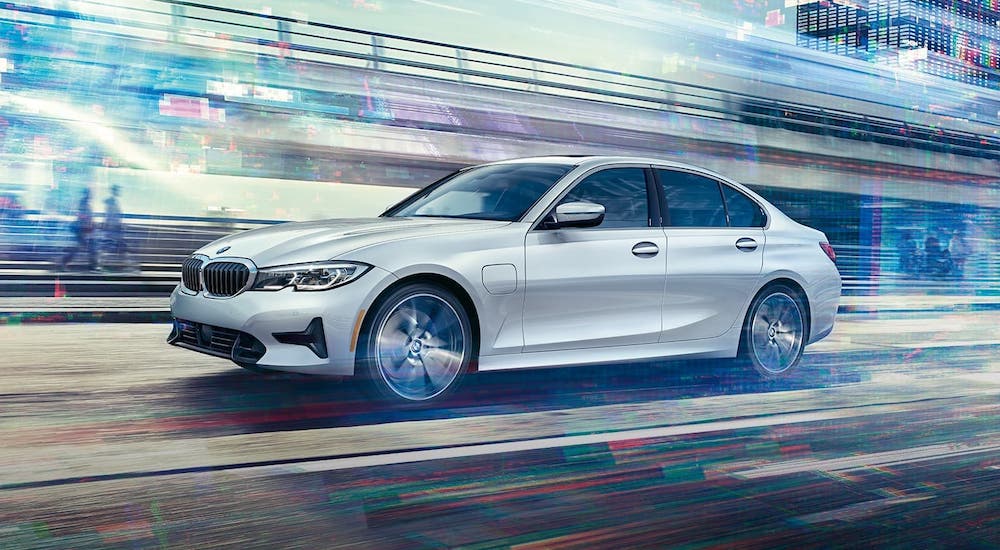 For those looking for an edgier upgrade from the 2 Series, the 3 Series may just be the perfect match for you. Exciting, yet luxurious, compelling, yet comfortable, the BMW 3 Series offers more for those who just can't wait to get out on the open road. With a vast number of options to choose from, the 3 Series features turbocharged models with expertly-designed exteriors and refined interiors. Known to offer the best of both worlds when it comes to luxury and performance, the 3 Series is extremely popular with BMW shoppers who want to go beyond standard.
For years, the 3 Series has dominated BMW sales, and it's no surprise why…there seems to be an option for any driver in this series. Our picks for the BMW 3 Series include the 320i, 330i, and the M340i. However, if you think all model years for this series are viewed equally, think again. We recommend sticking to more recent models, like the 2020 options, as the 3 Series got a bit of a revamp in power and features with this model year. Those searching for some serious speed may want to check out one of our top picks, the M340i. With its powerful six-cylinder engine, helping it shoot from 0-60 in under 4 seconds, you'll have no problem livening up your commute.
The 3 Series also hits high marks in fuel efficiency, with newer models getting up to 30 MPG on the highway, and with its bigger size, the 3 Series offers a roomier ride than 2 Series options, making it a better choice for many. Luxury comes standard in all BMW options; however, the 3 Series really kicks it up a notch with ambient LED lighting and modern accents throughout. If you're looking for extra storage space, newer 3 Series models provide a roomy trunk…one of the largest in its class. In the end, if you're looking for a step up from base models, the 3 Series will get you there. Being one of the most popular BMW offerings available, the 3 Series provides more power and efficiency, combined with intense luxury.
BMW 4 Series
BMW just keeps getting better with its 4 Series, and if you're in the market for even more power, you'll find it right here. High-performance engines, surprising fuel efficiency, and coupe or convertible options available, the 4 Series takes you to new heights during your travels. Designed with even more sophisticated luxury on the inside and harnessing extreme capabilities under the hood, the 4 Series knocks it out of the park when it comes to an enhanced driving experience.
If you're shopping for a used 4 Series, we recommend the 430i, known for its energetic engine and smooth handling. The 430i offers intense power yet doesn't entirely break the bank like some of the higher-end models do, making it a solid choice for those who want more but don't want to pay more than they should for a used car. We recommend sticking to model years 2016, 2018, and 2019, as these tend to be the most reliable years, and when buying any car, new or used, reliability reigns supreme.
BMW 5 Series & Beyond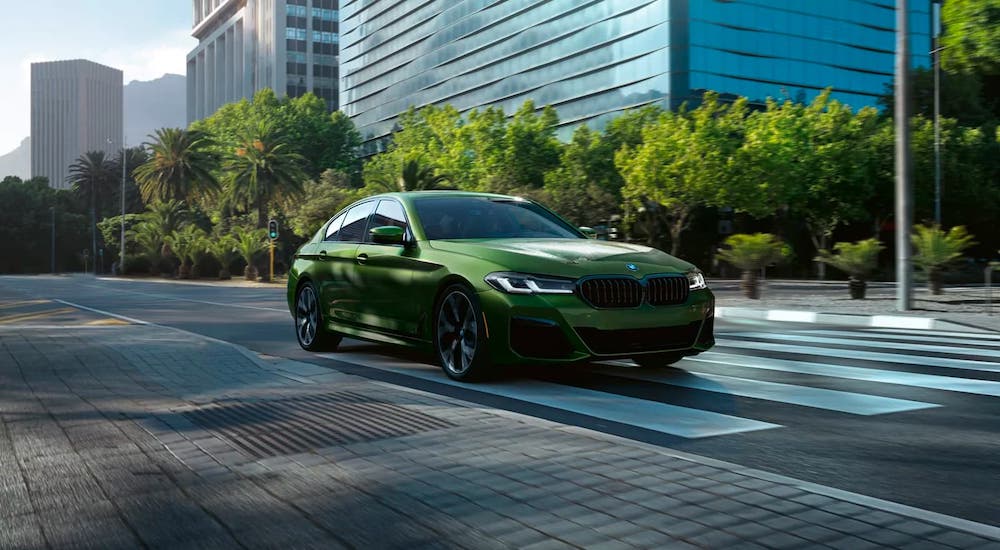 As you climb the ranks of BMW, you can expect that price tags can start to creep up as well, which is why the 3 Series and 4 Series tend to be the most popular. However, if you're searching for a more enhanced ride, you may find yourself climbing higher up the ladder, which places you near the 5 Series and beyond. Intriguing design, ultra-luxurious features and not to mention, extreme performance are just some of the attributes of the BMW 5 Series, 6 Series, 7 Series, and so on. If you're shopping for the ultimate BMW experience, you've come to the right place.
The 5 Series provides a sporty experience, and if you're looking for excitement, you'll find it in the 530i with its turbocharged engine and top safety ratings. Available in an electric option, the 530e, this model turns heads, namely its 2017, 2018, and 2020 models, with its 2020 model beating out fierce competitor Lexus for most reliable luxury cars. If you're looking to get your heart pumping and your jaw-dropping, the 5 Series doesn't have a problem impressing you. For those who want even more power and even more luxury, BMW offers a number of upgraded models in its other series options. We suggest checking out the 640i, the 740i, and the 750i.
The Best BMW Models
Whether you're easing into the world of BMW or you're searching for intense performance, BMW offers a lineup that can't be beat. From the affordable 2 Series to the popular 3 Series, the dynamic 4 Series to the 5 Series and beyond, the BMW brand evokes the feeling of sophisticated power in all of its vehicles. These attributes make for a fun experience when you're test driving your options at a trusted used BMW dealer, like BMW of Cincinnati North. Get ready to experience a new level of refinement, whether you're a seasoned BMW owner or you're sliding into the seat of this ultimate driving machine for the first time. Either way, you're going to be impressed at your options as you select the right BMW to suit your needs.
When you finally choose the best BMW for you, we'll be there to welcome you to the family….we think you're going to like it here. BMW of Cincinnati North is ready to help you find the best used BMW to suit your lifestyle and your budget! Visit our lot to explore our remarkable BMW inventory today.