If you dare to own a vehicle that both makes a powerful statement and is a status symbol, the brilliant choice would be a BMW. The German giant has earned a reputation of reliability and quality by delivering some of the most desired and admired models throughout the years. The last ten years have been exceptional for the automaker as they have enjoyed unprecedented success with their diversified portfolio that now includes new SUV models and other additions to their lineup. In short, it is as difficult as ever to choose the right popular BMW models to buy used, which isn't necessarily a bad thing considering any model is sure to beat your high expectations. But before you start searching for a used BMW dealer near you, you might want to narrow down the list of models you are interested in owning. So here are a few of the best models to consider when shopping for a used BMW.
Buying a used car doesn't mean you have to compromise on quality, especially if you are shopping for a BMW. There are a number of used models that are great values and still get high scores in reliability, performance, and luxury. When new models come out, the models from previous years become less expensive, and this benefits the shrewd buyer in the used BMW market.
2018 BMW 5-Series
The 2018 BMW 5-Series was highly anticipated upon the announcement of its release, and the people who bought it were not at all disappointed. With a mix of luxury, quality, and comfort, the BMW 5-Series is a joy and should not be passed up, especially when you find one used. As you may already suspect from the luxury automaker, the 2018 BMW 5-Series came loaded with a long list of tech and safety features from a standard navigation system to an infotainment system that is well above average.
When it comes to powertrain options, the 2018 BMW 5-Series has plenty of them. The base 530i offers a standard 2.0-liter 4-cylinder turbocharged engine, and the 540i xDrive offers an even more impressive 3.0-liter 6-cylinder turbocharged engine. At the top of the line, the M550i xDrive will blow you away with the 4.4-liter 8-cylinder turbocharged engine with 456 horsepower.
All of the trims in the 5-Series are plush and comfortable, just like you would expect in any BMW. You are sure to enjoy a few features, including power sports seats, a leather-wrapped steering wheel, and a power glass moonroof. The interior of the 5-Series is also spacious, with enough head, shoulder, and legroom for passengers in both front and back seats. Long rides are never a problem when the driver and passengers are comfortable.
Lastly, you might not know it, but the Series-5 is the best in class when it comes to cargo space. And if 14.5 cubic feet of cargo space isn't quite enough, you can fold the rear seats down and increase that number. For a used sedan, the Series 5 is nothing short of exceptional.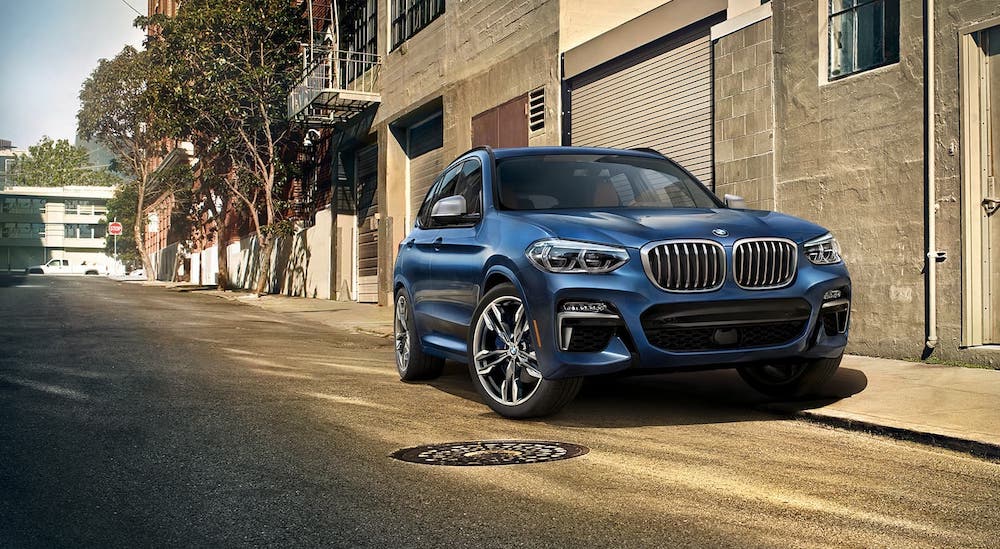 2017 BMW X3
The 2017 BMW X3 is an excellent choice if you are looking for a luxury SUV that is also fun and practical. While the X3 is one of the most affordable BMW models, you can get an even better deal when buying one used. In terms of reliability, it is one of the best models to get.
One factor that stands out when comparing it to other model years is reliability. Consumer Reports extensively tested the 2017 BMW X3 and gave it a four out of five for reliability, quite impressive and also reassuring. That said, you will be pleased to hear that the X3 stands out with its premium feel. The superb interior is classy and comfortable and rivals that of the land Rover and Audi Q5.
Class and comfort mean little if your ride is sluggish and the handling is poor. The BMW X3's ride is excellent and even better should you choose a model with the optional variable damper control suspension. Plus, you should have no problem with off-road applications when even the base models come with a 240 horsepower turbocharged four-cylinder engine. If you desire power and fuel efficiency, the available diesel engine should be on your radar.
When shopping for a used vehicle, looks aren't everything, unless you think that looks are everything. Let's face some facts, looks are very important, even if you are shopping for a used car, BMW or otherwise. When you first look over the BMW X3, the metal-look grille, 18-inch wheels, and chrome trim will get your heart racing a bit. If the look of the 2017 BMW X3 excites you, just imagine what others think about it when you drive right by them. You don't have to dress to impress when owning a used BMW X3, but it helps.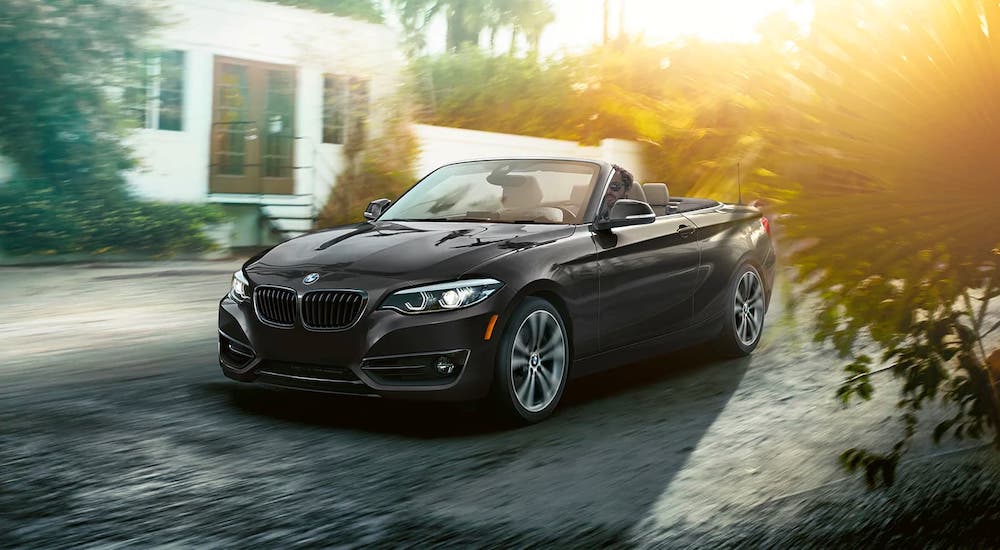 2019 BMW 2-Series
If you are tired of hatchbacks and minivans, it could be time to step into a compact sports car. While there are several luxury sedans available on the used car market, few are able to provide luxury, comfort, and sports car performance. The 2019 BMW 2-Series is one of those rare finds that provides all three.
Let's start with the looks. A lot of drivers will appreciate the BMW 2-Series' appearance, which can best be described as sleek and athletic. The powerfully built body, shortened trunk, and the fact it sits so low to the ground are sure to attract attention. Those who have driven a sports car before are used to the attention you get when you drive down the street. For those who have spent the last several years driving a minivan, you have to get used to people staring as you pass them by.
The 2019 BMW 2-Series is a great value when buying a new model, but buying a used model makes that an even better deal. Currently, the 2-Series is the least expensive BMW model, but don't let that make you think you are getting something less than top quality. Even the base model packs more performance and features than more expensive sports cars. You can expect all of the standard features you want in a sports car, including Bluetooth integration, a quality infotainment system, and even a backup camera.
Lastly, you can drive your 2019 BMW 2-Series every day for your work commute and all weekend long, running errands without guilt. This is because the 2-Series gets outstanding gas mileage. Gas mileage will range from 21-35 miles per gallon for these models, with 35 miles per gallon on the highway being achieved with the 2.0L 4-cylinder engine in a rear-wheel drive coupe.
Used Luxury Is Good Luxury
If you are in the market for the luxury of a used BMW, you can find just what you are looking for at BMW of Cincinnati North. We are your home for the complete BMW automotive shopping experience. Stop by and take a look at our wide assortment of new, pre-owned, and used BMW models. In addition to an impressive inventory, we offer excellent customer service that remains consistent across all of our departments. We promise to exceed our client's expectations and treat everybody who steps onto our lot with respect. The entire auto buying process will be seamless, simple, and transparent. We are here to help you find the car of your dreams, and we are committed to meeting your individual needs. Stop by today and let us help you find the perfect used BMW.