Racing enthusiasts knew the name BMW long before their great luxury and performance cars became a common sight on the streets of America. Bayerische Motoren Werke GmbH has been producing some of the best performance vehicles in the world since long before most of us were born. In fact, the initials "BMW" have been synonymous with some of the most challenging races and tracks in the world, including the Nürburgring Endurance Series and the Daytona International Speedway. However, unlike many manufacturers, BMW has a history of taking the innovations learned on the track and applying them to BMW sports cars that are available to enthusiasts.
The exceptional BMW M Series cars can be purchased or leased for a very reasonable price, giving you the chance to experience all of those years of German automotive engineering expertise in your personal life. BMW even offers an M performance package on many of its sedans, coupes, and SUVs as well. One of the most fun to drive is the BMW Z4 roadster. This two-seat ragtop brings you back to the days of the 1960s when folks would cruise around in high-performance coupes, taking the top down and letting the sunshine in.
While the Age of Aquarius and Flower Power may be over, it doesn't mean you can't enjoy a great little roadster that really packs a punch. And if you are looking to buy or lease a BMW, then you should stop by BMW of Cincinnati North. We carry the most extensive inventory of BMW coupes, sedans, and SUVs in the greater Cincinnati area, and our team of sales professionals is ready to get you behind the wheel of one of the best performance vehicles on the road today with unmatched service and customer care. But before you give us a visit, here's a little more about the BMW Z4.
Unmatched Performance in a Sporty Little Package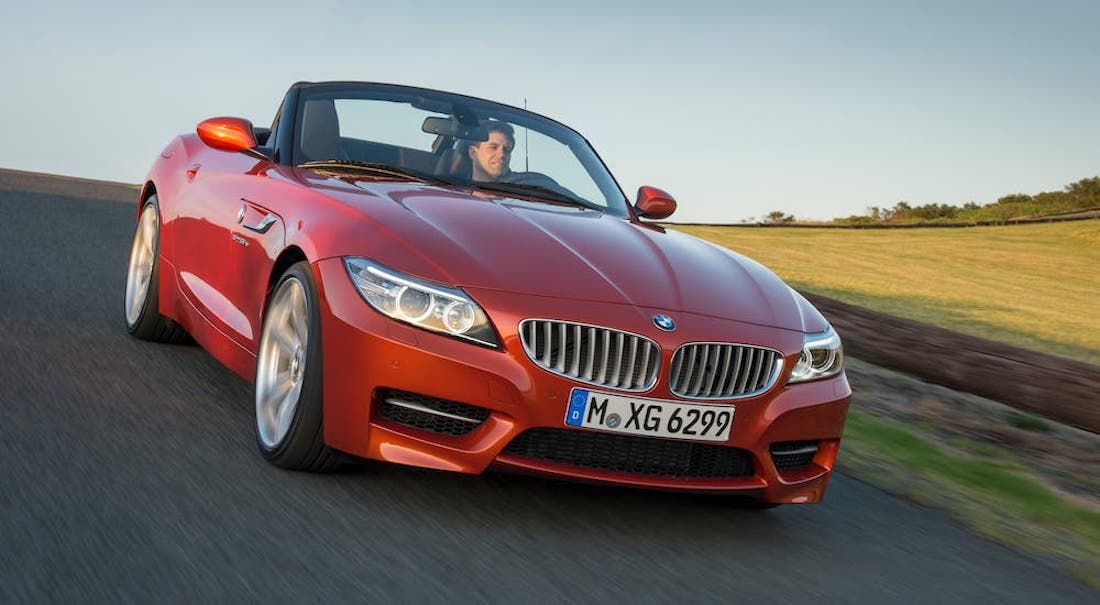 The first thing you will notice about the BMW Z4 is its sporty aerodynamic profile. From its classic BMW kidney grille and blue through to its twin exhaust, the Z4 is all about style and performance. BMW offers the Z4 in two different editions. The base model is the Z4 sDrive30i, which has a 2.0-liter BMW TwinPower Turbo inline 4-cylinder engine. Its twin-scroll turbocharger helps it produce up to 255 hp and 294 lb-ft of torque without any of the turbo lag found in older sports cars. The 8-speed Sport Automatic transmission is well-tuned for smooth, quick shifts and comes with steering-wheel-mounted paddle shifters for when you want to manually control your gears.
However, if you desire more power, then take a look at the Z4 sDrive M40i. This model sports a classic 3.0-liter BMW Performance TwinPower Turbo inline-6. With 382 hp and 368 lb-ft of torque. To further improve overall performance, BMW has equipped the M40i with an M sport electronic rear differential. This critical piece of equipment is programmed to allocate power between the rear wheels, allowing you to corner with unmatched authority.
However, the powertrain is far from the only thing that makes the Z4 an exceptional sports car. Every aspect of this vehicle is the product of BMW's commitment to excellence, and you will feel that you are in a true performance car the moment you get behind the wheel. From the performance brakes to the advanced suspension system, the Z4 is designed to hug the road and respond instantly to your every command. This roadster even uses a lightweight aluminum hood to maintain its ideal weight distribution.
Whichever model you choose, you are in for the ride of your life. The Z4 30i opens up nicely, doing 0-60 mph in 5.2 seconds, hitting cruising speed in no time at all. The Z4 M40 is even faster, taking only 3.9 seconds to go from 0-60 mph. But no matter which of these models you choose, you are in for a treat. Both models are rear-wheel drive to improve overall performance and have exceptional handling. You will be amazed by how the Z4 corners even at top speeds. The Z4 puts you in control while keeping your passenger extremely comfortable.
Exceptional Safety Features
The Z4 comes equipped with BMW's Active Protection System. This system detects imminent collisions and then automatically prepares the vehicle for impact by closing all the windows, activating post-crash braking, and automatically pretensioning the seat belts to better protect the passengers. This will help reduce the effects of the accident.
In addition, the Z4 has BMW Assist eCall, which provides emergency requests and an automatic collision notification to the BMW service center so that you can get immediate attention if you are in a crash. Finally, the impact sensor in the BMW Z4 will automatically activate the battery safety terminal disconnect of the alternator, fuel pump, and starter to reduce the chance of a post-collision vehicle fire.
BMW has also added its Active Guard set of safety features to reduce the chance of an accident. This suite of safety features includes frontal collision warning and automatic collision mitigation and braking. Together, these systems will help prevent frontal collisions and keep you safe on the road. While safety might not be your first consideration when buying a sporty roadster, it is nice to know that with BMW, you will never have to sacrifice safety for performance.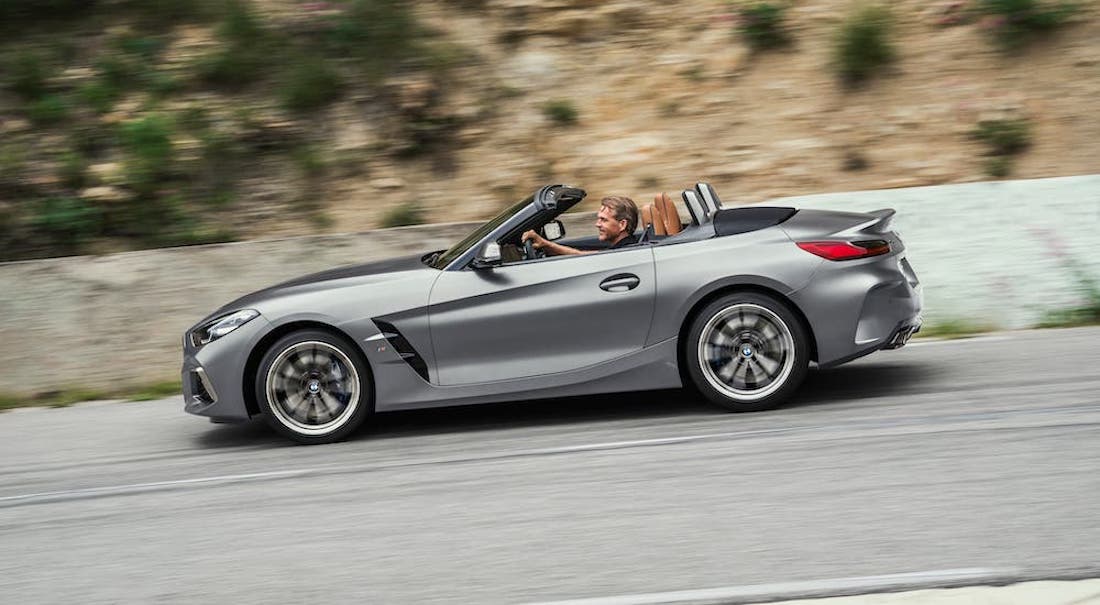 Outstanding Styling and Luxury
BMW has pulled out the stops on the Z4, making this one of the most stylish roadsters out there today. It starts with a pair of comfortable power support front seats with luxurious SensaTec upholstery. This style is carried over to the exterior, where you can have your choice of six different paint colors on your Z4. Both the 30i and M40i give you a choice of San Francisco Red Metallic, Glacier Silver Metallic, Black Sapphire Metallic, and Alpine White. The 30i offers trim specific Mediterranean Blue Metallic and Mineral White Metallic, while the M40i has Frozen Grey II Metallic and Misano Blue Metallic. Whichever you choose, you are sure to stand out from the crowd in your sporty little BMW Z4.
The Z4 also features one of the most advanced infotainment systems on the market on an easy-to-use 10.25-inch color touchscreen. This combines a 10-speaker HiFi sound system with other informational, entertainment, and connectivity features. The HD Radio on the Z4 is also compatible with SiriusXM 360L satellite radio and comes with a complimentary one-year subscription.
There is also Bluetooth playback capability with Apple CarPlay and Android Auto compatibility. The infotainment system integrates such key informational features as dynamic cruise control, a rear-view camera, a tire pressure monitoring system, and navigation with iDrive 7.0. The Z4 M40 model also provides advanced real-time traffic information and on-street parking information where available.
Get Behind the Wheel of the BMW Z4
The BMW Z4 is more than just another cute little roadster. This is a performance vehicle with state-of-the-art features, incomparable luxury, and engines that are the heir of several generations of BMW racing excellence. This sporty coupe has a driving experience, unlike any other vehicle in its class, and provides incredible capability at a remarkably affordable price. If you want to experience the essence of what sets BMW apart, the Z4 is the car for you. And at BMW of Cincinnati North, we can help get you behind the wheel of your own roadster.