If you are looking for a vehicle that can do it all, there is simply no better choice than a compact SUV. Not only do these versatile designs offer roomy interiors and all-weather capability, but when designed properly, they can even provide performance rivaling that of traditional sport sedans. While there are currently several high-performance luxury SUVs on the market, the best of the bunch is a member of the fabled BMW M Series. A close examination of the BMW X5 M and its competitors, like we at BMW Cincinnati are going to do today, will reveal that the BMW M Series SUV not only provides the superior performance expected of a BMW, but it also offers greater versatility and a lower price.
Based on the more common BMW X5 compact SUV, the BMW X5 M takes this already excellent platform to the next level with a more powerful engine and numerous smaller performance and cosmetic enhancements. The end result is a true high-performance SUV with acceleration and handling that will put many traditional sport sedans to shame. And of course, the BMW X5 M does not lose any of the luxury or utility that makes the base BMW X5 such a popular vehicle. In fact, with its more advanced all-wheel drive system, the BMW X5 M is actually even more capable of handling bad weather and unimproved roads.
But no vehicle exists in a vacuum, and to truly see the superiority of the BMW X5 M, we will have to compare it to the competition. However, given the spectacular performance of this M Series SUV, the list of competitors is rather short. These are the Audi RS Q7, the Porsche Cayenne Turbo, and the Mercedes-AMG GLE 63 S. All four of these German vehicles are the top performance variants of the companies' five-seat luxury SUVs and are powered by a twin-turbo V8 engine. But while the basic specifications of these four vehicles are similar, the BMW X5 M has a clear advantage in its blend of capabilities and price.
Eight Cylinders of Power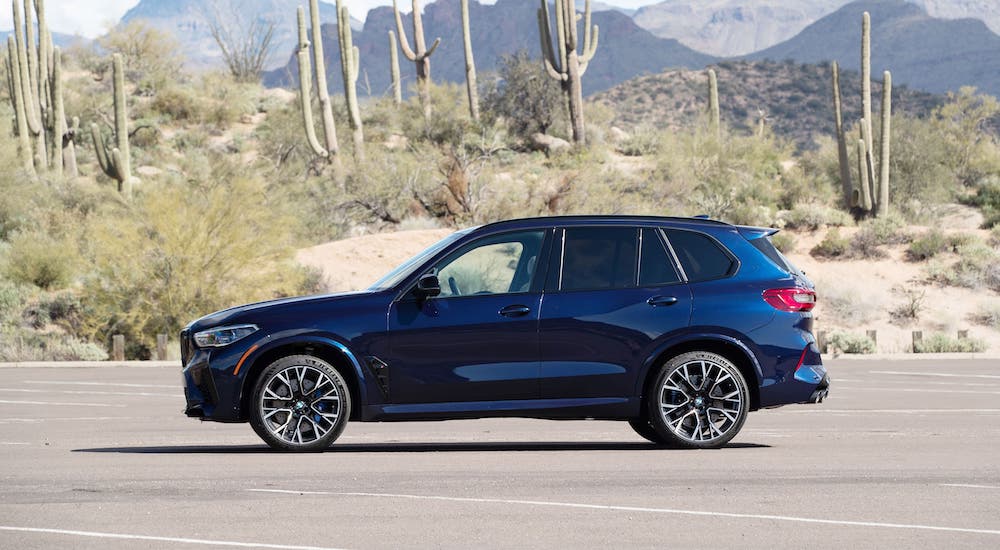 As mentioned, all four of these performance SUVs have twin-turbo V8 engines. This makes them among the most powerful vehicles on the road and provides them with a level of agility that belies their bulk. However, these four V8 engines are not equal. While the Audi, Porsche, and Mercedes-AMG designs all have 4.0L engines, the BMW X5 M uses a noticeably larger 4.4L engine. And that extra displacement helps put the M Series design in the lead with the highest horsepower rating and the highest top speed out of the four vehicles.
In terms of hard numbers, the 2020 BMW X5 M produces up to 617 hp and can reach speeds of up to 177 MPH. When it comes to engine power, its closest competitor is the Mercedes-AMG GLE 63 S with 603 hp and a top speed of 174 MPH. However, despite having a noticeably weaker engineer with only 541 hp, the much lighter Porsche Cayenne Turbo has the same 177 MPH limit as the BMW X5 M. Finally, the Audi SQ7 has 591 hp and a standard top speed of 155 MPH. When it comes to 0 to 60 MPH acceleration, the four designs are effectively identical with their official times of 3.7 or 3.8 seconds.
In addition to their twin-turbo V8 engines, the drive train and running gear of these four luxury designs are relatively similar. All of them come standard with an all-wheel drive system that includes an electronically-controlled limited-slip differential for greater traction and performance, and all of them have dynamically adjustable air suspension for a comfortable and well-tuned ride. The only significant difference is the transmissions. While the BMW X5 M, Porsche Cayenne Turbo, and Audi RS Q8 all use proven eight-speed Tiptronic units, the Mercedes-AMG GLE 63 S has a bespoke nine-speed automatic transmission.
SUV Room and Luxury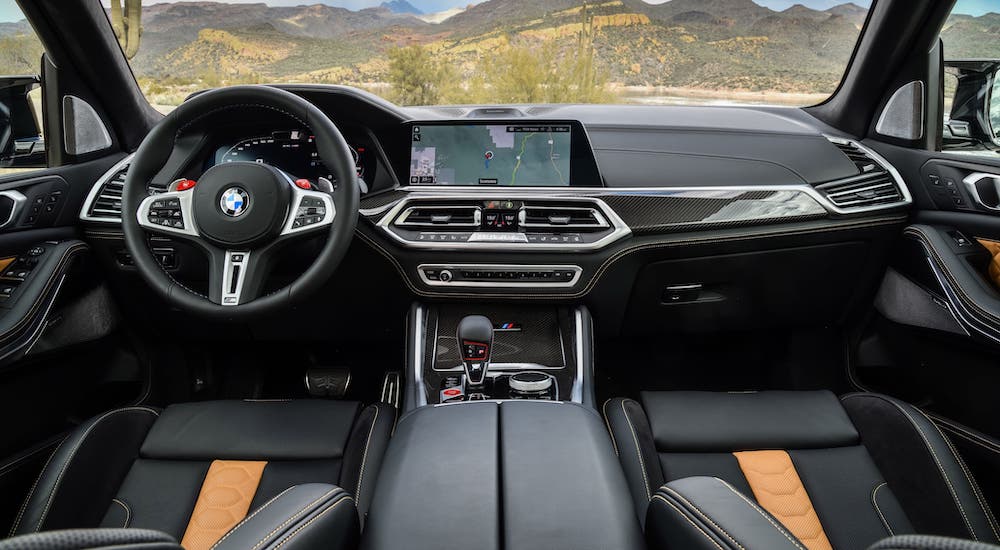 However, if raw performance was the sole goal, we would be looking at sports cars rather than SUVs. If you are considering one of these four designs, then you likely are interested in comparing their versatility and comfort as well as their raw performance. But here again, the BMW X5 M has some noticeable advantages over its competition. While all four of these vehicles are two-row SUVs, the BMW design has a noticeably roomier interior layout that makes it an ideal choice for transporting family and friends or carrying bulky items.
Perhaps the best measure of an SUV's interior space is its maximum cargo volume when the rear seats are folded. Not only does this tell you how much stuff can be carried when necessary, but it is also a good approximation of the overall size of the cabin. Using this measurement, the BMW X5 M and Mercedes-AMG GLE 63 S are the clear winners with 72.3 cu.ft. and 74.9 cu.ft. of cargo space, while the Audi RS Q8 and Porsche Cayenne Turbo are a distant second place with 60.7 cu.ft. and 59.3 cu.ft. of cargo space. However, a more in-depth comparison of the two winners will reveal that the BMW provides 40.7 inches of headroom and 60.0 inches of shoulder room against 40.5 and 58.3 inches for the Mercedes-AMG, giving the M Series car a roomier feel.
In terms of actual luxury features, it isn't easy to find meaningful differences between the four competitors. All of them come from top-of-the-line manufacturers and provide an incredible level of comfort. Inside, you can expect to find all the most modern conveniences, including high definition digital instrument clusters, four-zone automatic climate control, and well-bolstered power seats with near-infinite adjustment. And while we prefer some of the advanced features of the BMW X5 M, such as its intelligent personal assistant and gesture control, the truth is that all of these manufacturers are considered luxury brands for good reasons.
The Bottom Line
But while the BMW X5 M offers enough real advantages over its competitors in performance, utility, and comfort to be easily considered the best of the bunch, it seals the deal with its significantly lower price tag. When it comes to the bottom line, this M Series design has simply unbeatable value. The Porsche Cayenne Turbo starts at $127,800, the Audi RS Q8 begins at $114,500, and the Mercedes-AMG GLE 63 S sells for $113,950. But the mighty BMW X5 M can be had for just $105,100. That is almost 10% less than its lowest-priced competitor and over 20% less than the most expensive alternative.
When you find a more capable vehicle that costs less than the competition, then the choice is clear. With the BMW X5 M, the legendary BMW M Division has created another masterpiece of performance, luxury, and utility that stands out from the rest. If you are looking for the ultimate SUV, look no further because the BMW X5 M does it all. From family vacations to spirited mountain driving, you will not find a better choice of vehicle in which to experience the joy of driving all year round.