While cars in all segments have been getting smarter and smarter, how has this trend affected luxury vehicles? Do we notice a proportionate rise in tech for luxury vehicles, or has the gap been narrowed by recent advances in onboard convenience and artificial intelligence? This is an important question because it seems every car now has the latest and greatest tech, so why would we ever consider buying a luxury vehicle when we can get so much for so much less? The answer: the BMW X7. If you're wondering if BMW is still the ultimate driving machine, it is, and now it's loaded with out-of-this-world tech that can transform your driving experience in ways we never thought possible.
It's no surprise that BMW is ahead of the curve with the latest advancements in technology, as it has been the ultimate driving machine for nearly a half-century. This is the kind of technical brilliance you can only find in a BMW. While other automakers might make similar claims, there is nothing like the sheer driving pleasure of a BMW—and this especially applies to the largest vehicle BMW has ever produced, the X7. Despite its size, it still feels as though this full-size SUV is crammed with technology, making for a luxurious and comfortable ride. So let's take a look at the many high-tech features you'll find in the BMW X7, and see just what makes this full-size SUV so dazzling.
Standard and Fun Technology
Let's first take a look at what comes standard on the BMW X7, because it is an impressive list loaded with value. Every X7 includes a large 12.3-inch touchscreen, along with a 12.3-inch digital gauge cluster. Every model also comes with a 10-speaker audio system, Apple CarPlay, built-in navigation, wireless charging, and a Wi-Fi hotspot. You'll also find run-flat tires, heated front seats, air suspension, a panoramic moonroof, tinted rear privacy glass, and power-adjustable seats in all three rows. And that's all standard. So even without the optional tech, you're already getting an X7 loaded with tremendous value.
The dual displays (center stack and instrument panel) are intuitive and easy to use. You can even manage the system by tapping or swiping the screen, and there are a knob and touchpad as well for added convenience. And while the system also features voice recognition, BMW takes its A.I.-inspired tech to a whole new level with a gesture control system (available with the premium package). This allows you to adjust the settings with hand motions. Imagine being able to crank the volume on your 10-speaker system by twirling your index finger in the air.
And if you have a question, just ask your personal assistant. This is BMW's voice-activated Intelligent Personal Assistant, which gets smarter with every interaction. So, unlike some people you might encounter in your daily life, it listens. All joking aside, it really is an impressive system, and as it learns more about you and your family's preferences, it applies these settings to make your drive perfect without you even having to ask. And with the optional remote engine start, you can make sure you have the perfect cabin conditions waiting for you before you walk out your door. That's quite a luxury, especially if you live somewhere where it's routinely negative-something in the winter, or swelteringly hot in the summer. With so many ways to interact with your BMW X7, you are sure to find a level of comfort and convenience that is at once unique and very welcomed in your day-to-day life.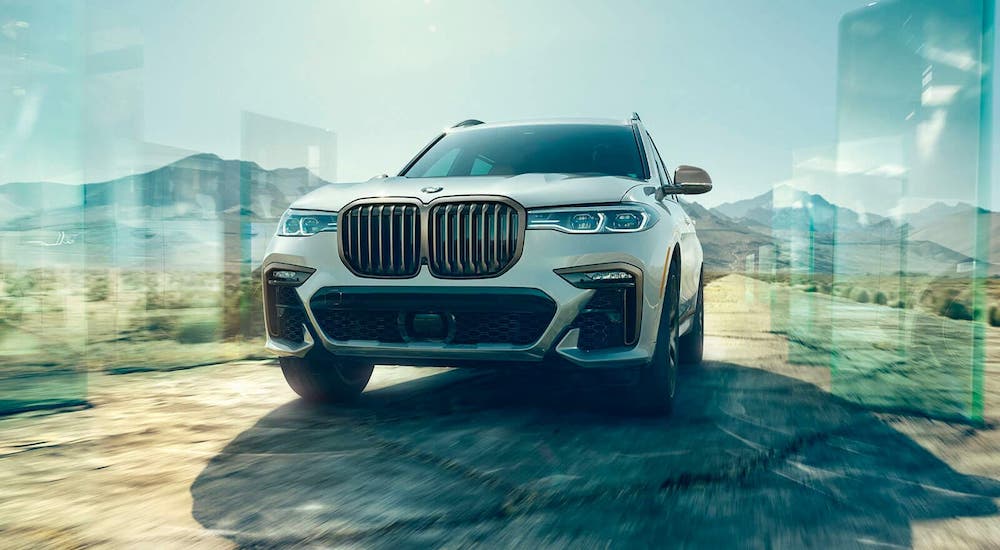 More and More Safety Features
Don't worry, the standard features do not end! There's also a suite of safety tech that's equally impressive. This suite, which BMW calls its Active Driving Assistant, is loaded with intuitive driver assists to keep you and your family safe. You'll find daytime pedestrian detection, forward-collision warning, and low-speed emergency braking, lane-departure warning, blind-spot detection, and warning plus rear cross-traffic alert. This is a safety system that is designed to avoid accidents—even if you do not see a potential accident on the horizon, it will take action to stop the vehicle before the accident occurs. Whether it is alerting you to the potential danger or actually stopping the vehicle, it is a driver assist that you will undoubtedly be thankful for when the situation arises.
Other impressive safety features include the optional extended traffic jam assist, which works on limited-access highways at speeds up to 37 mph. This is part of the Driver Assistance Professional Package and uses an interior optical/infrared camera to monitor the eye and nose position of the driver to make sure the driver is watching the road. If you're watching the road ahead, and the system determines you are an attentive driver, you're allowed to take your hands off the wheel. The BMW X7 will then drive autonomously and will control acceleration and braking, while also being able to handle corners. Of course, you should always be ready to take the wheel. But the convenience of such a system, when you consider the daily grind of a commute, is quite astounding. You will be able to relax on your drive to and from work. Traffic jams won't be met with the same dread as with your fellow commuters.
And there seems to be no end to the amount of available tech with the BMW X7. With Night Vision with Pedestrian Detection, you can see in the dark. Well, the BMW X7 can see in the dark—up to 1,000 feet ahead! Imagine the peace of mind this will provide when you are driving on a dark country road, with deer and other animals lingering at the edge of the road. Using infrared technology, the system can detect people and animals and display the potential hazards on the navigation screen or head-up display, with brighter objects indicating living objects, while inanimate objects, or cooler objects, are not as bright.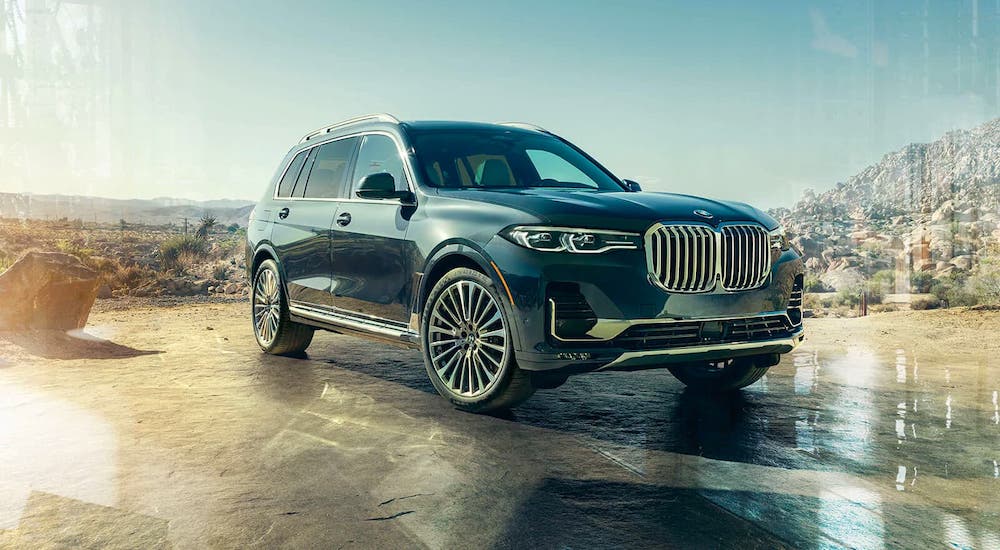 Convenient and Impressive
If you appreciate convenience, or you'd like to impress your friends, try the Park Assist Plus feature. With the touch of a button, you can activate this system so that it will start looking for a parking space. Once it locates a spot and you confirm this is a good parking space, it takes over and parks for you. It will even switch to reverse or drive, depending on the parking spot. In no time, you will be safely parked—and your friends duly impressed. There's also an option to park yourself where the screen will display how close you are to vehicles or other objects with green, yellow, and red force fields. Backup assist should also be mentioned because it is really useful if you have to back up on a long, twisty driveway. This system remembers the last 160 yards you've driven, so it can trace your path in reverse so that you can back up without having to even use the mirrors or rear camera. All you have to do is control the brake pedal and moderate the speed.
Make it Yours
And there's even more inspiring technology to dazzle you, but you really have to experience the BMW X7 to believe it. We have barely scratched the surface of all the amazing features of this luxury SUV. So do yourself a favor and check out the technology in the BMW X7 the next time you are in the market for a new vehicle. And if you are in the Cincinnati area, stop by Cincinnati BMW so that we can help you get exactly what you are looking for.