A revelation: BMW's mid-size SUV offering isn't really an SUV. Wait; what? Well, it is, but the German automaker prefers to use the term "Sports Activity Vehicle" to differentiate it from the competition. The BMW X5 has been around since the start of the century, evolving from a vehicle that primarily focused on sporty driving to one which provides a balance of power, refinement, and luxury. With excellent style and performance, the X5 is available in three models to suit various tastes. It continues the spirit of BMW's sporting heritage through its powerful turbocharged and V8 engine offerings, quick acceleration, and agile cornering. But for drivers less interested in the performance aspects, the X5 can also be appointed with luxurious options such as high-end interior materials, comprehensive infotainment options, and all of the latest advanced driver safety tech. Beautifully crafted with the discriminating driver in mind, the BMW X5 deserves its place as a front-runner in the premium SUV segment. If you're in the market for a well-balanced all-around mid-size SUV with a touch of luxury, the X5 deserves a hard look.
BMW X5 Trims: What They Offer
The current generation of the BMW X5 is available in four different trim levels: sDrive40i, xDrive40i, xDrive50i, and M50i. Rear-wheel drive is standard on the sDrive40i while the others see the benefit of standard all-wheel drive. All four models have an eight-speed automatic transmission paired up with a 3.0L six-cylinder turbo (sDrive40i and xDrive40i), a 4.4L V8 turbo (xDrive50i) or a more powerful version of that same engine (M50i). The X5 also provides excellent fuel economy, with the xDrive40i version offering 22 MPG in combined city and highway driving.
Standard features on the sDrive40i and xDrive40i models include adaptive LED headlights, panoramic sunroof, adaptive suspension dampers, power-adjustable and heated front seats, dual-zone automatic climate control, a large 12.3-inch central touchscreen display, Apple CarPlay compatibility, and a 10-speaker sound system. Advanced driver safety features include lane departure warning, blind-spot monitoring, rear cross-traffic alert, forward collision mitigation, and adaptive cruise control.
Moving up to the xDrive50i gets you upgraded front seats, a premium 16-speaker Harman Kardon audio system, and four-zone climate control. In addition to the beefier engine, this trim also adds bigger brakes, sportier suspension and differential tuning to go along with it.
Much of the equipment which comes standard on the upper two trim levels can be had in the lower trims through option packages. The Driving Assistance Professional Package includes a variety of enhanced driver-assist features such as stop-and-go cruise control and automatic lane changing. At the same time, the Executive Package adds in remote engine start, heated and cooled cupholders, and adaptive LED headlights with laser light. Other optional features available on the X5 models across the board include ventilated and massaging seats, semi-automated low-speed driving assistance, parking assistance, a night-vision system, a Bowers & Wilkins sound system, and a rear-seat entertainment system.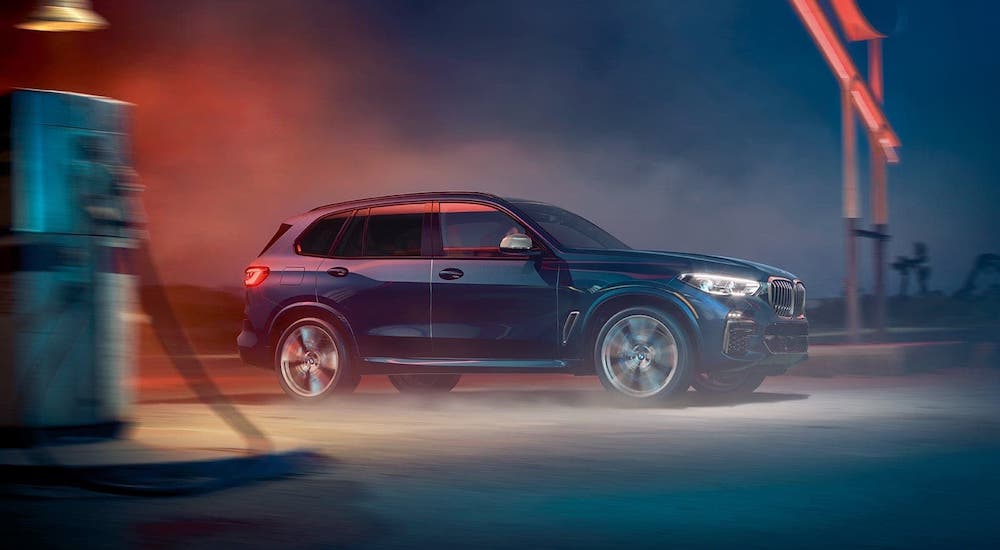 BMW Technology
The X5 features BMW's latest iDrive — the most advanced version yet. This innovative system helps you navigate and operate various interior functions with less distraction, through a combination of Intuitive menus, handwriting recognition, and voice and gesture control. And speaking of voice control, the X5's native navigation and voice commands assist with getting you to your destination. Apple CarPlay integration is also standard, which enables your iPhone to integrate seamlessly with the X5.
The Ride
Whether you choose the V6 or V8 engine, you'll find the X5 is suitably robust and excellently responsive for daily driving, and its eight-speed automatic makes for smooth and quick shifting. Out of all of the non-performance-based premium SUVs out there, BMW's offering is one of the fastest. For those looking to dirty up the X5 a bit, an optional off-road package is available, which enhances the X5's capability when venturing off the pavement.
For both driver and passengers, the X5 provides a smooth ride as you would come to expect from a tradition of BMW engineering excellence. The Sport mode is somewhat stiffer, but in doing so provides a ride that grabs the road more. Even at highway speeds, exterior road and wind noise are very minimal, so occupants will be able to carry on a conversation. And if you are solo, you can listen to that audiobook without interruption.
Front seat passengers will ride in luxurious comfort on the firm and supportive seats with a broad range of adjustability to contour to different body shapes and types. For more sporty driving, adjustable lumbar and upper bolsters offer improved support. For those in the rear, softer seating welcomes long road trips.
The Storage
The X5 has a roomy cargo area that provides plenty of room to put the "activity" in Sport Activity Vehicle. Its useful combination power tailgate/liftgate system makes it a snap to load bulky cargo. Small space storage is also prevalent inside the X5's spacious cabin, with an armrest bin and deep pockets in from of the shifter providing room for small items. In its standard configuration, the xDrive40i offers a towing capability of up to 6,603 lbs. When equipped with an optional factory-installed hitch, that number jumps up to 7,200 lbs.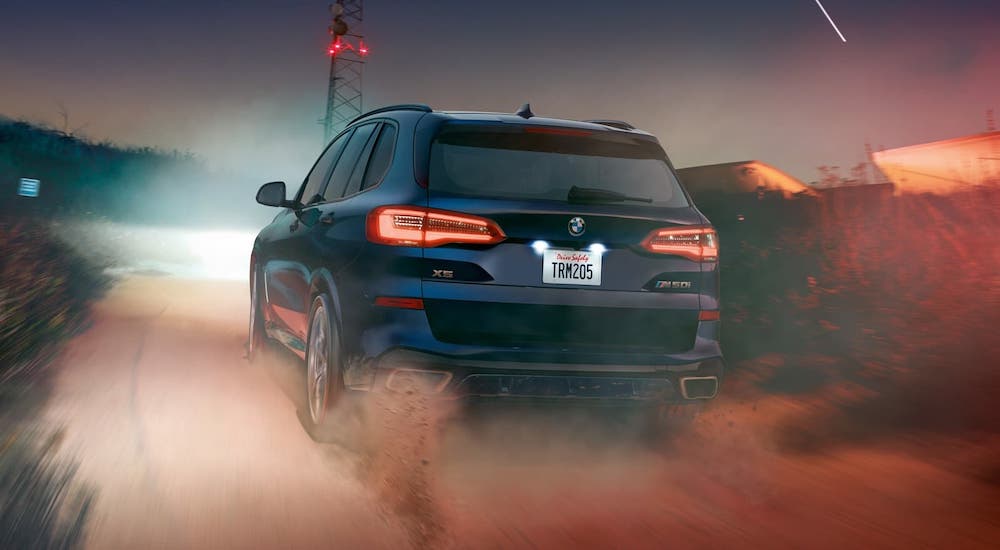 Why Choose BMW of Cincinnati?
As a business of Jake Sweeney Automotive, we strive to provide our customers with peace of mind when it comes to purchasing a BMW through exceptional customer service, an extensive selection of vehicles and service and maintenance for the life of your vehicle. As a locally-owned business for over 100 years, our customers and the community have come to rely on us to provide the most excellent BMW vehicles at the most affordable prices.
At BMW of Cincinnati, we have over 4,000 new and used vehicles with fresh arrivals at our dealership every day, so you can be assured you'll find the vehicle you want. If for some reason, we don't have it, we will find it for you. Our exclusive Trade Center will also assess your trade-in and offer you a cash value, which you can then apply to the purchase price of your next BMW vehicle. Buyers can continue to save even more money through our Shamrock Club. This club offers exclusive benefits such as complimentary multi-point inspection service on every visit, a referral bonus if you tell your friends about us, and up to a $200 discount off your next new or used car purchase after negotiation.
No matter if your BMW vehicle is new or used or how many miles it has been driven, every BMW driver will benefit from the expertise of our certified BMW-trained service technicians. They use only precision-engineering original BMW parts, so you know you're getting the right equipment for your vehicle. These parts also come with a two-year unlimited mileage limited warranty for added peace of mind. And transparent, up-front pricing ensures no surprises when it comes to your budget. Our Lifetime Mechanical Protection is also included when you buy any qualifying car from us. Contact us today for qualifying services, your model-specific pricing, and to schedule an appointment.
To experience in person all that BMW of Cincinnati has to offer, please visit our showroom on West Kemper Rd. We will be glad to have you!