If you find yourself looking for a BMW dealership in Cincinnati, you might be looking for more information about what separates BMW's M4 from the standard 4 Series coupe and convertible. This is a good question, and you've come to the right place. We get this question all the time.
The "M" denotes its association with BMW's fabled racing program. Born in 1972, the "M" stands for the BMW's subdivision Motorsports, but what it means to you is that the vehicle is track-ready—or really fast. Eventually, the engineers at Motorsports turned their attention away from the track and developed some of the best high-performance road cars of all time. So let's take a look at what you get from the 2020 BMW M4 and see if the extra performance and luxury features are right for you and your lifestyle.
If you're looking for a sportier version of the 4 Series, the 2020 BMW M4 is that and then some. As with the 4 Series, luxury abounds so that you won't be missing out on the convenience and luxury you'll find in the 4 Series, and you'll be adding a serious amount of performance to your ride. This is an enthusiast-level of performance. And as with the 4 Series, the M4 comes as both a coupe and convertible. And, as always, the M4 brings a balance of comfort and high performance expected from BMW. So let's take a more in-depth look at the luxury and performance features you will find with the BMW M4.
Powertrain
The BMW M4 is a world-class sports coupe, and it has an engine to match that statement. A 3.0-liter turbocharged inline-6 is the standard engine, and with this engine, you'll find an incredible 425 hp and 406 lb-ft of torque. The Competition Package ups the horsepower to 444 hp, and the special edition CS trim brings 454 hp and 442 lb-ft of torque. This is an engine that makes for a thrilling ride on or off the track. It comes paired with either a six-speed manual or a seven-speed dual-clutch automatic transmission. So if you're looking for an engaging driving experience, the manual transmission is a great choice. If you like the convenience of an automatic transmission, there's a great option for you too. Plus, if you opt for the automatic transmission, you'll find a "Smokey Burnout" function, which sounds like too much fun.
You'll also appreciate the fantastic fuel efficiency from this mighty engine. It can get up to 18/25 mpg, so you'll be able to use this sports coupe as a daily driver without having to pay for it at the gas pumps. This is truly a powertrain that maximizes both performance and everyday drivability.
Performance
With the Competition Package, this sports coupe can go from zero to 60 mph in 3.8 seconds. While this package adds horsepower, it also adjusts the adaptive dampers, adds a more direct steering ratio, and has new settings for the stability-control system and rear differential. But you don't need these performance upgrades to enjoy the tenacity of this world-class sports car. It's fast and handles well on the street and the track.
If you've ever wanted a car that can tackle winding roads with natural agility, the BMW M4 is built for more than just straightaways. You'll find performance features such as an adaptive sport-tuned suspension, electronic rear differential, 18-inch wheels, and grippy tires. Along with its stout brakes, you can trust this world-class sports coupe to perform well on any road. And as with any BMW that has received the "M" treatment, you can expect the M4 to be a joy to drive.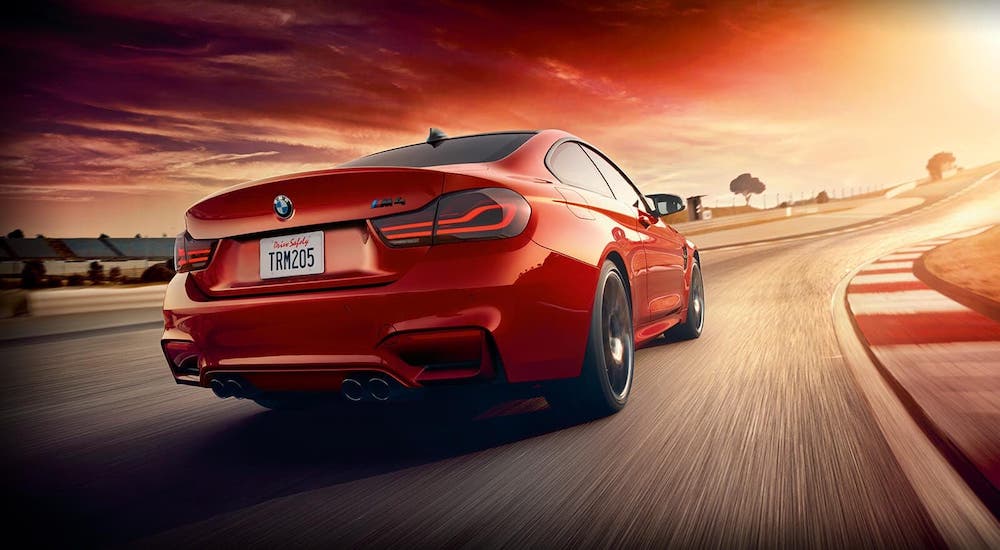 Interior and Tech
Inside, of course, is just as exhilarating and confidence-inspiring as the rest of the car. The interior luxuries include leather upholstery and an infotainment system with an 8.8-inch display. These are just some of the standard features you'll enjoy on your drive home from work, where you'll most likely be enjoying yourself so much you'll want to take a long way home and enjoy a detour through the back roads. There are not many vehicles that can turn your commute to work into the best part of your day, but this is undoubtedly one of the few.
Other standard features include heated and power-adjustable seats, which are cosseting and extra comfortable, and navigation. You must be comfortable and know where you are going because you might often find yourself trying to get lost or generally too engaged to pay attention to where you are going. Luckily you will have Apple CarPlay to keep you entertained, along with a 16-speaker surround-sound system and a suite of smartphone and online applications with BMW ConnectedDrive.
While not as sexy, the equally important storage space should be mentioned as well. You'll find a large trunk to store all of your luggage when you take the M4 out of town for a romantic weekend. Storage space might not be what you think about when deciding on which sports coupe to buy, but having a certain level of day-to-day functionality is just a bonus.
Another consideration that might not be high on your list but carries a great deal of functional importance is the rear seats. You'll find more space for passengers than in most two-door sports cars. These are rear seats you can actually use. This is important because you know you'll often find yourself in the rear seats, with everyone in your family wanting a turn behind the wheel.
Speaking of your family, driver-assist features that come standard include forward collision warning, lane departure warning, a rearview camera, and parking sensors. Some of our favorite features include BMW Assist, which adds stolen-vehicle recovery and provides collision notification services for accident safety. This is also standard. There are also side and top view cameras, which give you a 360-degree perspective around the car for parking to avoid scratching your paint. And another of our favorites is Parking Assistant, where the M4 will park for you, no matter if the parking space is parallel or perpendicular.
Hardtop Convertible
The 2020 BMW M4 is not a traditional convertible necessarily, and this is a good thing. The M4 features a retractable hardtop. So no matter what conditions you might encounter, you can be assured that you will not worry about the weather. If you find yourself in a sudden hailstorm, no worries, you have a hardtop to handle any inclement weather you might encounter. And for the sunny days at the beach or twisting your way through country roads, your open-air coupe will be just as delightful. The hardtop is designed so that it folds neatly and compactly into the M4's trunk without taking up much cargo space.
Have a Drive
The only way to truly appreciate the world-class engineering of the BMW M4 is to drive the M4. Getting behind the wheel of one of the finest sports coupes ever made is an experience you will not forget. Come on down to BMW Cincinnati and take a look at one of the finest automobiles on the road today and see for yourself. We have an extensive inventory of some of the fastest and most luxurious cars, and our expert staff is here to answer any questions you might have. This is a place where dreams actually come true.