It's the equivalent of asking a parent who their favorite child is.
"You're all my favorite,"" they'd say in a monotone voice.
That's exactly how we feel when it comes to choosing the best BMW models of all-time. Can we choose them all? No? All right, well I guess we can dwindle down the list to some of our favorites but it's not going to be easy. After all, BMW has billed itself as the "ultimate driving machine," and we can't help but agree.
The Great Debate
BMW is one of the world leaders when it comes to creating cars that seamlessly blend performance and luxury. So naturally compiling a list of our favorite models took some time, but this is what we came up with:
Isetta 300
There's nothing wrong with being a little quirky and standing out from the crowd. While it may not be the ultimate driving machine, it was good enough for Steve Urkel and that's more than okay in our book. This unique two-seater was wildly popular with the micro-car crowd and had a pretty commanding lifespan for a nearly a decade. It was powered by a 1-cylinder engine and pumped out 13-horsepower. By design standards alone, how could we pass up this ride?
507 Roadster
Close your eyes and picture your dream convertible to drive up the coast with. Now open your eyes. Chances are you were dreaming of the BMW 507 Roadster and you didn't even know it. Regarded as one of the most gorgeous German vehicles ever created, the 507 Roadster set the mark for drop-top rides. We're giddy just thinking about its V8 engine as we rip up the road without a care in the world.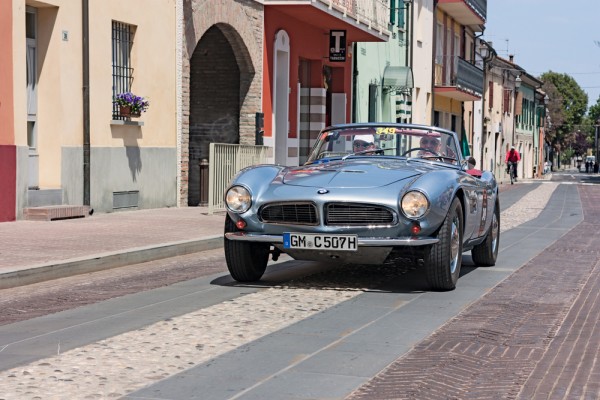 E46 M3
Everyone always wants a sports car, but what about having the sophistication to match? That's why we can't leave the E46 M3 off the list. The M3 has been the benchmark for sophisticated European sports sedans for some time now. It offered a 3.2-liter inline-6 cylinder engine that barreled out 333-horsepower. When you slid behind the wheel of this ride, you could go from zero to 60 in less than five seconds. Style, sport, and sophistication, the E46 M3 had it all.
1-Series M Coupe
Very rarely do you get the chance to witness a classic from its inception. That's exactly what the 1-Series M Coupe offers you and when we look back on it, we'll realize we were in the company of a legend. Giving a BMW an M badge is no small task, as it's usually reserved for the best and brightest. Well it turns out BMW once again knew what they were doing, as this ride has left everyone smiling. It's powered by a 3.0-liter twin-turbo direct injection straight-6 engine that races ahead with 335-horsepower and a 6-speed manual gearbox.
Whew, that was tough! We could keep going on forever, waxing poetically about our favorite BMW models. But it's best that we keep it short and sweet, and let you fill in your favorites. But remember when it comes to choosing, just think what the Great Bambino said to Benny "The Jet" Rodriguez in 'The Sandlot.' "Heroes get remembered but legends never die, follow your heart kid and you'll never go wrong."